Again this year, many New Brunswickers (44) will participate in this historical Boston Marathon. Since the feedback for last years "Gilles & Hans Predictions" Hans Laltoo and myself decided to repeat our predictions for the 109th running of the Boston Marathon. The intent of the predictions is purely for amusement purposes and a fun way to add interest for anyone participating or watching the Boston Marathon. Hans & I don't want to undermine or put pressure on anyone. In fact, I personally hope the ones I overlooked will prove me wrong and the ones I rated highly will meet the challenge.
Hans lives in the Moncton area and I live and run in the Saint John area. Thus our predictions could be biased by our knowledge of the runners in our areas. Next year we may want to invite someone from Fredericton , Northern NB and/or someone with knowlege of our female runners .
Hans and I wish everyone the best of luck in Boston.
Gilles Gautreau

1. Alex Coffin - An experienced marathoner with fast credentials. Anticipate that Alex will show up in Beantown ready to run a time equal to his reputation.
2. Mark LeBlanc - Again this year, I don't know much about Marks's fitness and what kind of training he's maintain over the winter. This said, you can't ignore that the Fredericton runner has run faster times than most of the other on the list in both the half and full marathon.
3. John Herron - With a slower qualifying time, John's big challenge will to catch up runners of his caliber without compromising himself for the later part of the marathon. John's strenght is his tenacity from start to finish. His training has been very consistent and his performance in the 30k Around The Bay on March 2th bodes well for a good clocking on April 18th.
4. Todd Price - Being a recent first time father did not seem to slow this guy, in fact it may actually be his motivator. Todd has been serious with his training this winter and wants to prove he can conquer Boston which has been tough on many NBers in the last couple years.
5. Heather Goodfellow - (Rumour has it that Heather won't be running Boston) Picking Heather for 5th maybe understating this talented NS native. What makes Heather such a great distance runner is her ability to sustain a relativaly even pace. Guys, take note!
6. Geoff Matthews - The Quispamsis runner is not well know to running in NB. However, if he can duplicate or better his steady performance he ran in the Kennnebacasis Challenge, Geoff will run a solid time in Boston.
7. Patrick Ervin - For people who don't know Pat may think seventh on the list is a long shot. Since I have the pleasure to run with Pat two to three times a week, I have the advantage of knowing that this guy has brought his fitness to an amazing level. I firmly believe that Pat will achieve personnal bests in all distances this season.
8. Darrell Travis - Eight consecutive Bostons, but this one is different. Without getting into details, Darrell as recently undergone major surgery and the fact he's running 26 miles is going to be medical feat. All of Darrell's close friends including Dr. Stephen will be cheering this Hampton runner.
9. Jean Landry - I don't have much information on Jean's marathon training but his time in many of the NB's 2004 road races should place him well.
10. John Russell - If running was a science, John would be a great scientist. His running approach is very methodical and calculated. John doesn't deviate from his plan and if the weather in Boston is ideal, John's performance should equal his marathon of October 2003.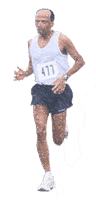 1. Alex Coffin - This guy has the credentials for a 2:40- 2:50. He's an experienced marathoner and a Boston veteran. Unless he has an off day , expect him to be the first New Brunswicker home.
2. John Herron - John has made a tremendous improvement in his fitness , and his race results reflect that fact. He recently ran sub 1:59 for the "Around the Bay" 30km race in Hamilton, Ont. Based on that, and his experience running Boston previously, I would not be the least bit surprised to see him run a sub 3 hour Boston. If Alex falters, John could be the top NBer.
3. Mark Leblanc - Remember the Bob Marley classic "Redemption Song"? This should be Mark's theme for this year's Boston . Last year he was undone by the tremendous heat and ended up with a DNF. Look for a different result this year.
4. Heather Goodfellow - After a stellar university running career at Dalhousie and UVIC, Heather is hitting the roads with a vengeance. She has the fastest overall marathon time of any New Brunswicker in 2005—2:58.33 in Las Vegas . The guys better watch their backs or Heather could easily move up the list.
5. Todd Price - Todd ran a solid 3:00.27 at the Baystate Marathon in the fall, after a disappointing Boston '04. He'll be running with something to prove.
6. Geoff Matthews- I must admit that I don't know a lot about Geoff, but he has run sub 3:10 at the inaugural Kennebecasis Challenge Marathon on a challenging course.
7. Jean Landry - Jean is fairly new to running, however he has had remarkable success in a relatively short time period. It's his first Boston and hopefully that doesn't negatively affect his performance. He's a solid runner who can handle the effort.
8. John Russell- has a 3:10 qualifying time from the Philadelphia Marathon . I'm sure he's hoping for better weather than last year.
9. John Parks- a solid 3:13 at Marathon-by-the-Sea.
10. Kevin Publicover - Kevin is a voracious trainer. Lots of mileage and hills in preparation for Boston . Also lots of if's here: if he doesn't suffer an injury and runs within himself in the early stages, he could surprise some people.
Other notables - Any of these guys are capable of a top 10 finish depending on the day: Michael Power, Patrick Ervin, Preston Smith. And let's not forget Darrell Travis. He's running Boston after coming off a major medical surgery. Best of luck to him and to all the New Brunswick runners.