This year, 69 New Brunswickers will line up in Hopkinton for the 115th running of the Boston Marathon. The number of NB runners participating in Boston on April 18th is down slightly this year because the maximum registered runners filled in record time - leaving some qualified runners out. Paula Keating will run in the Elite Women's field, we believe her to be the first NB female to wear the prestigious bib. Team NB 2011 will showcase many familiar names and a good number of first timers. As mentioned in previous editions of our Boston Picks, the following commentary is intended to be a fun initiative to foster discussion for those who will be following the progress of this year's New Brunswick contingent. Its aim is not to elevate anyone or exclude any names. Everyone who ever trained to run 26.2 miles knows the hard work that goes into qualifying for the Boston Marathon. That said, on behalf of all running enthusiasts & fans staying behind - we hope all your goals are met.
Men
1. Charles Dickson - A reliable source tells me that the Sackville native is lean, fit and not bothered my nagging injuries. If weather conditions are not a factor in Boston on Monday April 18th. I predict a sub-2:50 from Chuck. P.S. Dixon was the top NBer in the 2009 Boston Marathon with a time of 2:59:24.

The second place will be a real horse race between the next four runners.
2. Jim Johnson - The Fredericton Area runner, has shown impressive progression in 2009 and 2010. At 30 years old, Jim is in his prime marathon years. This is why I'm putting my money on Jim for 2nd.
3. John Herron - A ninth consecutive Boston appearance for John. He always places near the top among NB. My source tells me that John has put in his typical winter training. However, the jury is out on whether the Bloomfield runner is ready to post another sub-3 marathon time. I believe his experience alone will keep him competitive.
4. Martin Verreault - The Northern NB runner will definitely be in the mix for a top three position. Verreault has a faster marathon time (2:54:29 in 2009) than Herron and Johnson but not proven as fast on the shorter distances. I realize this is a 42.2K race and not 10K so I will not be surprise if Martin places higher.
5. Murray Jamer - This 56 year old Fredericton runner is a tough competitor and I anticipate he will use his 3:01:14 result of last Fall as a springboard to a fast time in Beantown.

6. John Dallaire - The 53 year old Monctonian is running his 6th consecutive Boston Marathon and each year has posted a better time. If John beat the odds of another PB for his seventh Boston, he will have bettered his 3:11:35. John strikes me has an intelligent athlete who knows how to execute his race strategy.
7. Claude Degrace - Last November this Moncton runner ran a marathon time that was reminiscent of the Claude I remember back in the 80's. His 3:07:38 is more than ten minutes faster than anything he had run in the last few years. At 56, Claude is a role model for anyone who has been affected as a chronic asthmatic.
8. Gary Ogden - This 39 year old runner's marathon time has continuously been improving over the last few years. This Quispamsis runner has been sited all winter running through my neigbourhood which is at least an indication that he's been preparing well for his second Boston Marathon.
9. Steve Robichaud - I don't have any intel on this young (24) Neguac runner but my suspicion is that he will better his last year time of 3:18:53.
10. Jeremy Fry - The other half of the Bloomfield dual. Jeremy is a five time Boston veteran who has bettered his time each year on the grand ole course. He has trained well this year with Herron and Hampton's Darrel Travis (BTW, Darrell will be making his 15th consecutive trek to Boston). Look for Jeremy to match his sub 3:15 of 2010.
Honorable mention: Joe Burke, an amazingly talented runner placed 4th in his age class last year at Boston which would value Joe's result as the top NB performance. At 68, this Saint Johner is showing no sigh of slowing down. We can't Frank Kelly of Saint John and Richard Steele of Moncton, both 72, running strong and flirting with a four hour marathon. Alan Caron, the Ironman of marathon runners, will be participating in his 18th Boston Marathon but more amazingly, the Charlo native will be running his 180th marathon. Michael Simmons who was one of NB great distance runner back in the 80's and now 65 will rival Joe Burke and a top spot in his age category.
Female
On the ladies side, the first two places should pretty clear. For the next seven positions, I've simply placed them in the order they qualified because they are to close to call. From Heather to Aisha, all have run at least 3:45 marathon. Some will want to run faster and other will be happy to repeat their 3:45 on Boston's challenging course.

1. Paula Keating - This Miramichi runner has proven ovcr and over why she was the RunNB's Female of Year for 2009 & 2010. Last year she made all the NB running community proud by winning the Detroit Marathon in a time of 2:52:14.
2. Gisela Roux - Another Miramichi who'se run solid times in the half marathon i.e. 1:34:35 and 3:23:00 at the NY Marathon in 2009.

3. Heather Suttie -
4. Tracey Price-Emerson
5. Tanya Johnson
6. Lisa Flewelling
7. Linda Cormier
8. Marta Kelly
9. Shawna MacKenzie
10. Aisha Khedheri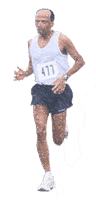 This year getting to the starting line in Hopkinton meant you not only had to be fast, determined, and have perseverance on the roads, but also on the keyboard. The legendary Boston Marathon filled up in a matter of hours, leaving many qualified runners disappointed on missing out. Nevertheless New Brunswick is once again well represented by a deep and talented field. I addition this year we can boast of even having an athlete in the Elite Women's' field, namely Miramichi's Paula Keating!

MEN
1. Chuck Dixon- A solid winter of high mileage and quality runs should pay off with a good time in Boston. His competition for top New Brunswicker could be Paula.
2. Martin Verreault- with another year of experience he will be looking to improve on his 2;59 from last year.
3. John Herron- John is Mr. Consistency. Boston is a highlight of his running year and he always seems to deliver.
4. Jim Johnson- I don't know much about this young runner, however he ran a n impressive 2:57 on the tough KVC course which bodes well for Boston.
5.Murray Jamer- Has had some significant improvement in his times, with a recent run of 3:01 in Toronto in September 2010.
6. Claude Degrace- Claude is turning back the clock as far as his running goes as evidenced by his stellar 3:07 in California in December. And reports are that his winter training has gone very well.
7. John Dallaire- If it snows by chance in Boston, look out for John. We had some real "character builders" this winter in Moncton.
8.Darrell Travis- Keeping his remarkable Boston streak alive, Darrell knows the course as well as anyone.
9. Steve Robichaud- A young gun with lots of potential looking to better his 3:18 from last year.
10. Judson Cassidy- Ran well on the slow "Legs for Literacy" course.

Others to watch: Steve Lohnes- apparently coming off surgery, otherwise I would rank him much higher. John Culligan, Todd Price, Pat O'Brien, Robin Drummond.

WOMEN
1. Paula Keating- No question here, unless something unforeseen happens. She's running with a purpose.
2. Heather Suttie- An up and coming runner from Fredericton.
3. Gisela Roux- A solid and steady runner.
4. Tracy Price-Emerson. She may have her brother Todd helping out.
5. Lisa Flewelling- A talented triathlete and Ironman finisher.
6. Tanya Johnson
7. Linda Cormier
8. Jean Barry
9. Shawna MacKenzie
10.Aisha Kedheri

Best of luck to everyone!

MEN
1. Charles Dixon, Sackville
2. Martin Verrault, Beresford
3. Steve Lohnes, Hampton
4. Todd Price, Quispamsis
5. John Herron, Bloomfield
4. Murray Jamer, Fredericton
5. John Dallaire, Moncton
6. Jim Johnson, Kingsclear
7. Jeremy Fry, Hampton
8. Greg Parker, Quispamsis

WOMEN
1. Paula Keating, Miramichi
2. Gisela Roux, Miramichi
3. Heather Suttie, Fredericton
4. Lisa Flewelling, Saint John
5. Tanya Johnson, Kingsclear
6. Connie Perry Coffin, Saint John
7. Marta Kelly, Saint John
8. Tracey Price-Emerson, Quispamsis,
9. Cynthia Van Buskirk, Saint John
10. Heather White, Moncton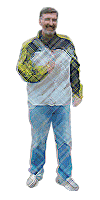 WOMEN
1. Paula Keating - Miramichi: I would have to be "outside my head" to pick anyone but Paula Keating for number one. Running from the elite corral is an indication of just how talented Paula is, she is sure to have a great race.
2. Gisela Roux - Miramichi: Gisela is a solid runner with lots of experience, she is a strong second place. Excellence breeds excellence and Miramichi has been a hot bed of running the last few years. I'm counting on Gisela to really turn heads!
3. Heather Suttie - Fredericton: Heather has a close to 3:30 marathon and is very fast at the shorter distances. I think she will have a great showing in Boston this year.
4. Connie Coffin - Saint John: Connie has been running very well and had two great races in Disney to give her a strong training base. I think she will cross the finish line not only fast but looking fresh she is in such great shape!
5. Lisa Flewelling - Saint John: Lisa is a tough athlete but also uses her head, a great combination. She has real potential to put down a great race. However, Tanya Johnson will keep her honest, it could go either way with those two.

Honourable mentions among the women include:

Tanya Johnson Upper Kingsclear

Tracey Price Emerson Rothesay

Linda Cormier Fredericton

Marta Kelly Saint John

Aisha Khedheri Saint John

Jean Barry Moncton

Cynthia Vanbuskirk Saint John

MEN
1. Chuck Dixon - Sackville: Chuck is number one for one reason… he deserves it. He has been a strong performer and was our leader in 2009. This could be his year to repeat and I think he will!
2. Jim Johnson - Fredericton: Jim just keeps getting better. He is a great ambassador for our sport and I expect he will have a great run in Boston. He might even give Chuck something to think about!
3. John Herron - Bloomfield: It is likely a toss-up between John and Martin Verreault but I'm giving John the edge based on his slightly younger age and slightly faster history at the half marathon distance. I won't be shocked either way but the Bloomfield Bolt gets my vote.
4. Martin Verreault - Beresford: As I mentioned above, it could go either way. Martin is a fine runner and had a couple of seconds on John at their last Boston show down. They will be a fun pair to watch.
5. Steve Lohnes - Hampton: Another close call between Steve and Murray Jamer of Fredericton. These guys are so close it could be a coin toss but I'm selecting Steve on the basis of a slightly faster PB Marathon. Both these guys have a great work ethic and either would be deserving of a breakthrough performance.

Honourable mentions for the men

Murray Jamer Fredericton

Todd Price Quispamsis

Claude Degrace Moncton

Steve Robichaud Neguac

John Dallaire Moncton

And a special shout out to our 70 years plus runners Frank Kelly and Richard Steele, a couple of inspiring guys for sure!

Daryl Steeves "The significant problems we face cannot be solved at the same level of thinking we were at when we created them." - Albert Einstein (1879-1955)