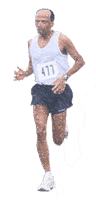 Men
1) Alex Coffin- Should be the top guy in Boston. The only suspense will be whether he's the top New Brunswicker.
2) Paul "Jackl" Thibodeau - This veteran of the NB running scene is running Boston for the first time. I look for a solid sub three hour effort.
3) Steve Robichaud - Steve is living in Quebec now so I haven't heard much about his training, however he had a great result last year.
4) Jim Johnson - coming off a good run at the Mount Desert Island marathon last fall.
5) John Herron - always gives a good effort in Boston.
6) Paul Comeau - Has been racing through marathon training this winter with good results.
7) Tim Keilty - an up and coming runner.
8) Yanick Tremblay
9/10) Toss up - John Dallaire and Mike McNeil. These two horses going head to head should be fun to watch. Mike had a breakthrough year last season, chopping minutes off his pb in consecutive marathons. John just finds a way to get it done!

Women
1) Paula Keating - no question here. New Brunswick's premier runner is gunning for #1 overall. She runs a textbook race with incredible pacing.
2) Leah Sherriff -ran back to back marathons last fall with excellent results(3:23 and 3:24) and has been training well this winter.
3) Brenda Guitard - a solid veteran runner.
4) Lucia Tramonte
5) Jessica Kennedy
6) Marie-France Leblanc
7) Kristen Scott
8) Marta Kelly
9) Lynn Young
10) Tanya Johnson

For the women, I'm going with:

1) Paula Keating: I cannot wait to see if she can repeat her outstanding sub 2:50 performance from 2011.
2) I googled Leah Sheriff who is posted out of CFB Gagetown and we might have a darkhorse here for the #2 ranking. Leah qualified with a 3:23 from a trail marathon!!
3) Brenda Guitard: I fully expect Brenda to be between 3:20 and 3:25 with her experience and determination.
4) Lucia Tramonte: Lucia ran a 3:34 in 2010 and improved to 3:20 in 2011. I'm hoping she keeps improving but I'll still take Brenda and Leah to finish ahead of her.
5) Kristen Scott: I am going to take a flyer on Kristen Scott as she coaches in the Miramichi and may be getting additional tips from Paula. If she gets to #5, she will have to leapfrog Natalie Arsenault, Tanya Johnson, Marta Kelly, Jessica Kennedy and Marie-France Leblanc who I expect will be in the 3:30 to 3:45 range.

For the men, I'm going with:

1) Alex Coffin: This old man cannot use his age as an excuse as he will have to use all of his tricks to stay in front of fellow master runner Paula Keating.
2) Jim Johnson: I'm taking another chance here for #2. Jim has a great day and will go sub 3!!
3) Paul Thibodeau: Should be sub 3 comfortably!!
4) Steve Robichaud: I'll take Steve for a sub 3 as well.
5) John Herron: Just over 3 with Mathieu Bourque, Paul Comeau, Claude Degrace, Jean Landry, Charles Mandel, Tim Keilty and Yanick Tremblay finishing under 3:10.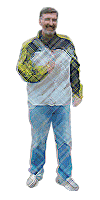 Women
1) Paula Keating, Miramichi
How can you not pick Paula for number one. She has consistently been among the top marathoners ever produced in New Brunswick and has proven herself in Boston already. It should be a good race for Paula this year, and an emotional one as well.
2) Lucia Tramonte, Fredericton
Lucia was third at the Fredericton Marathon. I don't know her well but looking at her results and the age bracket she is running in, my guess is we will see some good results.
3) Natalie Arsenault, Moncton
Natalie has had a meteoric rise in the running world and Boston holds a special place in her heart. With her running abilities and the magic of Boston, Natalie is always a threat to pull off a great time.
4) Brenda Guitard, Saint John
Brenda is a great leader in her running community both as a role model and a mentor. She has knowledge, ability, heart and experience; a great combination when you are running the "big" one. She will be in the thick of it!
5) a toss up between Jessica Kennedy (Dieppe) and Marie-France LeBlanc (Fredericton)
These are both great runners and it is way too close to call. If they end up near each other that day it will be fun to watch who has the little extra in the tank at the end of the race.

Also keep an eye out for Kristen Scott (Fredericton) and Marta Kelly (Saint John)

MEN
1) Alex Coffin, Saint John
Any race, any distance, any time, Alex is a threat to come out on top. He is fit, fast and savvy, he will be tough to beat in Boston!
2) Paul Thibodeau, Dieppe
Paul had a great race in PEI and I think he has more to show us. I will be watching him closely in Boston, anything is possible!
3) Paul Comeau, Miramichi
Paul is a great runner and Miramichi is a great environment for runners lately so I expecting to see some big things from Paul in Boston.
4) John Herron, Bloomfield
John knows Boston. John has had some great runs but I still thing he has something to show us and this could be the year. Keep an eye on him
5) Steve Robichaud, Neguac
I don't know Steve well but I am impressed with his results and he had a great Boston last year. And of course I love any story that starts with; "a young Maritimer from a small town goes to the Boston Marathon", we have had pretty good luck with that story! His youthful legs could make a big impact on Boston again this year .
Others to watch include: Steve Lohnes (Hampton), Jim Johnson (Upper Kingsclear), John Cullighan (Rimouski) and Charles Mandel (Waterville).