Virtual Demi-marathon de l'Acadie Is Real Success

May 2nd, 2020
For the first time in its history due to the Covid-19 pandemic, the Demi-marathon de l'Acadie organized its race so that runners could race virtually. In fact, the 390th edition of the monthly race attracted 41 runners mainly from New Brunswick but also from Ontario, Quebec, Nova Scotia and the United States. Exceptionally, runners had to register on line and run the 21,1 km distance on a course of their choice between April 5 and 12. Runners had to report their time to the race director by email, together with a selfie and a picture of their smart watch indicating their time and distance recorded.
Sylvain Arseneau of Petit-Rocher won gold with a time of 1:24:50. Sébastien Poirier of Tracadie was second with a time of 1:32:00 while third place went to Daniel Landry of Petit Rocher Sud who finished in 1:34:27.
The first woman to cross the finish line was Nathalie Thériault-Roy of Beresford with a time of 1:43:38. Michiko Takatsuka of Caraquet finished second in 1:50:57 while Denise Savage of Tracadie completed the podium in 1:54:10.
Forty-one runners, 14 of whom were women, registered for the race on the RunNB web site. Some of them decided to keep the same certified course from St-Isidore to Tracadie, other ran lopes from their home, others had a family member drive them to a spot 21.1 km from their door steps, one ran in the heat of Barbados, one ran early in the morning in Connecticut to ensure social distancing and some ran on a hilly course. Two runners did not finish due to an injury on the course. All of them send in a smiley post-race photo of themselves and their watch.
To mark this unique event, organizers decided to offer a souvenir medal of this first virtual race to all those who completed the race. The medal that was sent by mail has the DMA logo with « Pandémie 2020 » inscribed clearly. Race results are posted on the web sites of RunNB and DMA.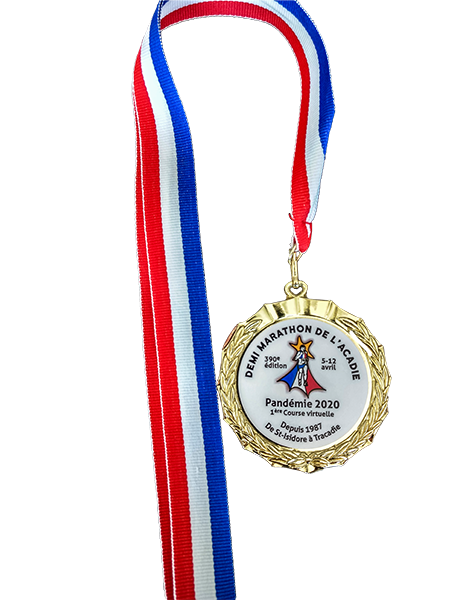 Since this first race was a success, organizers will offer the scheduled May 3 race virtually. Runners can register at https://events.runnb.ca/calendar/.