Virtual Racing, a Nice Motivator

May 1st, 2020
The Miramichi River Runners (MRR) after 36 years and 694 races under our belt is moving in a new direction. The Pandemic Covid-19 is changing the way we run and live for that matter.
At the start of 2020, we held three races, real races, face to face. The New Years Rocky Blackmore race the Brian Richard 5km on January 19th and the David Morris Memorial race on February 9th.
Since then the March St. Patrick Day 5km was postponed and will now be held on May 17th virtually. Our schedule April race went ahead as planned, but virtually. This race was a trial and it proved to be very successful, with 67 runners registered, compared to 53 runners last year.
Our 2020 schedule has 19 races on the calendar, we also have a 10km race due for May 31. We are progressing in an uncharted atmosphere, virtually we now can run from anywhere.
This was quite evident as we had runners registered from across Canada beginning in Charlottetown, Montreal, Ottawa, Calgary, Edmonton, and the winner, Andrew MacLean from Guelph.
Getting back to the April 19th race, Luc Doucette who now lives in Montreal, was the 3rd male to finish the race in 19:27 said,"'Virtual races allow us to stay connected with a group even if we're running alone. Running the Miramichi virtual 5k on the same day as my dad,(Bruno) niece,(Emillie) and brother,(Marc) from a province away, gives me a sense of connection with them and my home community of Rogersville.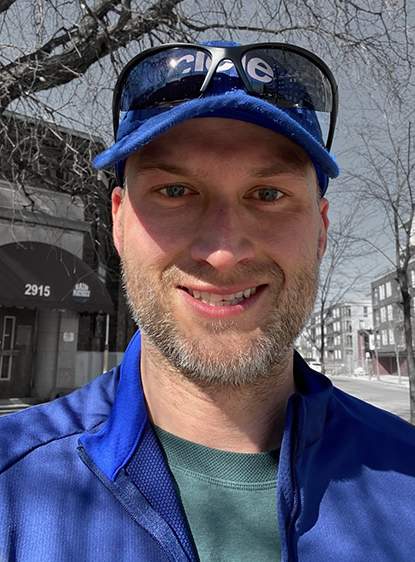 Financially as a club we are doing quite well. Our regular cost per race is $7, the lowest you will find anywhere in NB. Not knowing what to expect in our first virtual race we upped the cost to $9, basically to cover the additional fee of registering online.
This went really good with the registration of 49 runners, 13 who paid in advance and 5 runners 19 and under, who ran free. It's important to remember that insurance for everyone is covered as usual under the RunNB umbrella. We pay a fee for this service.
Having said that we dropped the fee for our May races to $5 to gauge the interest. If all goes well we may and probably will implement a virtual point race, similar to what we have been doing for the past 35 years. Stay tuned.
Runners are reminded to send in a photo of your watch displaying your time and distance to my email at scorbord@mac.com. It's even better if you take a selfie and include the watch.
Dr Paula Keating who won the female side of the race and placed 2nd overall in 18:37 said "As for the virtual race, it was an interesting challenge and a nice motivator to post a time and assess fitness after a winter of training to get in shape for race season. I was actually supposed to be running the BAA 5 k in Boston that weekend, so running the virtual race helped to ward off a bit of the disappointment of that race cancellation, although not quite the same running solo than with the 10,000 registered for BAA 5k!! I have done a lot of solo training over the years, so am used to pushing myself on my own, which was helpful for a solo effort.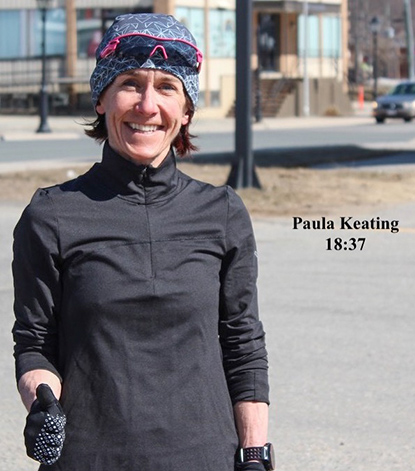 Paula added,"I really miss the social aspect of racing though....the camaraderie, the support, the strategizing on the racecourse to pass or avoid being passed by other runners, and the post-race gathering to chat and celebrate everyone's sense accomplishment of having finished a race and share in the joy of running.
Doucette added, "I look forward to the next virtual run!", that just happens to be Sunday, May 17.