Dickinson and Handrigan are 10km Provincial Champions
June 26th, 2018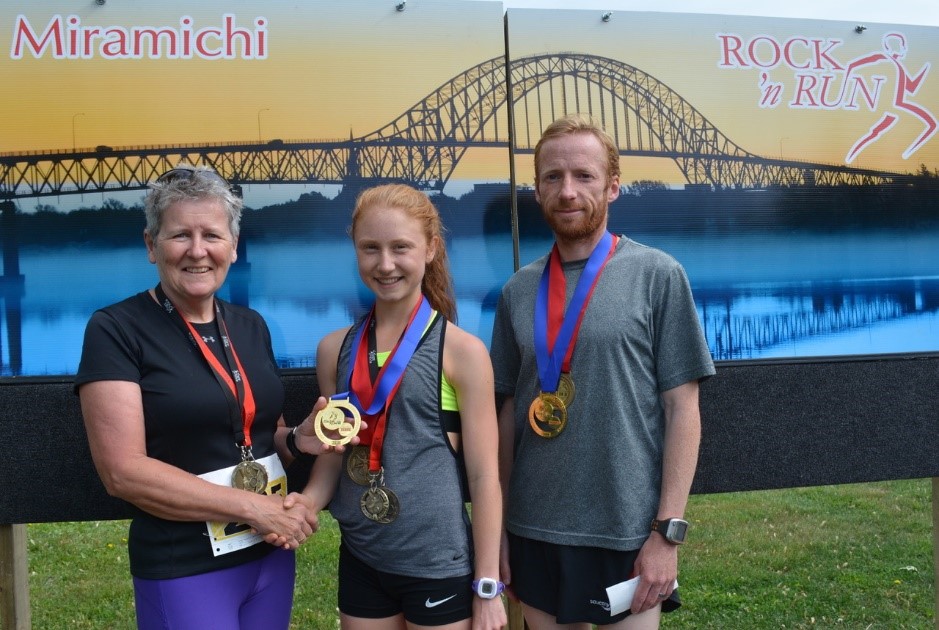 Miramichi played host once again to the ever popular Rock n' Run race this past weekend. With a whopping 350 athletes registered, they completed one of three offered distances; 5k, 10k, and half marathon, the 10k being the provincial championship race.
Grant Handrigan of Moncton, winning the 10k Provincial championship with a speedy time 34:31, falling only a minute slower than his winning time from last year. Evan Arsenault of Quispamsis, taking home the second place title of the championship with a time of 37:04; only one second ahead of Laura Dickinson of Miramichi, who won the women's 10k championship title and came third overall with a time of 37:05. The bronze medal for the men's championship went to Colin McQuade of Riverview with a time of 37:30. Second and third place among the women went to Sacha Hourihan of Southfield (time of 38:33) and Kari Parsons of Saint John (time of 45:36) respectively.
Other notable performances include those of:
- Remi Guitard of Moncton, winning the half marathon with an impressive time of 1:19:12.
- Hope Cyr, taking home the winning medal for the women's half marathon with a time of 1:49:01.
Photo: The two gold medal finishers of the 10k championship (Laura Dickinson and Grant Handrigan) with RunNB president, Mary Brosnan after the race. (Photo by Brian Richard).