New Brunswick's marathon champion crowned
May 14th, 2017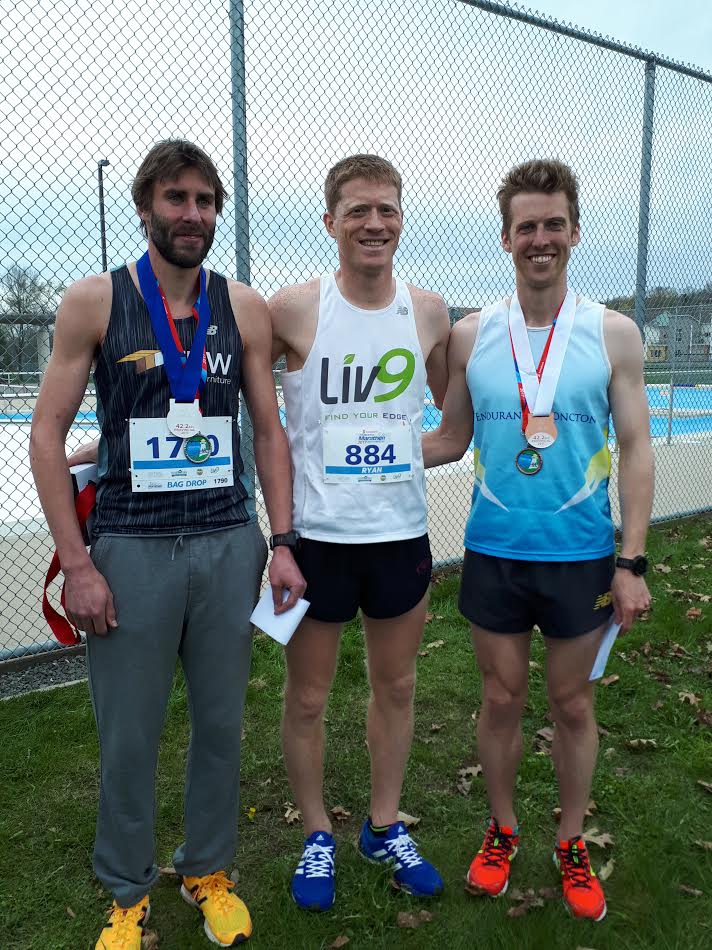 FREDERICTON (RUNNB) – New Brunswick's marathon champions were crowned this past weekend at the 39th edition of the Scotiabank Fredericton Marathon race weekend.

Ryan O'Shea of New Maryland successfully defended both the Fredericton Marathon and RunNB provincial marathon championship titles, finishing in a time of 2:37.59 Sunday, shaving almost two minutes off last year's performance.

"It was perfect conditions," said O'Shea. "It wasn't too hot and there was no wind."

O'Shea led the race until the 25 kilometer mark where he ran into some trouble with a stitch, allowing Jean-Marc Doiron to pass him. O'Shea slowly rebounded, catching Doiron at the 32 kilometer mark to regain the lead and cruise to the finish line. Doiron, of Moncton ended up finishing third overall while Edmundson's Greg Sawyer took second spot.

Annie Pellerin, of Moncton was the top New Brunswick female marathoner, finishing at 3:24:12. Pellerin finished fifth overall on the women's side. Heather O'Donnell, of Meadowvale, Nova Scotia was the overall female marathon winner followed by other Nova Scotians and Lora Kemp, of Prince Edward Island. Mary Kate Wedge and Heather Suttie, both of Fredericton, finished second (3:25:48) and third (3:26:50) respectively in the New Brunswick female marathon championship.

As a certified Boston Marathon qualifier, this Fredericton marathon race weekend draws runners looking to achieve a qualifying time on this flat, fast course. In fact, 30.6% of Sunday's marathon finishers recorded a Boston Marathon qualifying time.

The annual Mother's Day weekend event saw more than 2,448 participants with 1,973 registering for Sunday's event and 475 children participating in Saturday's Youth Run. Next year, the Scotiabank Fredericton Marathon will celebrate its 40th anniversary next year during the weekend of May 12-13.

RunNB's remaining provincial championship races are Miramichi Rock n Run (10 km) on June 25th; 5km de Lamèque on August 5th in Lameque; Hampton Five Miler (8 km) on September 10th and the 21.1k (half marathon) championship at IGT Legs for Literacy on October 20th in Moncton.

Men's marathon champs: Left to right: Greg Sawyer, of Edmundston (2nd), Ryan O'Shea, of New Maryland (1st) and Jean-Marc Doiron, of Moncton (3rd)