Record event at 40th anniversary of Scotiabank Fredericton Marathon
May 14th, 2018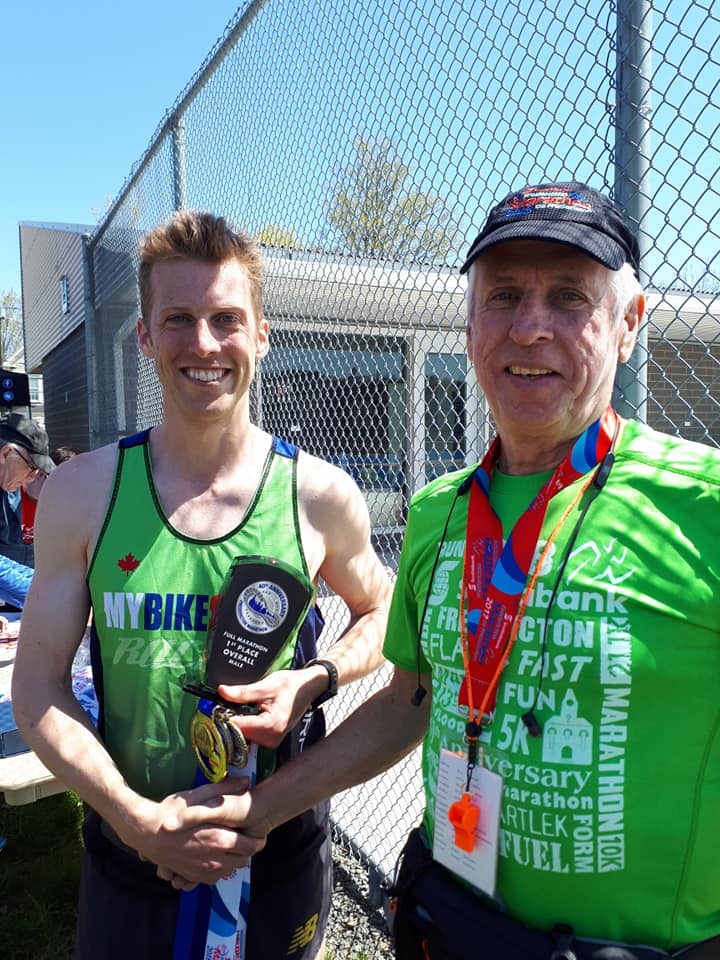 FREDERICTON (GNB) – It was a record weekend in so many ways at the 40th anniversary Scotiabank Fredericton Marathon.
Three race and participation records were smashed during the special three-day weekend, celebrating 40 years of running in provincial capital city.
New Brunswick's Jean-Marc Doiron, of Moncton, Lee Wesselius, of River Glade, and Shelley Doucet, of Quispamsis smashed the course records in their respective racesSunday. Doiron claimed the men's marathon title with a time of 2:33.45, smashing the previous race record held by Chris Brake.
"I have been waiting for this race for a year," said Doiron. "Last year I wanted to win this race and set the record but I crashed so I have been thinking about this pretty much for 365 days.
Doiron's victory also earned him RunNB's provincial men's marathon championship title. James MacLellan, of Oromocto, placed second followed by third place Ryan O'Shea, of New Maryland.
Wesselius won the men's half marathon clocking a time of 1:11.08, breaking James Murphy's previous half marathon race record.
Doucet broke the women's 10k record with a time of 35:57.
A total of 2,322 registered for Sunday's event, creating a new record for the Fredericton Marathon. In the 42.2k marathon event alone, 285 marathoners crossed the finish line, compared to last year's 229 finishers, setting a new record for marathon participants. On Saturday, the Youth Fun Run saw 608 children participate in the popular event, smashing the previous record of 521 kids set in 2016.
Heather O'Donnell, of Meadowvale, Nova Scotia successfully defended the women's marathon title, winning it for the second straight year with a 2:59.42. Emily James, of Rothesay, placed second with 3:02.10. Her performance earned her RunNB provincial women's marathon championship title. Sarah Cleveland, of Fredericton, (5th overall) and Suzanne Myers, of Moncton (6th overall) earned second and third spots in the women's provincial championship.
As a certified Boston Marathon qualifier, this Fredericton marathon race weekend draws runners looking to achieve a qualifying time on this flat, fast course. In fact, 29,12% ofSunday's marathon finishers recorded a Boston Marathon qualifying time.
RunNB's remaining provincial championship races are: River Valley Rave Run (5km) on June 2; Miramichi Rock n Run (10k) June 24; Demi-Marathon Saint-Francois (21.1k)September 2; and Hampton Five Miler (5 miler) September 9.
MEDIA CONTACT: Bruce Macfarlane, Communications, Fredericton Marathon, NBmarathon@gmail.com or @NBMarathonman (Twitter)
Photo: Jean Marc Doiron and Paul Lavoie (race director)