The Scotiabank Fredericton Marathon will host the provincial championship marathon this Sunday
May 10th, 2017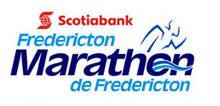 With the spring road race season quickly getting underway, an opportunity to run fast times comes with the 39th Annual Fredericton Marathon, taking place on Sunday, May 14th. The Scotiabank Fredericton Marathon has been selected as this year's New Brunswick provincial championship marathon. Prize money will be awarded to the top 3 male and female New Brunswickers at the provincial championships; $200 for first place, $125 for second place, and $50 for third place. This race is a Run NB RunNB Trackie Superseries event.
This Boston Marathon certified course begins at Queen Square, continuing through the downtown core before transitioning to the trail system and the Bill Thorpe Walking Bridge. This fast, flat course saw 28% of last year's participants achieve a qualifying time for the Boston Marathon. With over 1500 participants registered so far for the event, it promises to be an exciting weekend! Runners to watch include: Jean Marc Doiron, Greg Sawyer, Adam Stacey, Ryan O'Shea, Paul Gallant, Annie Pellerin and Jessica Kennedy .
Race records in the men's and women's categories are held by Chris Brake with a time of 2:34.46 (2010) and Paula Keating with a time of 2:53.57 (2014). The Fredericton Marathon offers cash awards for breaking the marathon and half marathon records. The cash award for the male and female race records start at $250 for the full and increases by $25 for every year it is not broken to a maximum of $500. For the 1/2 it starts at $125 and increase by $25 for every year it is not broken to a maximum of $250. Presently, the marathon record is $375 for men and $225 for women. The half marathon record is now $150 for men and $225 for women
In addition to the Marathon, the Scotiabank Fredericton Race Weekend is offering the following race distances: 5k, 10k, Half Marathon, Youth Fun Run 500 metre, Youth Fun 1K, Youth Fun Run 3K
Race records in these distances are held by:
Half Marathon (21.1K)
James Murphy 1:12:24 (2015), Paula Keating 1:19.29 (2012)
10K
Byron Wood 33:13 (2007), Colleen Wilson 37:14 (2016)
For more information and to register visit https://raceroster.com/events/2017/9924/39th-annual-fredericton-marathon