RunNB's History
Prior to 1980, the provincial organization of running in this province, under the Canadian Track & Field Association, was referred to as the NB Track & Field Association (NBTFA). Its purpose was to oversee the various track competitions organized locally, mainly in southern New Brunswick. At that time, there were road races organized in the province but only local runners, or their acquaintances from other regions, knew about the events. Runners did not have access to a calendar of events and the NBTFA did not publish any.
RunNB's origin dates back to October 6, 1979 at the Annual General Meeting of the NBTFA. The following motion was adopted unanimously.
«Be it resolved that:

a) The NBTFA establish a road race championship series of New Brunswick races.

b) All NBTFA sanctioned road races be included as official races in the championship series.

c) The NBTFA recognize the top scorer in the championship series as the province's Road Race Champion.

d) The NBTFA attempt to acquire commercial sponsorship for its championship series.

Motion by: Leo Sheehy Second by: Chris Amirault

Motion carried unanimously. »

Thus began a new era in road racing in New Brunswick. Under the skilful direction of Leo Sheehy, runners from across the whole province were invited to organize and participate in a championship series event, with minimum standards to respect.
Sanctioned races had to meet the following standards: a) Medical or first aid personnel had to be present; b) Dangerous traffic areas had to be supervised; c) Courses had to be accurately measured with the specific distance noted; d) Results had to be forwarded to the NBTFA newsletter, the Road Race Chairman and the Road Race Statistician.
John and Bonnie Delaney, the statisticians, undertook the mammoth task of tabulating points for the Series. Leo Sheehy's strategic plan allowed runners to be informed of the races scheduled and to get to know each other. «The Championship Series will provide quality competitive events which meet certain minimum requirements with regard to safety and accurate course measurement», states NB Track & Field Association communique. Thus, started the making of the community of road runners that we now call RunNB.
The N.B. Track & Field Association, a division of Run Canada, organized the first SunLife Championship Series of New Brunswick Road Racing in 1980 by offering awards to the Top 10 Open Men, Top 3 Females and Top 3 Masters (age 40 +). +). Fifteen race directors participated in the first Championship Series in 1980; enthusiastic as he was, Leo Sheehyorganized four races himself.
The SunLife Championship Series were held until 1982, celebrated with the awarding of the SunLife Provincial Cup that was displayed at various events. Sanction fees were set according to the numbers of registered runners as follows:
a) 1 -100 runners - $25; b) 101 -250 runners - $50; c) 251-400 runners - $100; d) 401 + - $150.
The 1980 SunLife Super Series program was launched on a photocopied 8
x 14 sheet signed by Leo Sheehy, Road Race Chairman. Eighteen races were listed on the calendar and the Series was open to all New Brunswick runners. The points system based on finish positions was similar to the present Super Series point system, with the winners being declared at the end of the running season.
All finishers received points based on their finish position as follows:
1st - 30, 2nd - 25, 3rd - 22, 4th - 20, 5th – 19, 6th – 18, 7th – 17, 8th – 16, 9th – 15, 10th - 14, 11th - 13, 12th -12, 13th - 11, 14th - 10, 15th - 9, 16th – 8, 17th – 7, 18th – 6, 19th 5, 20th – 4, 21th – 3, 22nd - 2, 23rd - 1, 24th – 1, etc., with all finishers receiving 1 point.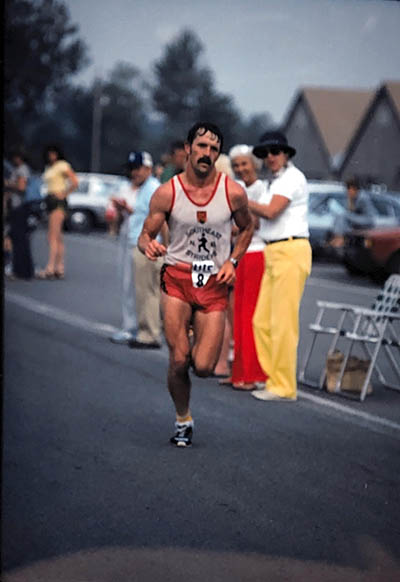 The 1980 Sunlife Championship Series was an undeniable success. Record numbers of runners registered for the events and record setting performances were established.
The following year, 1981, a booklet presenting the rules and regulations, a detailed calendar of the 20 races offered in various regions of the province was published. Runners were encouraged to buy an annual NBTFA membership card for $5.00. A score card for each race was included as well as the list of the top runners of the previous year. The booklet was published annually until 2016, when the organization decided to rely on its web site to communicate with runners. After the sponsorship contract ended with SunLife, Leo Sheehy was asked to return the Provincial Cup to SunLife since the company wanted to use it for another event. According to Leo, the Cup was a fine piece of hardware.
Subsequent sponsors of the Super Series included Labatt's Lite and Coca-Cola/Nike.
Most results at the time were not made public or shared. Hand written race results were compiled and shared by mail; unfortunately, archives were not kept securely.
The results page on RunNB's web site starts with the August 16, 1980 Southeast Striders 20 k held in Riverview with 44 runners listed.
In 1982, the first and only national championship was held in Riverview on August 22. The Perfection National Championship, directed by Leo Sheehy, attracted 247 runners from across the nation. That same year, Brian Richarddirected the first 10 k Provincial Championship in Newcastle (Miramichi) on June 27 with 98 runners competing.
We have inherited from the aforementioned trailblazers a well-structured, bilingual organization, lead by dedicated and creative volunteer runners whose aim is to promote recreational and competitive running as a healthy activity for people of all ages and abilities. RunNB has developed into an organization whose goal is manifested in three streams of focus, namely, event promotion, support to race organizers and running clubs and recognition of personal achievement. We will forever be thankful to these pioneers but especially to Leo Sheehy, whose vision, determination, hard work and passion for running made it possible for RunNB to become what it is today.