Obituary 2022
| | |
| --- | --- |
| Name | Joseph Harold McGuire |
| Resident | Woodstock |
| Born | 26DE1943 |
| Died | 30AUAL2022 |
| Obituary Links | Culberson Funeral Home |

RunNB Mourns the Passing of Joe McGuire
Joe McGuire of Woodstock achieved remarkable success in over 200 road races, never losing a race in eastern Canada or the New England States. His fastest marathon time of 2:27:51, established at the Halifax Marathon in 1984, stands as the third fastest time in New Brunswick.
As a teacher at Woodstock High School, Joe also shared his love of sports by coaching soccer, basketball, hockey and baseball. He was inducted to the RunNB Hall of Fame in 2009.
Joe McGuire - RunNB Hall of Fame
---
Obituary 2021

RunNB Mourns the Passing of Sylvio Bourque
The running community is saddened by the sudden passing of a beloved athlete, well known across the province and beyond. Sylvio Bourque drowned off the shore of Kouchibouguac yesterday. His spouse, Paulette Roy, was with him at the time. According to a close runner friend of Sylvio, she tried to help him reach the shore line but failed in her repeated attempts.
I met Sylvio in February 2006 when he travelled from Grande-Digue to Tracadie to participate in his first Demi-marathon de l'Acadie (DMA). He completed his 80th DMA last June. I welcomed him in my home several times for an overnight stay before the race; the discussions that we had about running, competition, relationships and leadership were always cordial, enlightening and fruitful.
Sylvio Bourque was a man of passion, convictions and actions. He was a member of the RunNB Committee from 2008 to 2016, acting as Vice Chairman in the later years of service. He is credited for spearheading the RunNB Annual Banquet, the Youth Bursary Program and the Elite Series. The 15 KM de Grande-Digue was also one of Sylvio's remarkable accomplishments. He invested countless efforts for 10 years to make that race an attractive and popular event.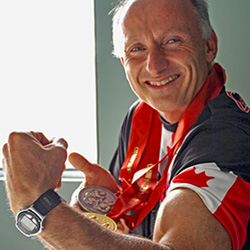 On the world stage, Sylvio competed in arm wrestling competitions in several countries winning several medals, including gold, for Canada. He even hosted two National Arm Wrestling competitions and the 2003 competition set a national record for registration numbers.
As a teacher in Grande-Digue, Sylvio promoted running for students; he organized a running program with sponsors and a point system for students K-8, recruiting close to the entire student school population.
Sylvio's legacy for the running community include his cordiality, his innovative ideas, his passion and commitment. In a letter he wrote to RunNB Committee Members in 2016, he said about the running community: "I've developed solid and respectful relationships with so many great individuals. I enjoy seeing people active, happy and working to maintain a healthy lifestyle. It's contagious!"
New Brunswick has lost a good citizen, an exceptional athlete and social contributor. RunNB wishes to offer our sincere condolences to Paulette, to his family and friends.
Donald Wade, RunNB Chairman
Sylvio Bourque - Inspiring Stories
---
Obituary 2020
| | |
| --- | --- |
| Name | Thomas Raymond "Tom" Reddon |
| Resident | Born in Walkerton ON / Lived in Fredericton NB |
| Born | 28NO1955 |
| Died | 24AL2020 |
| Obituary Links | York Funeral Home |

RunNB Mourns the Passing of Tom Reddon
A Runner's Prayer
Run by my side,
live in my heartbeat,
give strength to my steps.
As the cold surrounds,
as the wind pushes me,
I know you surround me.
As the sun warms me,
as the rain cleanses me,
I know you are touching me,
challenging me, loving me
So I give you this run.
Thank you for matching my stride.
Amen
---
Obituary 2016
| | |
| --- | --- |
| Name | George Gallant |
| Resident | Born in Shediac NB / Lived in Cap Pelé NB |
| Born | 04DE1928 |
| Died | 01MR2016 |
| Obituary Links | Frenette Funeral Home |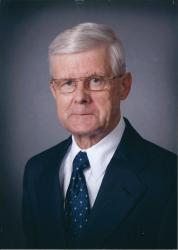 RunNB Hall of Fame - George Gallant
---
Obituary 2007
| | |
| --- | --- |
| Name | Richard "Butch" Gallant |
| Resident | Born in Shediac NB / Lived in Shediac NB |
| Born | 27JN1944 |
| Died | 28AU2007 |
| Obituary Links | Frenette Funeral Home |