RunNB's Awards Banquet 2022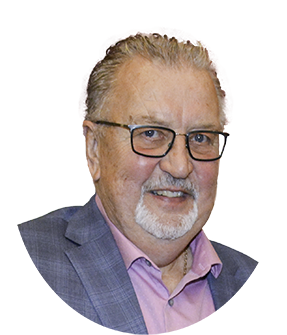 Donald Wade
RunNB Chairperson

After three years of Pandemic restrictions, RunNB returned to a more normal calendar of activities. Sixty-four races were posted on the race calendar.
The RunNB Committee held five Zoom meetings and held its first Annual General Meeting on November 19 in Fredericton where the RunNB Constitution was adopted and a Board was elected by the membership.
266 supporters have bought the RunNB Membership Card.
For the second year in a row, the RunNB Challenge kept runners and walkers active throughout the year.
The important contribution of our race directors and organizers, volunteers, sponsors and especially runners who registered and traveled to the races on the RunNB calendar contributed to a successful running year.
View photos from our weekend in Fredericton.
NB Records set in 2022
Female
Distance
Record Breaker
Age
Cat
Mark
Date
Location
Old Mark
Previous Holder
5K
Paula Keating
56
50-59
18:45*
17JL2022
Miramichi, NB
19:33
Patty Blanchard
8K
Paula Keating
56
50-59
30:55*
08MA2022
Fredericton, NB
33:06
Patty Blanchard
Male
Distance
Record Breaker
Age
Cat
Mark
Date
Location
Old Mark
Previous Holder
Marathon
Mohamed Aagab
2?
20-29
2:15:19
16OC2022
Toronto, ON
2:16:37
Lee Wesselius
Note: Click to see all NB Records
* Paula Keating's 5K and 8K record are also Canadian Masters Age Group Best on the Road.
2022 Trackie & Medical Society SuperSeries Winners
Click link to view photos of the Top 3 winners of each category.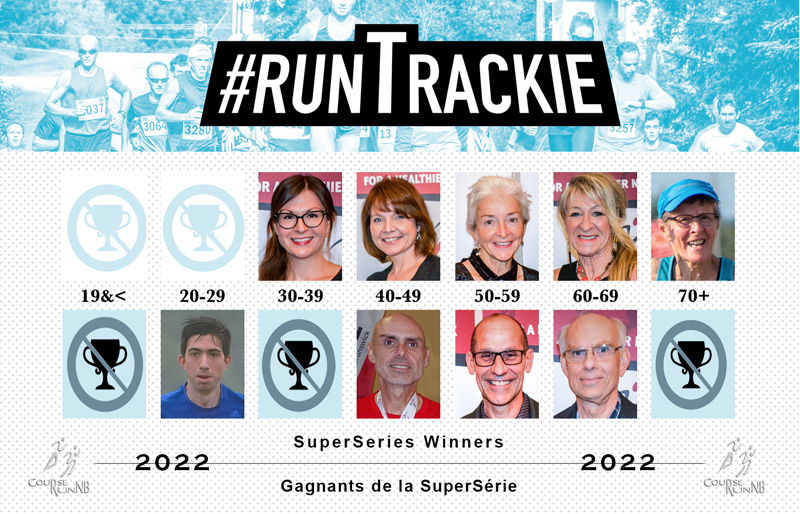 Event of the Year
Stewart McKelvey Fredericton Marathon - Fredericton, NB

This event attracted the greatest number of runners, more than 1200, on the RunNB race calendar. The impressive number of volunteers recruited speaks loudly of the excellent work accomplished by the organizing committee.
The marathon distance was a RunNB Championship, Super Series and a Boston qualifier event. Congratulations!
| | |
| --- | --- |
| | |
| Photo above: 44th Annual Stewart McKelvey Fredericton Marathon 2022 Event of the Year. | Photo above: Donald Wade presents 2022 Event of the Year award. (Photo by Brian Richard) |
Male Runner of the Year
Timmy Basque - Shippagan, NB

Timmy ran 15 races this year, including all the Run the Cycle distances, finishing second with a pace of 3:59/Km. He finished 6th at the Fredericton Marathon with a time of 2:54:10. He also took 3rd position at the 5km Provincial Championship race in Miramichi.
Timmy may not be the fastest runner but he has demonstrated a sustained commitment to running and he takes measures to improve his times with his coach's and other runners' advice.
RunNB is proud to present Timmy Basque with the Male Runner of the Year Award for 2022.
| | | |
| --- | --- | --- |
| | | |
| Timmy Basque of Shippagan, NB | Timmy racing in the 2022 Demi-marathon de l'Acadie | Daniel Violette (L) Vice-Chair of RunNB presents Timmy Basque, 2022 Male Runner of the Year award. [Photo by: Brian Richard] |
Female Runner of the Year
Suzanne Myers - Moncton, NB

Suzanne raced in 14 events on the RunNB calendar, including 11 Super Series races, finishing first. She is the only female runner to complete the Run the Cycle distances, with an average speed of 4:16/Km. She won the Provincial Half Marathon Championship in Tracadie with a time of 1:28:23. She finished first in the 10 km, 2nd in the 5 miles and 3rd in the 5 km. She also has the second best time at the marathon distance with a time of 3:05:47.
RunNB is proud to name Suzanne Myers as 2022 Female Runner of the Year.
Up and Coming Female Runner of the Year
Isabelle Turner - Oromocto, NB

Fairly new to running, Isabelle has set high goals for the 2022 season. She broke the 1:30 half marathon mark in Fredericton last May, finishing with an impressive time of 1:29:51.
Although she only raced three time in events on the RunNB calendar, she managed to capture first place at the 5 km in Fredericton and finished 15th at the Open 5 km Medavie Canadian Championship.
RunNB is pleased to recognize Isabelle as the 2022 Up and Coming Female Runner of the Year.
Isabelle running the

Medavie 5K [Photo by: Gilles Gautreau]
Isabelle running the 2022 Medavie 5K [Photo by: Gilles Gautreau]
Nathalie Boivin (L) Secretary of RunNB presents Isabelle Turner 2022 Up and Coming Female Runner of the Year award. [Photo by: Brian Richard]
Up and Coming Male Runner of the Year
Julien Thibodeau - Bathurst, NB

Julien has taken part in 4 Super Series races, finishing first in his age group. He won the RunNB 5K Provincial Championship crossing the finish line in 17:39 in Lamèque.
He raced in 7 RunNB calendar events km, including the half marathon in Saint John, where he finished third in 1:28:17. Julien is focused on improving his times and his future in running looks promising.
RunNB is pleased to recognize Julien as the 2022 Up and Coming Male Runner of the Year
| | | |
| --- | --- | --- |
| | | |
| Julien Thibodeau running in the 2022 Scott Bowes race in Miramichi [Photo by: ??] | Julien Thibodeau running the 2022 Chaleur 10K [Photo by: ???] | Julien Thibodeau running in the 2022 15Km de Grande-Digue [Photo by: ??] |
Personal Achievement Award
Mohamed Aagab - Campbellton, NB

Mohamed has lived in Canada only a short time but upon his arrival, he took it upon himself to put his running skills to the test. Although he only ran 2 races on the RunNB calendar, his performance is impressive. He ran the 5 km Elite Men Medavie Championship in Moncton finishing in 14:39. His most impressive performance was his NB record at the marathon distance in Toronto where he stopped the clock at 2:15:19. Mohamed is looking forward to meeting runners across the province and participate in more calendar races next year.

RunNB is pleased to recognize Mohamed's impressive times and winning the 2022 Personal Achievement Award.
Sylvio Bourque Memorial Award (Inspirational Person)
Maryse Jacob - Shediac, NB

When age is just a number and you enjoy running and socializing, you do like Maryse; you run as many races as you can and reap its benefits. This year, Maryse ran 27, including 11 Super Series races where she finished in first position. She races the half marathon RunNB Championship race in Tracadie finishing first in her age group 70-79, with a time of 2:33:39. She finished the 5 km Open Canadian Championship in Moncton in 34:15.
Those who know Maryse appreciate her cordial demeanour, her kind words of encouragement and her determination.
RunNB is proud to recognize Maryse Jacob as the 2022 Inspirational Person of the Year now called Sylvio Bourque Memorial Award for her stamina, her ability to maintain a good health and her sociability.
| | | |
| --- | --- | --- |
| | | |
| Maryse finishing the 2022... [Photo by: ] | Maryse running in the 2022 Medavie 5K [Photo by: Gilles Gautreau] | Maryse Jacob |
2022 RunNB Outstanding Contributors
Ron Cormier, Mary Bartlett, Louise Thibodeau and Donald Wade
Ron Cormier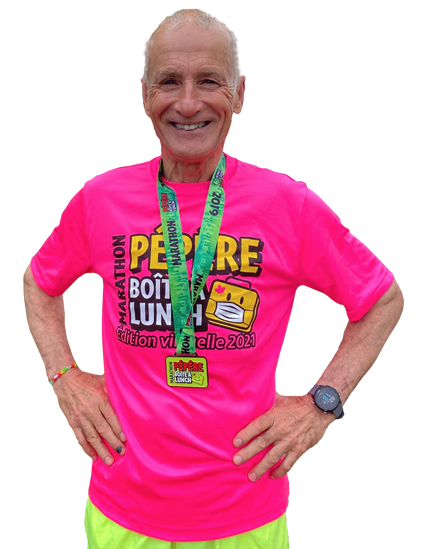 In the winter of 2012, as he approached retirement, Ron Cormier, well known now as Lunch Box Grandpa, wanted to stay in shape and healthy so he chose running to achieve his goal and laced up to train for a five-km race slated for the spring. Later, he joined a Running Room Marathon Clinic and trained for his first marathon in Fredericton. The race was tough and as he approached the finish line, he couldn't believe his eyes; the clock read 3:44.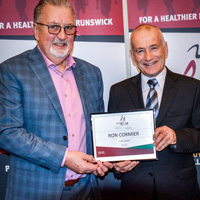 As an accomplished marathoner, Ron registered for the New York City Marathon but he had a cause in mind. The Grande Digue Elementary School principal had shared with him the urgent need to find funds for food for hungry kids. A local artist designed for him a bright lemony yellow running outfit that spectators on the course could see from a distance. Thus, Pépère Boite à Lunch was born. He collected $750 from US strangers that year to help his cause. In the fall of 2016, the Lunchbox Grandpa Campaign collected and gave to the Grande-Digue school over $7000, enough to cover the full year lunch program.
In April 2017, Ron ran his first Boston Marathon with unknown expectation. At the Hopkinton start line, he was shaking, extremely nervous, and wondering why he was among the world's best runners. He was so proud to bowing his head to receive his finisher medal. He ran two more Boston Marathons but virtually due to Covid-19, achieving a qualifying time of 3:52 at the PEI Marathon.
After running his 16th marathon, he reflected on how to approach the future. Quitting was not an option since he wanted to continue his involvement in the fundraising campaign to help kids in need. He said: "I want to stay healthy surrounded by positive people because I am quite satisfied with the results."
Since November 2016, the Lunchbox Grandpa/Pepère Boite à Lunch campaign reached $100,000 to help the students in need in southeast New Brunswick.
Ron Cormier, please accept this RunNB Outstanding Contributor certificate in recognition for your exceptional generosity, your original way of promoting running and your keen social conscience.
---
Mary Bartlett
Mary Bartlett is a well deserving recipient of the 2022 RunNB Outstanding Contributor.

For the last 32 years, Fredericton's Mary Bartlett has been a spectator, participant, volunteer and coach to many runners. She took up running in university as an outlet to relieve stress, as she was also a young single mother at the time. And she hasn't stopped running ever since.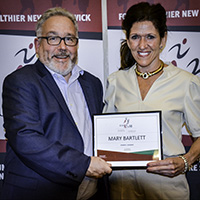 Mary truly believes that part of her purpose in life is to share her love of fitness with others.
"It is probably why I love to introduce people of all ages to the sport of running. It feels so good to see other people succeed and achieve their goals. That is the powerful return of being a coach."
She contributes in many ways to the running community through coaching local and varsity runners, serving as a member of Fredericton Fall Classic committee and posting positive comments about New Brunswick races on social media.
Mary says her early years of running gave her confidence that expanded to other parts of her life.
"Running gave me opportunities to travel and see parts of the world I have may have never seen," she says. "Through running I have also found solitude and strength when I need it; running has taught me when by body needs rest. Simply put, running is part of my soul."
---
Louise Thibodeau
I am very pleased, on behalf of the Run NB Committee, to present the 2022 Run NB Outstanding Contribution Award to Louise Thibodeau.
Louise receives this award because of her outstanding contribution to the Chaleur Running Club.

Since joining the Chaleur Running Club, Louise has put all her heart and energy into her role in communications for the Club. She literally gave new life and breath to the Club:
useful and used website
very active and very popular, or, shall I say, lots of like on the FACEBOOK page
many photos of all members of the group – with thumb up!
follow-ups of the exploits of all the members of the Club, young and old
numerous invitations to running and outdoor activities
sharing interesting news and information
email invitation to participate in Club activities, in both official languages, for all Club members with a reminder that running is good for your physique and morale!
fund raising activities for the Move-Eat in Area Schools initiative, helping to feed students
learn-to-Run Program in collaboration with the Department of Wellness
new distinctive clothing for the Running Club (jacket, camisole, shorts, sports bag, toque), which are the envy of many runners and other clubs.
Do you see the topo?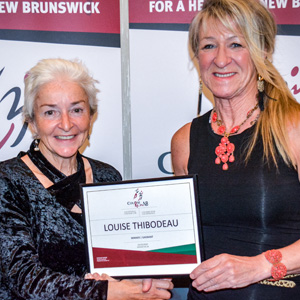 Since Louise's arrival, registrations for the Chaleur Running Club have exploded! Participation in club activities and outings is at an all-time high. Louise is a unifier.
Now Vice-President of the Club, Louise continues her communication activities in addition to all kinds of Club representation activities. Through all these activities, Louise has instilled a great and strong pride and sense of belonging among ALL members of the Running Club. Whatever your performance, whatever your level of running, there is a place for you within the Chaleur Runners Club. You are part of the running community! Louise is a heart of gold, commitment, dynamism guaranteed!
What about Louise's resilience, determination and athletic performance over time. The Boston Marathon? She ran numerous editions, she was even there the year of the bomb. But Louise's determination and resiliency are not limited to running. Louise started triathlon late. She learned to swim. Then, she began her training for the 2020 Tremblant IRONMAN, the year of the pandemic. It got postponed. In 2020 and in 2021. Louise kept at it. She continued her training. In 2022, when the Tremblant IRONMAN resumed, she showed up at the start line. Zen. She completed her first IRONMAN in August 2022.In addition, she won her age-group category: 65-69. Yes, you heard right: the beautiful, strong, and muscular blonde, is 65 years old. Louise is determined. Louise inspires people to try, to excel.
Thank you for all the work done to promote the race in the Chaleur region and beyond. Bravo for the example you offer to girls and women in key positions in organizations. To perform and make a difference!
Congratulations, Louise THIBODEAU, little girl from Rivière-Verte, proud brayonne, exceptional mom, for this 2022 award recognizing your exceptional contribution to running in New Brunswick. Thank you Louise!
---
Donald Wade
The Run NB Committee wishes to present the Run NB 2022 Outstanding Contribution Award to Donald Wade.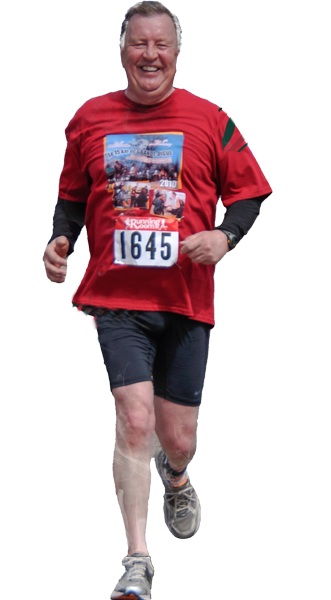 Donald receives this award for his outstanding contribution to the DEMI-MARATHON DE L'ACADIE. For 20 years now, and yes, Donald began his involvement on the DMA organizing committee, in 2002, he put his skills, contacts and charisma at the service of the DMA committee. Following Donald's arrival, the DMA became computerized: registrations are now easier via the internet, and the statistics of each race, more quickly transmitted to both Run NB and the media. Speaking of media, Donald made a difference. His contacts with the media made sure that the results of the DMA appear in the SPORT section, with a short description, of course, all accompanied by a beautiful group photo. Yes! Donald also did that: make sure that photos, lots of photos were taken at each DMA, both on the course and during the ceremony to present the medal to the winners. Donald went so far as to convince the folks at Canadian Running Magazine to publish a full story on the DMA in August 2020. What a pride for the racing world in NB.
Donald's drive and determination have helped keep the DMA's activities alive despite the pandemic. The DMA has gone virtual. Donald managed the registrations, the rules of participation, the transmission of results. Once the bulk of the storm passed, Donald persevered. He inquired about the measures to be taken to allow the return of running with others. He insisted on the rules, making the runners respect them. His example has undoubtedly inspired many others to hold their events. This allowed the runners to meet again and practice their sport together! Stay fit, both physically and mentally, and manage stress throughout this difficult time.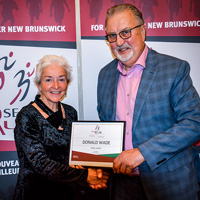 Speaking of keeping fit and managing stress while being physically active, we must mention the 2021 CHALLENGE. That's Donald's idea too! A challenge, launched inviting all to accumulate km either walking, snowshoeing, or running, to go around New Brunswick (once 1200 km or twice 2400 km !!!). Several of you have taken it up in both 2021 and 2022. Well, yes, because in 2022, the challenge went a little bolder, to not only tour NB (1200 km) but add those of Prince Edward Island (800 km) and Nova Scotia (2000 km). A grand total of 4000 km. With these Challenges, Donald has helped keep us in shape. It has inspired many people to try running. It has also helped Run NB stay alive.
Donald does not hesitate to mobilize his skills, contacts, and experiences for the benefit of the DMA and Run NB, which he chairs. He advocates justice for all races without exception. He exerts positive leadership and a collaborative approach that ensures that all members have a voice and the opportunity to share their opinions without prejudice. Before making a decision, Donald communicates with his members and asks for their opinion before proceeding further in the process. Both in his role as President of Run NB and within the DMA committee, he is always available and attentive. He invests a lot of time and wants to follow new trends to be on the lookout for different platforms to promote the race in NB.
Bravo Mr. Donald Wade and thank you for this extraordinary commitment. You are definitely a great choice for this 2022 award recognizing your outstanding contribution to running in NB.
---
Run For The Cycle
Suzanne Myers and Nikolay Ryabkov are the champions of Run For The Cycle for 2022!
Suzanne completed the 5K, 8K, 10K, Half marathon and Full marathon in a average time of 4:16/Km. Nikolay finished the loop with an average time of 4:02/ km.
Congratulations to all who accomplished the very tough goal of completing the Run For The Cycle! RunNB is proud to recognize this exceptional accomplishment for Suzanne and Nikolay. Bravo!

Male: Nikolay Ryabkov - Fredericton, NB / Female: Suzanne Myers, Moncton, NB
| | | |
| --- | --- | --- |
| | | |
| Nikolay Ryabkov, 2022 male winner of Run For The Cycle | Image of Run For The Cycle | Suzanne Myers, 2022 female winner of Run For The Cycle |
---
The 2022 RunNB Maritime Challenge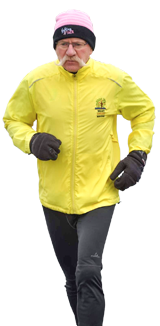 RunNB launched the RunNB 2022 Maritime Challenge 4000 last December. The Challenge included New Brunswick, Prince Edward Island and Nova Scotia and allowed runners and walkers from the Maritimes and beyond to challenge themselves to cover the 4000 km distance over a 12-month period.
Marcelle Breau, of Tracadie , the top winner of the 2022 RunNB Challenge, managed to cover 7645 km with still 18 days left before the deadline. Her husband, Jean-Marie, finished second with 6317.1 km to his credit. Marcelle and Jean-Marie Breau ran or walked almost everyday, at least twice and often 3 times a day. The first outing would take place in the morning, the second in late afternoon and finally another one after supper. Before setting out for their first walk or run of the day, they would check the dashboard to look at the positions of the other participants in the Challenge. The couple wore out 5 pairs of running shoes during the year, one new pair of shoes every two months. When the weather was bad, they ran on their treadmill. Marcelle and Jean-Marie consider the Challenge as an excellent motivator for staying active all year round.
Anne Desrosiers and Mariette Quimper both of Campbellton finished third and fourth in the Challenge with 6261.1 km for Desrosiers and 6026.6 km for Quimper. The two friends often walked together and their daily outings matched those of Marcelle and Jean-Marie Breau, two to three times per day. Both also followed the progress of their competitors on the dashboard. Their determination and their love of the great outdoors made this challenge a perfect time to strengthen their friendship and to stay healthy.
Top 10 of The Maritime Challenge



| | | | | | | |
| --- | --- | --- | --- | --- | --- | --- |
| Pos | Name | Residence | Prov | Cat | F/M | Distance |
| 1 | Marcelle Breau | Tracadie | NB | 60-69 | F | 7645 Km |
| 2 | Jean-Marie Breau | Tracadie | NB | 60-69 | M | 6317 Km |
| 3 | Anne DesRosiers | Campbellton | NB | 60-69 | F | 6261 Km |
| 4 | Mariette Quimper | Campbellton | NB | 60-69 | F | 6027 Km |
| 5 | Fred Green | St Andrews | NB | 70-79 | M | 5564 Km |
| 6 | Louise Connely | Edmundston | NB | 60-69 | F | 5406 Km |
| 7 | David Cromwell | Bloomfield | NB | 60-69 | M | 5017 Km |
| 8 | Nathalie Boivin | Bathurst | NB | 50-59 | F | 4853 Km |
| 9 | Genevieve Poulin | Quebec | QC | 40-49 | F | 4815 Km |
| 10 | Nora Bath | Grand Manan | NB | 60-69 | F | 4689 Km |

L. to R.: Mariette Quimper & Anne DesRosiers

Full Results
---
2022 RunNB Hall Fame Inductees
Walter Williams - Minto, NB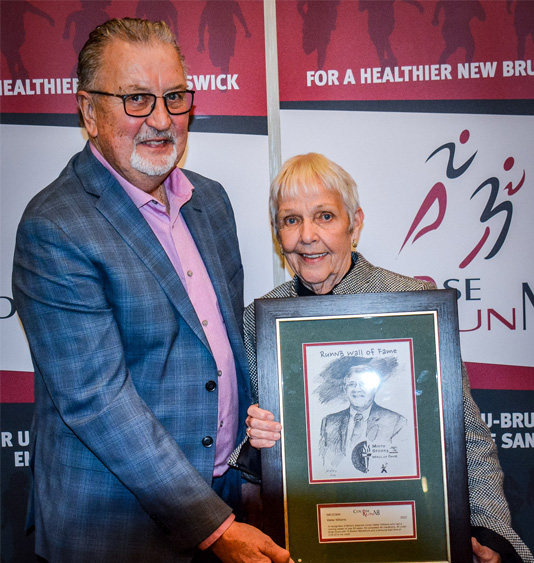 RunNB Chairperson, Donald Wade presenting the Award to Margaret Gallager on behalf of Walter Williams to becomes the 24th member of the RunNB Hall of Fame.
CITATION by: Bob Deap
It is indeed my distinct pleasure to deliver this citation for the induction of Walter Williams in the Run NB Hall of Fame. I thank Margie and Brian for inviting me to present Walter Williams you.
To properly understand Walter's running achievements, you have to have some idea about where he grew up . His hometown was Minto, known essentially as
a coal mining town since the early 1600's. In the early 1960's, the conversion from underground mining to strip mining took place. Strip mining produced
huge mud dumps. There are hundreds miles of mud dumps around the Grand Lake area, several of them are over 100 feet high. This is where Walter Williams
trained. He was at times accompanied such accomplished runners as Billy Best and Mel Keeling. Please allow me share some of Walter's achievements:
1958 - He began running at Minto High School and led them to many provincial and Maritime titles. He personally set Provincial and Maritime records for the ½ mile , 1 mile as well as cross country races.
1958-62 - Walter won over 95% of the race

s he ran in the Maritimes

1961 (March)

-

participated at the Canadi indoor Track and Field Championship

in Winnipeg. He placed 2nd in the 3 mile race and placed first in the 1 mile . As a result of his performences , Walter was abproached by numerous US Colleges.
1961 (Summer ) - He participated in the Eastern Canadian Track and Field Championship in Halifax In the I mile event , Walter placed 2nd to the #1 ranked Canadian miler , Bruce Kidd. , losing by only 10 seconds. Kidd went on to race in the Olympics.
At 17 years of age, he ran in an 8 1/2 mile race in Halifax beating defending champion George Gallant by a 100 yards.
1961 (August) -

placed 2nd in the Canadian Track and Field Championship in

Regina, losing by 1/10 of a second

1961 (September)- Won a Gold medal in the Juvenile division of the Canadian Cross Country Championship in Hamilton He was preseted the Eatons of Canada Award as the outstanding athlete on Team NB

1960 & 1961 - Won the Saint John 5 mile Road Race
1960 & 1961 - Won the Nova Scotia Highland Games & 3 mile road races

Became the first NB runner to break the 4 minute 30 second mile

After a 20 year hiatus from running, WaIter returned to his sport in 1981 with a new goal, to run the famous 26.2 mile Boston Marathon. He achieved his goal in 1985 and ran 9 more Boston Marathons. In total, he ran 46 marathons, 26 of which was under the 3 hour barrier. His personal best time was 2 hours, 28 minutes. In the 1988 Boston Marathon, Walter placed 238th out of 10,000 runners.
I personally met Walter in 2007 as charter Board members of the Minto Sports Wall of Fame. His input and dedication to this board was instrumental to its success. In 2017, Walter was inducted into the Minto Sports Wall of Fame, joining his running buddy Billy Best who was inducted in 2008. And now, this evening, Walter and Billy will be joined again as inductees of the RunNB Hall of Fame. On behalf of the Board of Directors of the Minto Sports Wall of Fame, I wish to convey how deeply proud we are of both these extraordinary athletes and I am honoured to have presented Walt s citation this evening.
RunNB is pleased to welcome Walter as the 24th member of our honoured Hall of Fame. [Introduction was presented by Bob Deap]
| | | |
| --- | --- | --- |
| | | |
| Walter Williams in 1961 | Photo of Walter Williams being inducted into the Minto Wall of Fame in 2017 | Bob Deap reading Walter's citation. |
Banquet Photos
Click here to view photos from the 2022 Awards Banquet.