2nd Victory for Sylvain Arseneau at the Virtual DMA

May 11th, 2020
The monthly race of the 391st Demi-marathon de l'Acadie, held virtually for the second month in a row due to Covid-19, attracted 57 runners, 16 more than the last race in April. With runners mainly from New Brunswick but also from Ontario, Québec, Nova Scotia and the United States, the event allows runners to stay fit, to gauge their performance and keep in touch with others who share their passion for the sport. When they register online, runners commit to run the 21.1 km distance on a course of their choice within a week period. As soon as they finish their race, runners must inform the race director by email or Messenger of their race result by sending a selfie with their watch in view, indicating the time and distance. A unique snap shot of the watch will no longer be acceptable; it must be included with your photo. Furthermore, it is prohibited to run your race on a treadmill. The race was won for the second time by Sylvain Arseneau of Petit-Rocher with a time of 1:25:31. Michel Leblanc of Dieppe won second place, 1:26:40 while Jonathan Legault also of Dieppe finished third with a time of 1:28:27. On the ladies' side, Nathalie Thériault-Roy of Beresford was the fastest with a time of 1:45:45. Tina Thériault-Michaud of Grand Falls won silver, 1:46:52. Michiko Takatsuka of Caraquet was awarded the bronze with a time of 1:47:46.
Fifty-seven runners, with 22 women registered for the race on the RunNB web site and 54 completed the race within the deadline. Several runners had a specific goal to reach. It was the case for Ginette Noël-Thériault of McLeods who completed her second virtual DMA.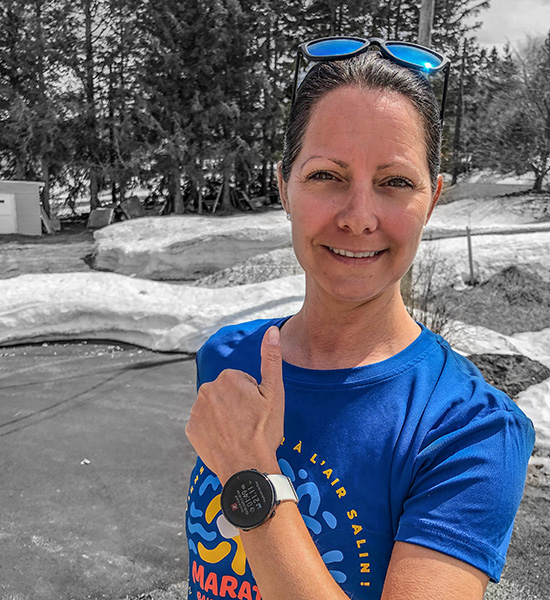 Noël-Thériault was able to shave 8 minutes off her last time at this race, finishing with a time of 1:49:48. She had planned to run her first real DMA in May. When asked about her virtual experience, she said: « Knowing that I would be running my 21,1 km this morning was quite motivating. Even though I was alone at the start, I was excited to run virtually. I told myself that many runners were also on the road running at that same time, each one in his or her part of the country. Thanks to this virtual option, I was able to check my training progress and run the half for the first time in less than 1:50! »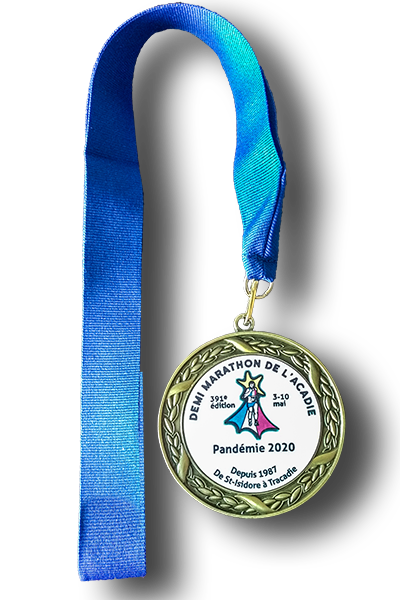 In order to mark these unique pandemic virtual races, the DMA organizing committee decided to offer a souvenir medal to all those who will complete the race, and that for all the upcoming races on the RunNB calendar. The souvenir medal that will be sent by mail, has the DMA logo with « Pandémie 2020 » clearly inscribed. Race results will be posted on the RunNB and DMA web site during the week that follows the race deadline. The race is considered an official race as far as the record number of races completed. It is noted that male runners who complete 100 DMA are awarded a commemorative plaque while the women receive one after completing 50 DMA and after 100 thereafter. The next virtual race will be held from June 7 to 14. Runners can register on the RunNB web site at https://events.runnb.ca/calendar/.