Apporte té clik, pie té clak... on t'attend au 44!
July 10th, 2019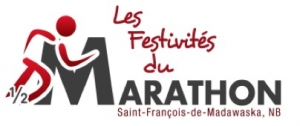 SPORTS EXPERTS RACES which includes 21.1 km, 8 km, 8 km walk, 3 km, 1 km and UNI 5 km run in St. Francis on Sunday, September 1st.
The first hundred runners registered in the 8 km and 21.1 km will receive a Sports Experts shirt. The first hundred runners registered in the 5km will receive a Uni shirt.
The 3 km and 1 km races will be in collaboration with the NB Medical Society.
We strongly recommend that you register in advance at www.runnb.ca. You can also register by mail or email and by contacting Gaétane Duval, 506-992-2780. You can also register in the morning between 7:00 and 8:30 (NB time) to the municipality of Saint-François. Please note that registration fees will increase starting August 26th.
Timing system: Electronic chip.
We would like to mention that the start of the races will be at the municipality. The 21.1 km, 8 km and 8 km walk will have a departure of 9:00. The 5 km will start at 9:10 and the 1 and 3 km will be towards the border street at 9:20.
There will be several prizes for the participants as well as medals for the top 3 in each category. The races are sanctioned by RunNB and the 21.1k race is part of RunNB SuperSeries program. More details on SuperSeries can be found at the following link: https://www.runnb.ca/programs/superseries/
Come and take part in our 44th edition of the Saint-François-de-Madawaska Marathon! We are waiting for you with lots of surprises.
Gaétane Duval
Email: 9922780@nb.sympatico.ca
Phone: 506-992-2780