RunNB Announces the Finalists for its Annual Awards

October 26th, 2022
FREDERICTON (RunNB) - RunNB, the provincial organization that promotes running in New Brunswick, is pleased to announce the finalists for the 2022 RunNB Awards.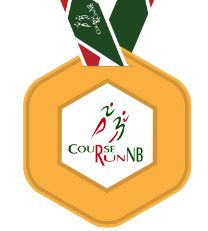 "I would like to congratulate everyone who participated in an event and all the award nominees, said RunNB Chairperson Donald Wade. "I encourage everyone to come celebrate running with us in November."
All awards will be presented at the RunNB Hall of Fame and Awards Night that will take place on Saturday, November 19 at Delta Marriott Fredericton in Fredericton, New Brunswick. Walter Williams, from Minto, will also be inducted posthumously into the RunNB Hall of Fame at the event.
Tickets must be purchased by November 14 and are available for $40 for RunNB card-carrying members or $45 each at the following link: https://events.runnb.ca/event/runnb-2022-awards-banquet/482216/
Finalists for the 2022 RunNB annual awards:
Male Runner of the Year: Sylvain Arseneau (Petit Rocher), Evan Arseneault (Quispamsis) and Timmy Basque (Shippagan)

Female Runner of the Year: Mary Bartlett (Fredericton), Nathalie Boivin (Bathurst) and Suzanne Myers (Moncton)

Up and Coming Male Runner of the Year: Alex Cowan (Tracadie), Mathieu Hebert (Moncton) and Julien Thibodeau (Bathurst)

Up and Coming Female Runner of the Year: Amy Caissie (Six Roads), Jessica Kenny (Fredericton) and Isabelle Turner (Oromocto)

Sylvio Bourque Memorial Award (Inspirational Person of the Year): Mary Bartlett (Fredericton), Gaston Godin (Dunlop) and Maryse Jacob (Shediac)

Personal Achievement Award: Mohamed Aagab (Saint-Leonard), Marcelle Breau (Tracadie) and Gaston Godin (Dunlop)

Event of the Year: Demi-marathon de St-Francois (St-Francois), Fredericton Marathon (Fredericton) and 10K Chaleur (Beresford)