Canadian 5km Virtual Challenge

September 11th, 2020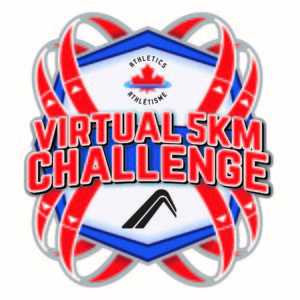 September 18, 2020 to September 20, 2020
Wherever it is safe!

While the 2020 Canadian 5km Championships to be held in Moncton, NB, have been postponed to next year, Athletics Canada is pleased to announce the launch of the Athletics Canada Virtual 5km Challenge in conjunction with our partners at AthleticNET. The Challenge is open to every athlete aged 12 – 100 and will run September 18-20, 2020.
Winners in each competition category will will a $50 gift card to www.shop.athletics.ca.

Registration for the virtual challenge opens September 1. Current Athletics Canada members receive a discounted price of $10, non-Athletics Canada members will pay $20. Additionally, all participants can purchase an exclusive finisher medal.
Athletes register online at AthleticNET. Participants may upload videos, photos or GPS proof of their performances using the AthleticAPP beginning on September 18.

Full results, with links to all submission video/photo/GPS posts will be produced in real-time for each age category starting September 18.
We hope to see everyone, in person or virtually, next September in Moncton, N.B., for the 2021 Medavie Canadian 5km Championships. In the meantime, we hope you enjoy participating in the Virtual 5km Challenge to see how you stack up against runners from all across Canada.