Fredericton makes strides as GoToInsure.ca Fredericton Marathon hosts pair of RunNB Provincial Championships
January 11th, 2019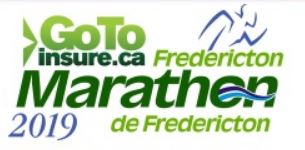 JANUARY 11, 2019 - RunNB is pleased to announce the host for the 2019 Provincial Half Marathon and Marathon Championships will be the GoToInsure.ca Fredericton Marathon event on May 12 in Fredericton.
During the recent RunNB Annual General Meeting, applications for hosting Provincial Championships were reviewed and decided upon, taking into consideration race distance, geographical location, and the history of the race.
The 41st Fredericton Marathon Race Weekend is slated for May 11th & 12th, 2019 with a 3k run and Youth Fun Run on Saturday, May 11th followed by Sunday events of the 5k, 10k, half marathon, and full marathon on the 12th.
The Fredericton Marathon will also host the 2020 Half-Marathon Championships.
In 2006, RunNB introduced the provincial championship program to encourage runners to participate in different events and crown a champion in each of the five main distances: 5 kilometer, 5 mile, 10 kilometer, half marathon, and marathon. The winner of each event will be declared the provincial champion in that event and the top 3 New Brunswicker will receive prize money.
Full details on the Provincial Championships program, including rules and regulations, can be found here: www.runnb.ca/programs/prov-champs/