INVITATION TO CANADIAN RUNNING CLUBS – PREPARE YOUR VIRTUAL RUNNING TEAMS

November 17th, 2020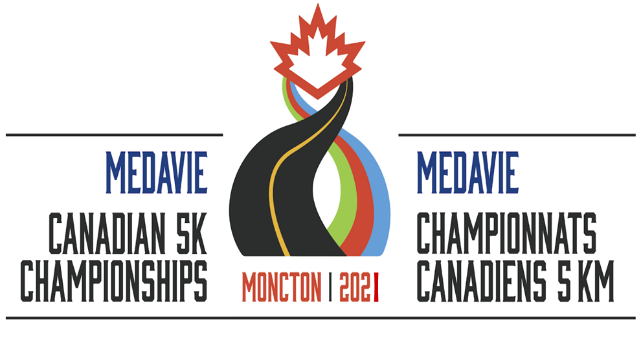 Next September 12th, 2021is when we will stage the Canadian Senior and Masters 5K Road Championship in Moncton, NB. The race, if able to be held in person, is going to be a weekend full of high energy & smiles. Elite runners from across the country will race through the streets of Moncton for national titles, cash awards, and unique medals for their trophy cases.
As a member of the organizing committee and the RunNB representative for the Running Clubs in New Brunswick, I would like to introduce you to the fun twist we are planning for this 2021 National 5K championship. A virtual team contest.
Are you looking for a way to offer a fun competition to your Club members? Or take-on other Clubs from across the country? Or, wanting some new way to promote your Running Club? This virtual race will definitely be what your running shoes need to take part in!
Teams of 4 runners (bigger the club, the more teams you can put together) will run a virtual 5K. As you register, your club will be announced on our social media outlets. Teams will be running for three titles: Top 3 Teams in Canada, Top 2 Teams of Atlantic Canada & the Top Team for NB. There will be both pride and cash awards for these winners.
The thought of helping more runners come together in these interesting times is a big priority. With this new style of race, that wish will happen. A fun virtual way to run 'alongside' runners from across the country, accumulate points, earn some prizes, grab some swag & create some new memories for us all! I know I will be cheering my Speedy Sistas on while they run this virtual race.
Registration information and further details will be released over the next few weeks. Stay tune.
Yours truly and virtually,
Shawna Allaby
2021 National 5K Championship Organizer
RunNB Run Club Representative