Lee Roy and Teanne Ewings Win Tim Horton Joe McGuire Race.

August 8th, 2023
By Jill Dunnett
Lee Roy of Beresford won the 10 km Joe McGuire race on Saturday in Woodstock finishing in 35:05. Second position went to Paul Nozicka of Newbridge in 36:27 with Jackson Culberson of Jacksonville taking third place in 38:14. First lady to cross the finish line for the 10 km was Isabelle Turner of Oromocto with a time of 41:04. Sarah Young of Fredericton took second place with a time of 43:12. Kayley Bell of Caribou completed the podium in 44:57.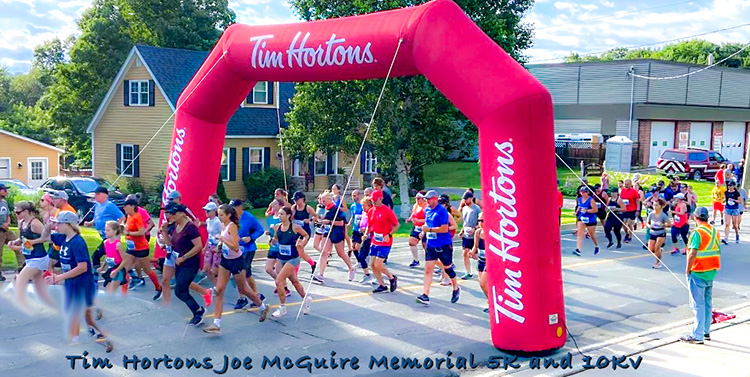 An unusual event took place at the RunNB 5K Super Series race. The top 3 finishers were all females. Teanne Ewings of Houlton, ME, took an early lead to finish strong in 17:51. Second place went to Julia Reid-Howell of Fredericton in 18:20. Emily Trites also of Fredericton finished third in 18:38. Sébastien Godin of Moncton was the first male to cross the finish line in 18:48. Malachi Witmer of Linneus ME finished second in 18:52 while Todd Power of Atholville completed the podium in 18:56.

The new title of the event 'Tim Hortons Joe McGuire Memorial 5K and 10K was officially changed this year, in Joe's memory and the legacy that he has certainly left, not only in the town of Woodstock, but the NB running community.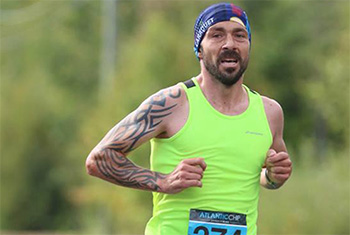 We were super happy to announce that the 5k was part of the super series and that our race course is officially certified as of this year. We want to continue to offer this as, not only a community event during our annual Old Home Week Celebration, which by the way is celebrating 75 years, but we also strive to attract some of the top runners around our province, Atlantic provinces, and our neighbouring state of Maine.

With Tim Hortons being the main sponsor, as well as a number of local businesses that continue to help us financially to put on this event.

Trevor McGuire, Joe's youngest son, was on hand at the 1-mile marker calling out times as runners went by, as Joe had done for several years.