Marcelle Breau crosses the 100th DMA mark

March 2nd, 2020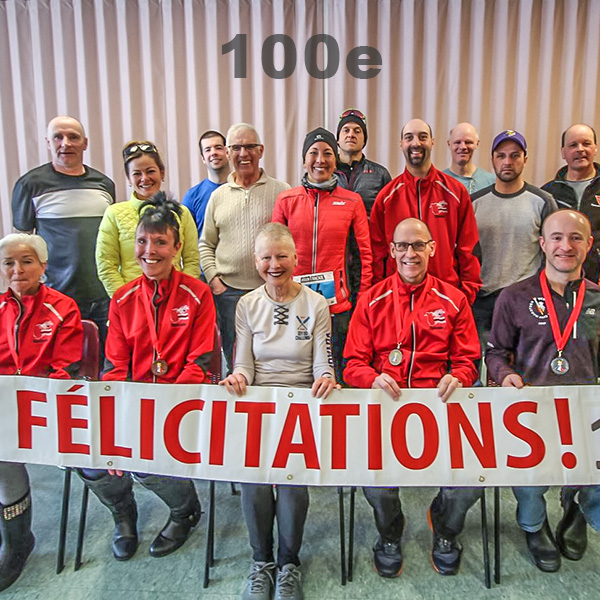 The 389th edition of the Acadie Half Marathon (DMA) witnessed an exceptional personal achievement as Marcelle Breau of Tracadie completed her 100th DMA. She was greeted with fists in the air and enthusiasm at the finish line by the other runners who expressed admiration for her tenacity, thoroughness and sportsmanship. Marcelle Breau is a vivid example that age should never limit us in our life goals. She finished the course in snow and wind in 2:02.37. The DMA will give him a commemorative plaque during the race next April.
An arduous competition between the two leaders of the peloton throughout the race was combined with a final sprint at the finish line. Sylvain Arseneau of Petit-Rocher narrowly won it over rival Yannick Tremblay of Beresford by less than a second at the finish line. Arseneau finished in 1: 34: 09 while Tremblay recorded 1: 34: 10. Bruce Clark of Houlton, Maine finished third, not far from the two leaders, in 1: 34: 56.
In the ladies' category, Nathalie Thériault-Roy of Beresford, who completed her 75th DMA today, won the gold with a time of 1: 48: 57. Nathalie Boivin of Bathurst took the silver in 1: 50: 21 while Mélodie Leblanc of Caraquet won the bronze in 1: 57: 35.
Twenty-one runners, including 6 women, started in difficult conditions, snowy road, constant snow and windy. Only one runner, Ben Newman of Bathurst, was taking part in this race for the first time. He finished in 2: 03: 23.
The draw for a free pass offered by the Acadie Half Marathon for a race in the next 12 months went to Lawson Le Bouthillier of Losier Settlement.
The race director said that next month, two races will be offered, the 390th DMA and the traditional 10 km of Good Friday.
The next race will take place on April 5 with a start at 10am. For those who want to start early, you only have to communicate your intention to the race director.