Nathalie Boivin Wins Mont-Tremblant Ironman Competition in her Age Group

August 22nd, 2023
By Donald Wade
Nathalie Boivin, RunNB's Secretary and Hall of Famer completed the Mont-Tremblant Ironman last Sunday in an amazing 12:30:27, finishing top in her age group (60-64). The Bathurst athlete completed the 3.8 km swim in 1:20:08, the 180 km bike in 6:40:46 and the 42.2 km run in 4:08:43.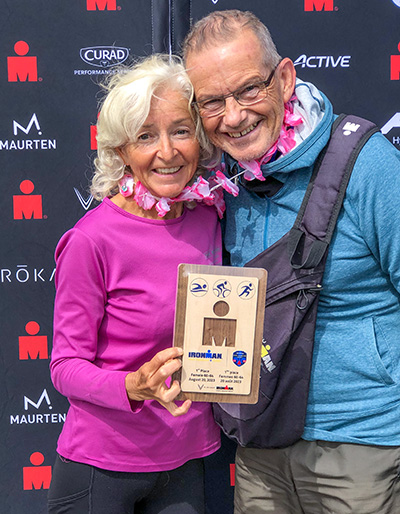 "The conditions were ideal and I didn't have any mishaps. It was a good day for me. Glad I got my pass for Kona. Eight more weeks of training ", she said. The Women's VinFast Ironman World Championship in Kailua-Kona, Hawaii will be held October 14, 2023.
RunNB congratulates Nathalie for her exceptional performance, determination and pure grit!
In her message to the RunNB Board Members, she concluded by saying: "Life is good. Keep running!"
Photo: Nathalie celebrating her Ironman performance with her husband Maurice