NB Runners Performed Well at 126th Boston Marathon

April 27th, 2022

By Donald Wade - April 2022
Thirty New Brunswick runners, ranging in age from 26 to 72, trained hard to achieve success at the prestigious 126th Boston Marathon. Some were first timers, while others knew the ropes. All had a reason for being there, whether it be redemption from a previous goal failure, the exhilaration of running with the best runners in the world or the emotional rush of crossing the finish line.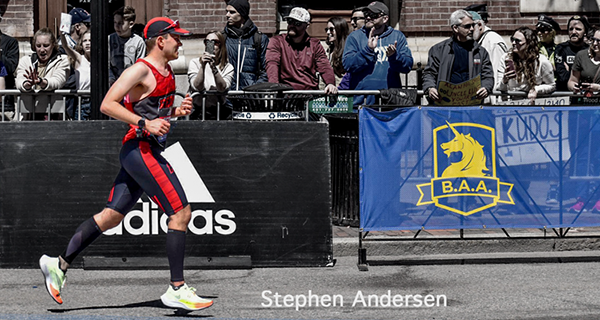 The first runner from New Brunswick to cross the finish line was Stephen Andersen, 22, of Fredericton; this was Andersen's first experience at Boston. But his inexperience did not prevent him from performing, finishing with a time of 2:45:10, with an average pace of 6:18/mile. "Boston is an experience unlike any other", he said. He truly appreciated the support at the side of the road. He added: "In terms of the race itself, I was ready for the Newton hills but I was not ready for the constant elevation change throughout the rest of the race", he said. His race plan was to run 6 min/mile (3:45/km) effort until the Newton hills but at 16 k, his right calf tightened up and from there he had to adjust his pace to a speed his calf could handle. He slowed significantly on the hills because he had difficulty driving off on his right side. "Regardless, I am still happy with my time, a 9-minute personal best!", he added. Anderson was surprised by how fast time went by, mainly due to the great fan support. "We passed through 10 k before I knew it. There is nothing quite like the Boston Marathon", he concluded.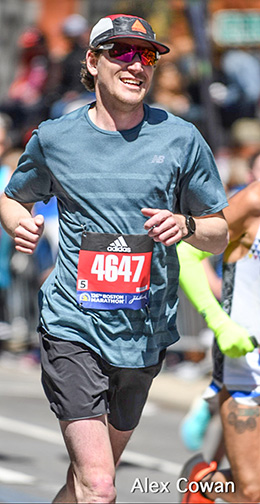 Taking second place was Alex Cowan, 26, of Tracadie who was also at his first Boston Marathon experience. Cowan stopped the clock at 2:52:17, with an average pace of 6:35/mile. Before the start of the race, Alex felt ready thanks to his training under the guidance of Réjean Chiasson (Pace & Mind Running), who instructed him on the art of running and its culture. "During the race, I followed the plan precisely and I succeeded in weaving through the runners to set my pace", he said. The large crowd of cheering spectators created an incredible atmosphere that boosted his energy.
"To see my family at 200 meters from the finish line made the moment even more magical. To cross that finish line was one of my greatest personal and athletic accomplishments", he admitted. He accomplished his best time ever at the marathon distance. He was moved by the numerous messages of support and congratulations that he received from the running community.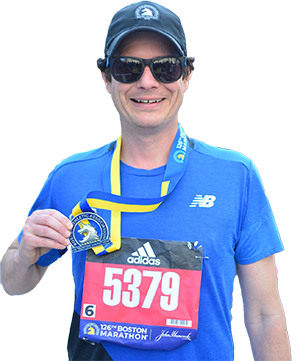 The third NB runner at the finish was Greg McCann, 41, of Fredericton, this being his 8th consecutive Boston Marathon. He finished with a time of 2:55:32. "Boston is full of positive energy and everyone has good vibes", he said. McCaan started the race in the sixth corral, quite a bit back from the starting line. By the time he crossed the start line, a few minutes had already passed since the gun start. "There are so many people that for the first 5-6 miles, I did my best not to get trampled on. It was just one moving mass of a set speed", he added.
He followed the wise advice of his coach"quick cadence on the downhills, don't over stride and beat up your quads". It was only after the 6-mile mark that the runners began to spread out, allowing him to settle in and enjoy the amazing fans lining the course with their cheers, food, hydration, including beer around mile 24 on which he passed. The screams of the crowd at the Wellesley tunnel provided him with a surged of energy in his legs. "I was able to focus on my form the entire race and felt the most aware of where I was and what I was doing out of any of my past races. It was a beautiful day for a run", he concluded.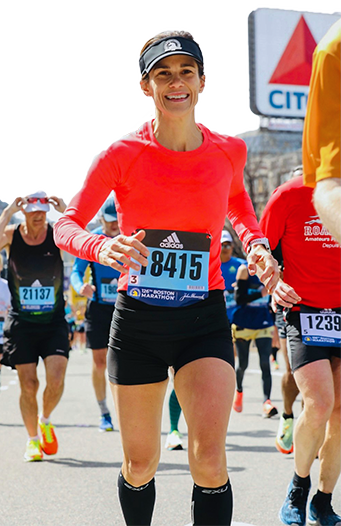 Rachelle St-Coeur of Dieppe was the fastest NB woman, finishing 3:32:16. "The Boston Marathon was an experience of a lifetime!" she declared. St-Coeur appreciated the energy that crowd along the course brought to the event. «When you turn left on Boylston Street for the last meters, your emotions remind you of the reason why you run", she added. Having her husband and sons greet her at the finish was especially memorable.
The second NB female runner at the finish was Jill Cronk of Quispamsis, in 3:36:27. RunNB was not able to reach her for her comments at publishing time.
Third place went to Marcie Holland of Saint John with a time of 3:36:59. Holland ran Boston 7 times in a row, her fastest time being 3:19:11 in 2018, the stormy year with high winds, pouring rain and cold temperatures when a lot of elite runners had to drop out of the race. That's a true Maritimer who can handle the weather! Last year, she ran the race virtually as a celebration of her training. "This year, I was more serious and focused during the race to make sure that I could do an even effort and get the best result possible, given my terrible training this winter", she said. But this year, the weather was pleasant and she had a wonderful time being there. "Each time I step up to that starting line, I get very emotional; it's like a celebration of humanity, this race!" she added.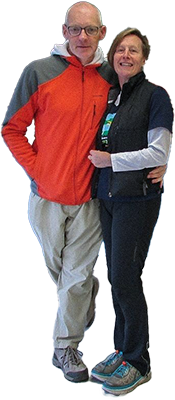 These NB runners' successes are partly due to the professional work of Garth and Helena Miller (Fundy Sports & Tourism) who organized the bus trip and making sure that runners had a pleasant, worriless and comfortable stay in Boston. Several runners from NS, PEI and NB made the bus trip together. "The times were very impressive and it was so good to be back in Boston again. Looking forward to next year", Garth said.
RunNB congratulates all New Brunswick runners for their performance at Boston; you make us proud!
Complete results are posted on the RunNB website at (runnb.ca).