Roch Lizotte wins the 385th DMA
November 6th, 2019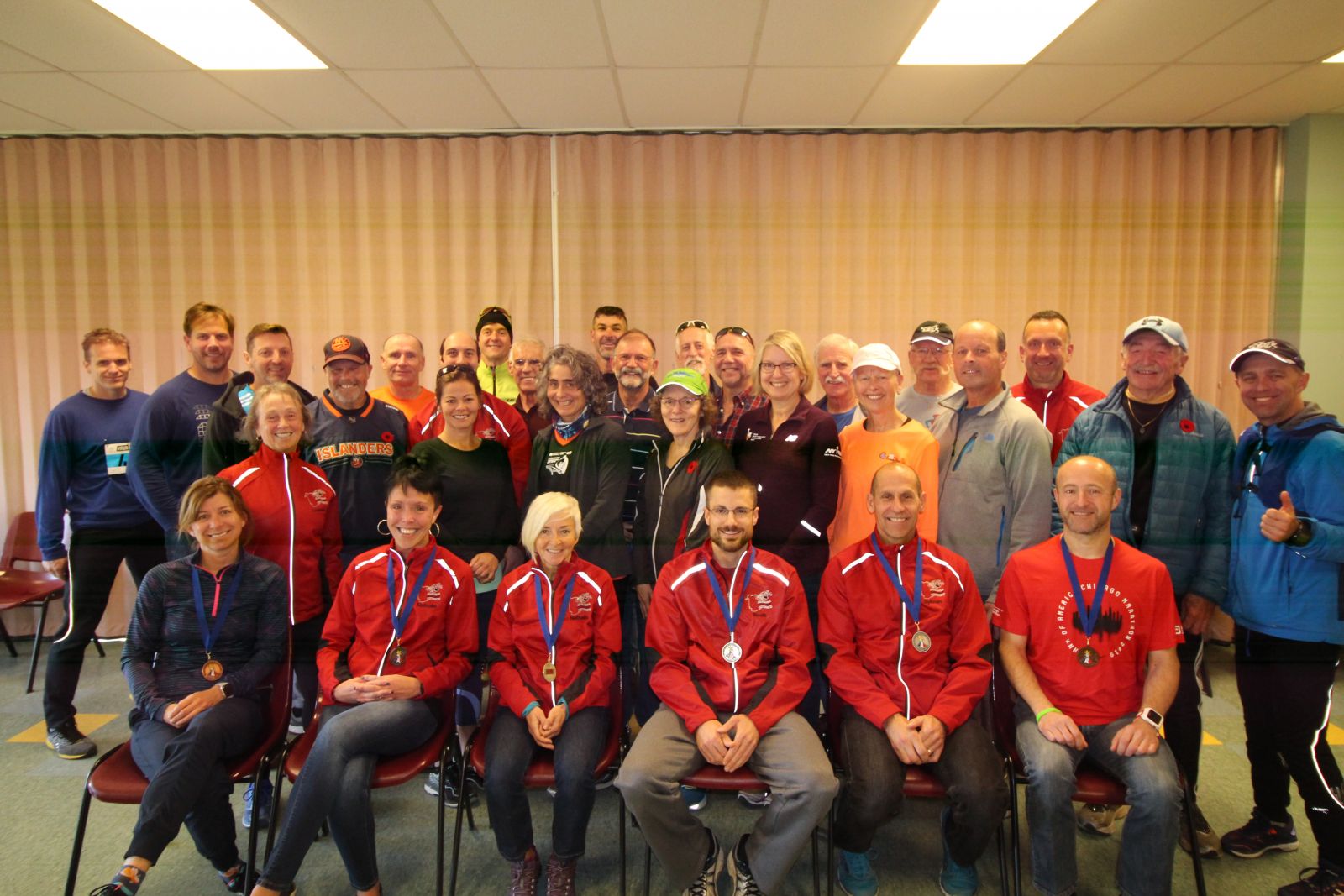 Roch Lizotte of Bathurst ran his first DMA in September 2018 in 1: 21: 05 and his 2nd the following month in 1: 19: 02. Today, he could not do better but he left his closest rival, Sylvain Arseneau Petit-Rocher, far behind by more than 7 minutes. Lizotte finished with a time of 1: 19: 43 while Arseneau posted a time of 1:25:27. Yannick Tremblay of Beresford was third in 1: 26: 31.
For the ladies, we had a tight finish to the race. The fastest was Nathalie Boivin of Bathurst who finished in 1: 38: 30, 21 seconds ahead of Nathalie Thériault Roy of Beresford who finished in 1: 38: 51, 2 seconds faster than Renée Blanchard of Bathurst who posted a time of 1: 38: 53.
Thirty-four runners, including 9 women, started under favorable conditions. A Saint John couple was in their first participation in this race. Paul and Christine Sands completed the race with a time of 1: 59.
The draw of a free pass offered by the Half Marathon of Acadia for a race in the next 12 months went to Timmy Basque of Shippagan. For her part, Lucienne Roy of Petit-Rocher earned a free pass offered by the Chaleur Runners Club.
Race director Donald Wade informed runners that in the future, a bucket will be installed about 100 meters from the hydration stations to drop empty bottles and other waste. This will make the work of the volunteers less arduous.
In addition, he pointed out to the runners that we have the privilege of taking a shower at the pool after the race. However, when there are children in the shower room, it is necessary to show modesty. He asked the runners to take a shower with their underwear when children are present and to dress in the available booths.
Three runners had personal best times at this race: Gaétan Chiasson de Caraquet clocked a time of 1: 312: 57 while Renée Blanchard of Bathurst finished in 1: 38: 53. For her part, Lucienne Roy Petit Rocher cut several minutes to his previous time, finishing in 2: 04: 22.
Three runners highlighted a milestone in their participation in the DMA. Laurent Godin of Black Rock completed today his 30th DMA while Silvia Antuna of Tracadie completed his 160th and Raymond Gallant of Plaster Rock his 170th. Congratulations to you three and thank you for your loyalty to the DMA.
The next race will take place on December 1st with a start at 9 am, exceptionally. Santa Claus and Mother Christmas will be here with the participation of the young runners of the club led by Denise Savage. Do not forget to dress with Christmas accoutrements for the occasion. A special meal is promised as well as the prize draw of $ 50. For those who want to take a hasty start, simply communicate your intent to the race director. It's a pleasure to see you again !