RunNB 2019 Award Winners

November 17th, 2019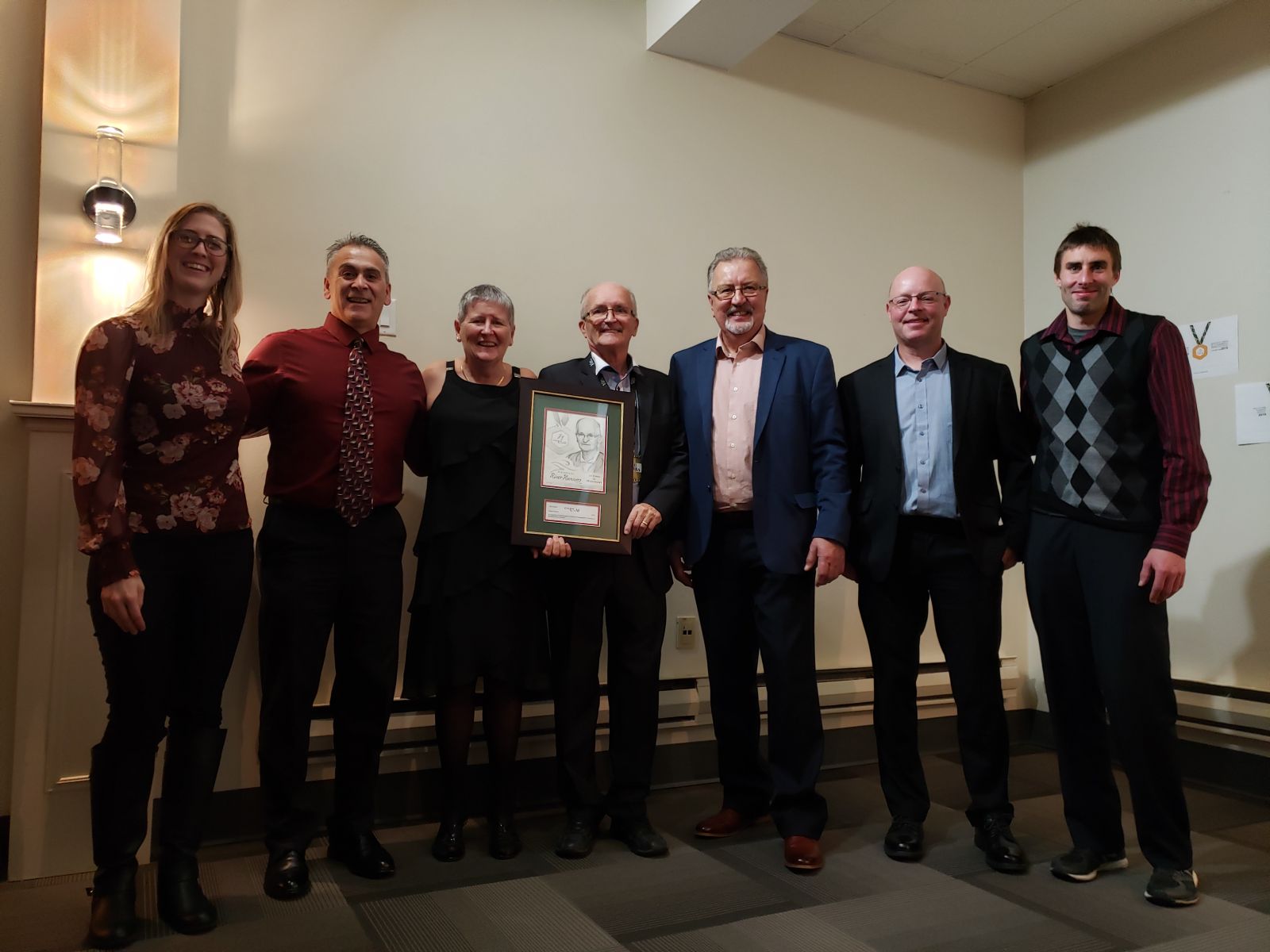 *Photo: Members of the RunNB Board and RunNB Staff with Brian Richard (newest inductee into the RunNB HOF).
After a fantastic evening organized by the Chaleur Road Runners and RunNB, we are proud to announce the winners of the 2019 RunNB Awards. Over 100 participants attended this year's gala at Danny's Inn in Beresford. Congratulations to all finalists and to our award winners! A special congratulations to our newest inductee into the RunNB Hall of Fame, Brian Richard.
RunNB 2019 Award Winners:
Up and Coming Female Runner of the Year:

Shawna Allaby(Belleisle Creek): Shawna Allaby from Belleisle Creek has had a breakthrough year with fifteen RunNB sanctioned races under her belt in 2019 and placing first in the SuperSeries for her age category. Shawna was a keynote speaker at the Women's Running Summit where she inspired women from across the province to pursue the sport of running.

Up and Coming Male Runner of the Year:

Timmy Basque(Shippagan): Timmy Basque from Shippagan competed in over 20 different RunNB sanctioned races this year, including six half marathons, eleven 5k's, two 5-milers and a 10km. He is in the top five provincially for his age group in the 5km, 5 miler and half-marathon and has ranked in the top 5 in 18 of his races. Truly remarkable!

RunNB Outstanding Contributor:

Robert Lagacé: Robert Lagacé, of Notre-Dame-des-Érables, is a journalist and sports and cultural editor at l'Acadie Nouvelle. His numerous articles published in 2019 on races in NB in this provincial newspaper help expose the performances of our elite runners such as Lalonde, Roy, Vringer, Dickinson, etc. but also to highlight our races with quality reports. His critical thinking, sense of fairness and hard work make Robert Lagacé an excellent candidate for the outstanding contribution of RunNB.

Inspirational Person of the Year:

Johanne Theriault(Nigadoo): In 2019, Johanne Theriault from Nigadoo became the first Canadian to participate in the Chartreuse Terminorum in France (300km), a run that no human being has yet completed. She plans on returning in 2020. In 2019, she had her second participation at the Barkley BFC. She is the first participant from New-Brunswick to complete 1 loop in the Frozen Head State Park in Tennessee. Johanne is always helping and encouraging other runners with their challenges in running and in everyday life. She also organizes local fun runs and training sessions for other runners. Even though she has only been running for 5 1/2 years, she has represented our province in our sport all around the world and still has many more running adventures to come. She is truly an inspirational person!

Event of the Year:

Miramichi Running Series(Miramichi): The Miramichi River Runners Club have been active since 1984, with 689 races to its credit so far, celebrating 35 years of running. In 2019, race organizers posted 16 races on the Run NB calendar, welcoming 951 runners to their events, including the Rock'n Run Festival race, with four more races to go before the end of the year. The organisation welcomes runners from all regions, offering a point system to runners who wish to qualify to win a MRR jacket at the year–end club party. Because of their longevity, the variety of races that they organize in terms of distances, memorials, festivities, both road and trail, for their up-to date web site and Facebook Page and more importantly, for their love of running, the Miramichi Running Series are a deserving candidate for the title Event of the Year for 2019.

Personal Achievement Award:

Louise Thibodeau(Beresford): Louise Thibodeau of Beresford has participated in 14 Run NB sanctioned races, she established a new personal best in the 5 km, being 23:22, took part in 2 marathons and qualified for the Boston Marathon. Louise is in the top 3 of the 5 km, 5 miler, 10 km, half-marathon and marathon. She is also 2nd in SuperSeries and in the Run NB's RUN FOR CYCLE in her age category. She is also very implicated iwth the Chaleur Road Runners Club.

Female Runner of the Year:

Sacha Hourihan(Southfield): Sacha Hourihan is a Southfield runner who has had an outstanding year in road running. She won the 5km, 5 Miler and 10km provincial championships, and had an amazing marathon debut in the spring in a time of 2:50:33, currently holding the top female provincial marathon time for this year. Sacha is currently ranked in first for both men and women in the RunNB Run for the Cycle, is second in the SuperSeries in her category, and holds the fastest times in the province this year for all women in the 5 miles, 10km and marathon.

Male Runner of the Year:

Sylvain Arseneau(Petit Rocher): Sylvain Arseneau from Petit Rocher has had a great running season in 2019. To date this year, he has completed 35 RunNB sanctioned races and should end the year with 38 or more in total. From all his performances, Sylvain has placed 1st overall on 10 occasions and 2nd and 3rd on 12 occasions. He has always placed first in his age category with one exception where he placed second. Provincially, he is ranked in the top two for the 5km, 5 miles, 10km and half marathon. He has also placed first in his age group for the SuperSeries.
Provincial Championship Winners:
5km (Miramichi Rock N Run 2019 on June 23rd, 2019)
Women:
1 - Sacha Hourihan (Southfield): 18:15
2 - Sylvie LeBlanc (Bathurst): 19:53
3 - Sylvie Cormier (Dieppe): 22:14
Men:
1 - Jean-Marc Doiron (Moncton): 16:03
2 - Grant Handrigan (Moncton): 16:15
3 - Pier-Luc Roy (Dieppe): 16 :30
5 Miles (Hampton Five Miler on September 8th, 2019)
Women:
1 - Sacha Hourihan (Southfield): 30:09
2 - Erin Vringer (Saint John): 31:56
3 - Anouk Doiron (Moncton): 34:18
Men:
1 - Lee Wesselius (River Glade): 23:39
2 - Jean-Marc Doiron (Moncton): 27:40
3 - Jeff Queen (Saint John): 29:02
10km (10km Chaleur Banque Nationale CKLE on June 8th, 2019)
Women:
1 - Sach Hourihan (Southfield): 36:40
2 - Sylvie Leblanc (Bathurst): 40:46
3 - Kamylle Frenette (Dieppe): 41:11
Men:
1 - Jean-Marc Doiron (Moncton): 32:56
2 - Pier-Luc Roy (Dieppe): 33:00
3 - Alex L'Heureux (Hanwell): 34:30
Half Marathon (41st Anniversary GoToInsure.ca Fredericton Marathon on May 12th, 2019)
Women:
1 - Sarah Beairsto (Fredericton): 1:30:15
2 - Cathy Comeau (Moncton): 1:33:45
3 - Marcie Holland (Saint John): 1:35:30
Men:
1 - Lee Wesselius (River Glade): 1:08:06
2 - Alex L'Heureux (Hanwell): 1:19:15
3 - Justin Young (Fredericton): 1:19:27
Marathon (41st Anniversary GoToInsure.ca Fredericton Marathon on May 12th, 2019)
Women:
1 - Sarah Cleveland (Fredericton): 3:16:40
2 - Laura Richard (Fredericton): 3:18:16
3 - Isabelle Thibault (Edmundston): 3:25:21
Men:
1 - Trevor Funk (Saint John): 2:44:43
2 - Jean-Marc Boudreau (Memramcook): 2:52:05
3 - Josh Shanks (Chance Harbour): 2:56:12
Super Series Winners:
19 & U W:
1 (1 race/100pts) Amelie Cormier (Caraquet)
2 (1 race/100pts) Erin Vringer (Saint John)
3 (1 race/100pts) Madalyn Mackinnon (Chaplin Island Road)
19 & U M:
1 (4 races/240pts) Liam Funk (Saint John)
2 (2 races/150pts) Julien Thibodeau (Bathurst)
3 (1 race/100pts) Cameron Harris (Quispamsis)
20-29 W:
1(13 races/554pts) Shawna Allaby (Belleisle Creek)
2(7 races/324pts) Courtney Culligan (Quispamsis)
3 (3 races/190pts) Sarah Beairsto (Fredericton)
20-29 M:
1 (6 races/390pts) Pier-Luc Roy (Dieppe)
2 (4 races/290pts) Shaun Girouard (Miramichi)
3 (3 races/250pts) Lee Wesselius (River Glade)
30-39 W:
1 (11 races/598pts) Sylvie Cormier (Dieppe)
2 (7 races/495pts) Sacha Hourihan (Southfield)
3 (12 races/472pts) Summer Duchesneau (Cambridge-Narrows)
30-39 M:
1 (10 races/520pts) Paul Gallant (Dieppe)
2 (11 races/458pts) Daniel Landry (Petit-Rocher-Sud)
3 (5 races/400pts) Jean-Marc Doiron (Moncton)
40-49 W:
1 (7 races/282pts) Haley Green (Quispamsis)
2 (7 races/211pts) Louiselle King (Moncton)
3 (3 races/195pts) Sarah Holand (Saint John)
40-49 M:
1 (16 races/634pts) Gaston Godin (Dunlop)
2 (6 races/445pts) Brad McLellan (Bathurst)
3 (4 races/250pts) Trevor Funk (Saint John)
50-59 W:
1 (8 races/495pts) Nathalie Boivin (Bathurst)
2 (9 races/308pts) Marta Kelly (Saint John)
3 (6 races/169pts) Heidi Boucher (Killarney Road)
50-59 M:
1 (16 races/990pts) Sylvain Arseneau (Petit-Rocher)
2 (7 races/261pts) Grant Kelly (Saint John)
3 (4 races/195pts) Joe Culligan (Quispamsis)
60-69 W:
1 (13 races/700pts) Paulette Roy (Beresford)
2 (10 races/595pts) Louise Thibodeau (Beresford)
3 (7 races/338pts) Maureen Daigle (Fredericton)
60-69 M:
1 (13 races/715pts) Sylvio Bourque (Beresford)
2 (13 races/603pts) Leon Leblanc (Moncton)
3 (6 races/375pts) Paul Sands (Saint John)
70-79 W:
1 (12 races/770pts) Jenny Keenan (Halifax, NS)
2 (7 races/360pts) Maryse Jacob (Shediac)
3 (6 races/345pts) Lucienne Donelle-Easton (Grande-Digue)
70-79 M:
1 (9 races/465pts) Murray Forgrave (Apohaqui)
2 (6 races/365pts) Phil Booker (Fredericton)
3 (5 races/300pts) Tom Stewart (St Stephen)
80+ W:
1 (1 race/100pts) Krista Daley (Halifax, NS)
80+ M:
1 (11 races/700pts) Frank Kelly (Saint John)
2 (3 races/240pts) John Rideout (Halifax, NS)