Walter Williams will be inducted into the RunNB Hall of Fame

September 12th, 2022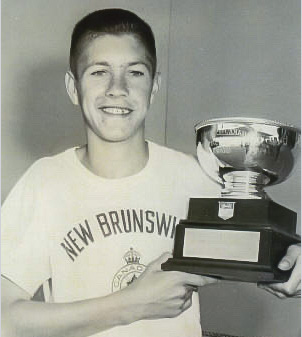 Walter Williams, from Minto, will be inducted posthumously into the RunNB Hall of Fame on November 19th in Fredericton. He will be joining his long time friend and school mate Billy Best who was inducted in 2011.
Walter began his running career in 1958 while attending Minto Memorial High School. He excelled in road racing, track and cross country over 38 years, running his last Boston Marathon in 1996.
Over his running carer Walter ran 46 marathons, 26 of those under the three-hour barrier, his best of 10 Boston Marathons being 2:28:20.
In the summer of 1961, Walter ran the one-mile event in the Eastern Canadian Championship in Halifax setting a new personal best time of 4:20 in placing 2nd to Bruce Kidd, the number one ranked runner in Canada. Kidd went on to race in the Olympics.
At 17 years of age in Halifax, he beat the then favourite George Gallant, and defending champion, by 100 yards in the 8.5 mile race. During his high school running career, Walter won one Canadian title, in the mile and one Canadian title in Cross Country.
Walter also won numerous races around the Martimes winning the Saint John 5 mile race in 1960 & 61.
Walter was also inducted into the Minto Sports Wall of Fame in 2017.