Weather Update!
September 7th, 2019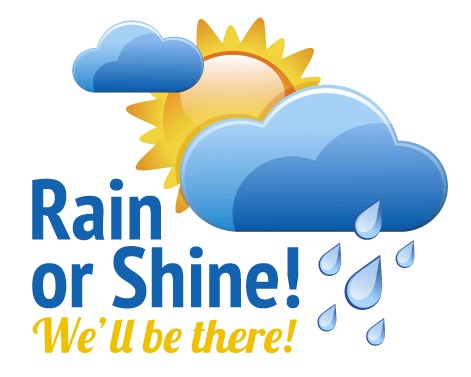 ***WEATHER UPDATE***
HAMPTON FIVE MILER: Update 11am Saturday, Sept. 7
The Hampton 5 Miler, Kids' Kilometre and Three for Me 3K will proceed as scheduled. The Saturday pre-registration pick-up from 12-2pm is cancelled. Please check for updates on Sunday morning in the event of unforeseen circumstances such as a power outage or damage to the race route that could result in delays or last-minute cancellation. Updates will be posted on our website, Facebook page and RunNB website.
Hello Runners! Resurgo is ON! We are not cancelling the race!
Here is our much anticipated tropical storm (hurricane?) Dorian update. Given the forecast for the weekend we are going to make a few adjustments. They are listed below.
1 -We will be changing bib pickup to an earlier time on Saturday September 7th. We will be at Chocolate River Station from 10am until 4pm. This will allow runners to come in and get their gear before the wind and rain intensify later on.
2 - The full marathon will be starting at 9 am on Sunday, September 8th. The half will start at 915 am. This later start time will hopefully allow runners to avoid the early morning showers and cooler temperatures.
3 - We will also be offering morning of bib pickup for runners at Chocolate River Station between 7 am and 8 am. This will allow those runners who are traveling for race morning a little more time to get here.
4 - BAG CHECK - We really want to encourage runners to utilize our bag check on race morning. Make sure you pack some warm socks and clothes to switch into after the race!
5 - Dressing for the weather - We are Canadian runners, we understand sometimes it gets cold. It would be a good idea to pack a hat and gloves, maybe a long sleeve for race morning. You can throw away any clothing at our water stops and they can collect it for donation or recycling. If you have a friend coming to cheer they can take your clothes as well! It looks like the first 4.8 km will be a tailwind, it might be a good idea to hold onto your warming clothes until you see how the headwind feels.
5 - Puddles - We will do our best to deal with large puddles on the course, but I think it is safe to assume there will be some. I will not apologize for puddles.
6 - If you feel any signs of hypothermia setting in during the race (shivering, loss of coordination, slurred speech, fuzzy thinking), our water stations will double as WARMING STATIONS with toasty cars equipped with blankets and hand warmers to let you warm up in. Volunteers can also arrange for you to get a ride back to Chocolate River Station if you decide you need it.
7 - Parts of the race course will have strong headwinds at times, and other parts will have strong tailwinds. Don't fret if your pace slips running into the headwind! Run based on effort, and you'll make up the time difference when you get the tailwind!