Wesselius and Hourihan are the NB 5 Mile Champions!
September 9th, 2019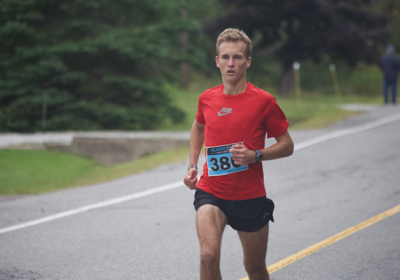 New Brunswick runners and race organizers displayed their determination this past weekend with not a single cancelled RunNB sanctioned race despite Hurricane Dorian sweeping over Atlantic Canada. Saturday's fierce winds and rain left many broken tree branches scattered on the roads, but this wasn't enough to deter our NB runners. Four events took place bright and early on Sunday morning. Among them was the NB Provincial 5 Mile Championship.
In an incredible display of strength, Lee Wesselius of River Glade smashed the Hampton Five Miler course record and provincial record in the 5 Mile (8km) race in a time of 23:39. That is an average of 2:57 per km! This beats Marc Beaudoin's old provincial record of 24:05 established in 1983 and Barry Britt's old course record of 24:45 established in 2017.
The top three female runners at the Hampton Five Miler were Sacha Hourihan of Southfield (30:09), Erin Vringer of Saint John (31:56) and Anouk Doiron of Moncton (34:18). The top three male runners were Lee Wesselius of River Glade (23:39), Jean-Marc Doiron of Moncton (27:40) and Jeff Queen of Saint John (29:02). Sacha and Lee brought home the titles of 2019 NB Provincial 5 Mile Champions. 169 runners took part in this race.
Also taking place on Sunday was the Resurgo Marathon in Moncton. 41 runners completed the marathon and 101 completed the half-marathon, which is fantastic for this first edition of the event on a hurrican weekend. Daniel Backa of Quispamsis won the marathon in a time of 3:03:28 and Sabrina Cheverie of Riverview was the first woman in a time of 3:37:50. Kip Jackson of Sackville was the first man across the finish line for the half-marathon in 1:23:32 and Carol-Anne MacDonald of Irishtown was the first woman across in 1:29:08.
In Bathurst, 37 runners completed the 10k and 42 runners completed the 5k at the Bathurst 10K Trail Race on Sunday. Julien Thibodeau of Bathurst brought home the gold in the 10k in a time of 39:45 and Sylvie Leblanc of Bathurst won for the women in a time of 43:26. In the 5k, Joel Leblanc of Caraquet crossed first for the men in 21:45 and Nadia Kenny of North Tetagouche was first for the women in 28:58.
Last but not least was the September 5k in Miramichi where Owen Cook of Miramichi placed first for the men in 19:02 and Amy Barrieau of Miramichi placed first for the women in 22:27. 25 runners took part in this race.
Congratulations to all runners and all race directors for these great performances and fantastic events across the province!
Hampton Five Miler results: https://events.runnb.ca/results/hampton-five-miler/1491/
Resurgo Marathon results: https://results.raceroster.com/results/rrweudqk5fmkzphk?sub_event_option=structured_29309&query_string=&gender_code=&per_page=500&division=&page=1
Bathurst 10K Trail Race results: https://events.runnb.ca/results/bathurst-10k-trail-race-course-en-sentier/1492/2/
September 5K Miramichi results: https://events.runnb.ca/results/september-5k/1493/
Photo courtesy of Hampton River Runners (http://www.hamptonriverrunners.ca)