Women's Running Summit
September 7th, 2018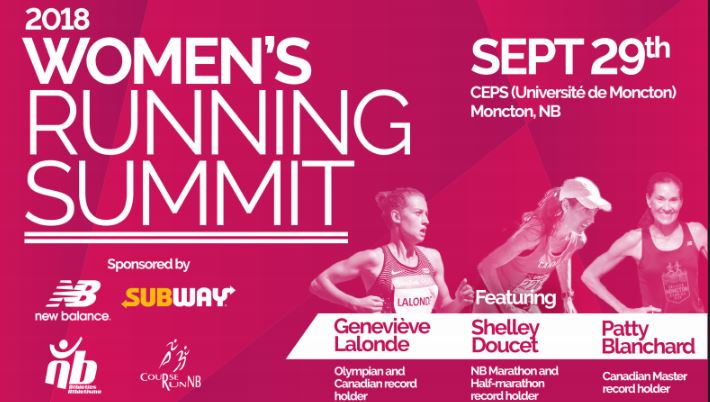 On Saturday, September 29that the CEPS of Université de Moncton, RunNB and Athletics New Brunswick are hosting their first ever Women's Running Summit. Girls and women of ages 13 and up are invited to mark their calendars, as this event is announcing itself as one of the most captivating of the year. Three of New Brunswick's finest runners in Geneviève Lalonde, Shelley Doucet and Patty Blanchard will be present for the day's activities.
Starting at 10:00 am, runners will be invited to engage in ice breaking events, a run, and an active session, all interspersed with discussions on pertinent topics, such as development of running in females and the promotion of positive experiences in sport. Lunch will be provided by Subway, and the event will wrap up at 3:30 pm.
Three accomplished New Brunswick ambassadors of female sport will lead the day's activities.
Patty Blanchard is a Moncton native and the Canadian F60-64 record holder in the half-marathon, thanks to her clocking of one hour, 33 minutes and 22 seconds. She has represented Canada internationally on several occasions and is a Run New Brunswick Hall of Fame inductee.
Shelley Doucet is a Quispamsis native and a professor of nursing at the University of New Brunswick. She holds the New Brunswick records in the marathon, half marathon and 10-mile distances, and recently represented Canada at the 2017 Jeux de la Francophonie at the Ivory Coast, where she won the gold medal in the marathon. Shelley has also competed on the Canadian Mountain Racing Team over the past two years.
Genevieve Lalonde is a former CIS cross-country champion with the Guelph Gryphons and a 2016 Olympian in the 3000m steeplechase. She currently holds the Canadian steeplechase record of 9:29.99, and finished seventh at this year's Commonwealth Games in Gold Coast, Australia, also in the steeplechase.
Lalonde had a big role in the preparation of this event. "Right now in NB," says Lalonde, "we have many women just generally excelling in their own capacity, and what better way is there to celebrate that than to have a day where we can learn from each other?" The Moncton native adds that any girl or woman who is interested in sport of any level (and not exclusively running) is encouraged to attend. "I am just stoked to get to tell some of my stories and learn from others." Lalonde's sponsors have provided some prizes and gear for those who attend.
Participants may register at www.anb.ca/wrs. The sign-up deadline is September 24th.
All registration proceeds from this women's only event will be donated to events and programs promoting girls and women's participation in sport.