Yanick Tremblay Wins the 1st Invitational Zero Excuses Sports Marathon

May 23rd, 2021
By Louis-Philippe McGraw
Zero Excuses Sports presented, Saturday, May 21, its first competition, a 42.2 km race held on the newly developed cycling trail in Tracadie. In keeping with the public health restrictions, the event was held upon invitation only in order to limit the number of participants. As a result, fourteen runners from zone 6 had the opportunity to participate in a marathon after months of limited in-person races; all completed the race with success.
According to Race Director, the choice of the cycling trail was a good one since the runners appreciated the exceptional installations and the view.
The senior runner of the group, Yanick Tremblay of Beresford, took advantage of his talent and experience. Tremblay ran the first 41 km in second place behind the youngest runner, Alex Cowan of Tracadie, before taking the lead in the last km to win in 3:0l:05. Cowan completed his first marathon with a time 3:04:34. Mathieu Fortin of Caraquet, finished third with a time of 3:17:41. Besides, Alex Cowan, two other runners ran their first marathon, Ghislain Comeau of Saint-Isidore, finished in 3:41:45 and Eric Pelletier de Nigadoo,in 4:06:54.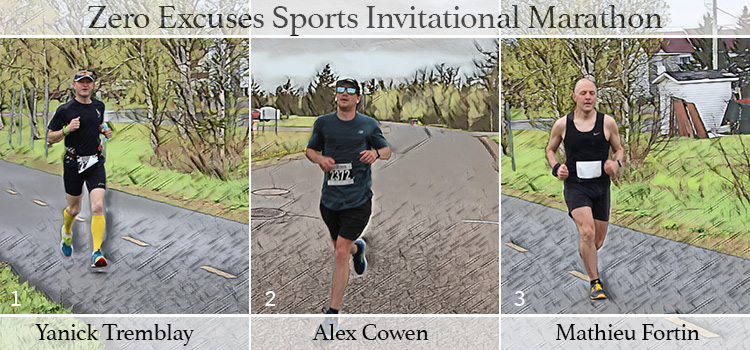 Because of the success of the event, Zero Excuses Sports promises that there will be a follow up to this marathon and that other sports events are in the planning. This marathon is an official race on the RunNB calendar