Phil Booker
A 4400Km/410 Day Running Streak at 78
By Donald Wade - February 2021

Phil Booker has a remarkable running career, one that started 30 years ago. Seven-time finisher of the Boston Marathon, an avid competitor on the Cabot Trail Relay Race, having done that race for 30 years consecutively, and the recipient of the RunNB Personal Achievement award twice (2014 & 2018), Phil has acquired a well-stacked display of medals and awards and at almost 78 years of age (he'll be 78 next month), he has no intention of stopping. Although he has bragging rights for all that, he prefers to keep a low profile on his running feats.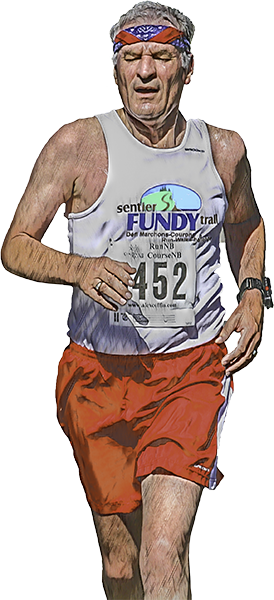 His latest feat is one that he is particularly proud of. On January 1st, 2020, he started a running streak as a way of staying healthy, keeping his motivation for running alive and maintaining his endurance. So far, Phil has logged more than 4400 km, with 411 consecutive running days. Since the Philadelphia and Boston marathons for which he was a qualifier were canceled, he did not run too many long distances during the year, his longest run being 32 km. Phil knows too well not to overdo: he experienced an injury, plantar fasciitis, just two months before he ran his 7th Boston Marathon; ten day later, he ran Leg #10 of the Cabot Trail Relay, a move that kept him away from running for almost a year.
"The most beautiful thing about running is the pure honesty of our actions", admits Phil. "If you train well for any race, you will do fantastic, if you train poorly for any race, you will most likely do poorly in your race". Over the year of non-stop running, Phil had to face so many Toos, as Daryl Steeves describes in his article on the RunNB website. Too tired, too rainy, too hot, too cold or just a down right too blistering a blizzard @ -50 C. "But my goal was set; never slack off and not run" he added.
The craziness of running every day is often opposed by health specialists. But Phil has a suggestion for those thinking about embarking on such a journey. "Firstly, don't even think of it if you don't plan to listen to your body!!!", Phil said. According to him, rest is of the highest importance. He planned his week to run an easy day and a hard day of 11K easy & 6K hard. Then, he would allow his body to recover, every 3 or 4 weeks by running 3 or 4 straight days of only 2K real slow @ about a 7 minute/K. "This was worth it's weight in gold and allowed me to recover and run long for several weeks; for example, in November and December, I ran 11K every single day! Just to see if I could do it", he added. Phil stresses the importance of avoiding over-training and to be fair to your body. Phil ran early in the morning, mid-morning, noon hour, in the afternoon or evenings, as long as it was done before midnight. Staying motivated was not an issue for him; he had made a commitment to himself privately to run every day for the year and stuck to it. He joined a group of 8 runners in his bubble and ran a series of 8 races, mostly 5Km, that he kept easy and fun without any pressure. All his runs were first registered Map My Run and then on Strava and he posted his progress on his Facebook page; feedback from his runner friends helped him keep at it.
In his 30 years of running, Phil has rarely run inside, except for the occasional intervals on the treadmill. He enjoys the challenge of all the different elements and sights the outdoors offers. "I love the breeze in my hair, the sun on my face, the wind in a headwind for a challenge & of course a strong tailwind on my back pushing me down the trail», he said. «I enjoy the sound of my feet rhythmically striking the gravel, softly plowing through the powdered snow and the click, click, click of my spikes on pure ice".
Although his accomplishment in this Running Streak is something to be proud of, Phil admits that the best thing about it is his ability to achieve this, being thankful to God for his healthy body and his parents for his athletic genes. For him, the beauty of running is that it is the basis of all sports; if you can run, you can excel in just about any sport you choose.
Phil Booker lives in Fredericton with his wife, Marg. The couple has 4 children, Laura, Sonya, Phillip and Jennifer, and nine grandchildren.
| | |
| --- | --- |
| | |
| Wife Marg and Phil | Donald Wade and Phil receiving award in 2014 |