Sylvio Bourque
A passionate runner, a man of convictions, a volunteer in action
By Donald Wade - October 2021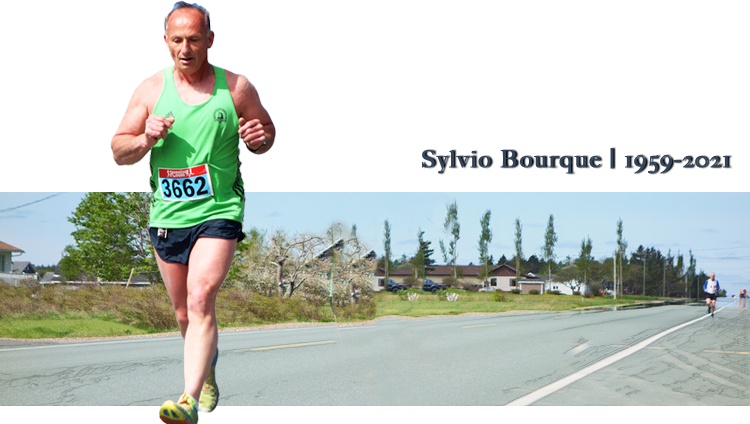 Ever since his youth, Sylvio Bourque has always been active in sports, namely in soccer, ball hockey and cross-country; he was awarded the most useful player of the cross-country team at his high school, Louis-J. Robichaud in Shediac. He also participated in various road races cross-country competitions.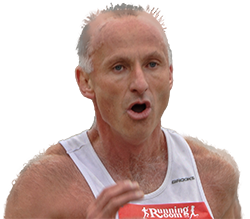 Later in life, Sylvio took on running more seriously. But his pace needed improvement. At a yearly Terry Fox race, his brother Edouard had him notice that he was rather slow since a woman pushing a baby stroller had passed him.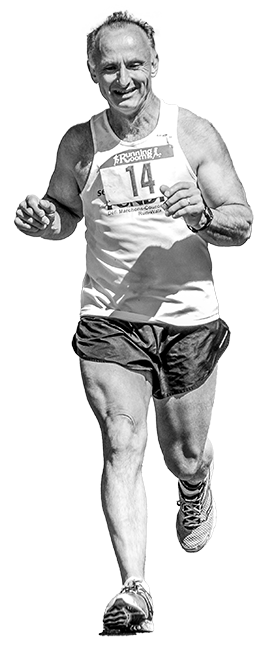 The following year he organized with the help of a local committee le 15 km de Grande Digue, investing countless hours and efforts as race director for 10 years in order to make this race an attractive and popular event. He spent a lot of time to recruit sponsors, elite runners and offering yearly $1000 donation for cancer research but at the same time keeping modest registration fees, with a finisher medals for all. His actions reflected his social conscience.
Running for Sylvio was more than a sport one practices regularly to stay in shape and avoid gaining weight. For him, running meant energy, friendliness, transcending one's own capabilities and a passion.
In 2009, at 50 and with a change in weight category in arm wrestling, Sylvio decided to concentrate on running in order to better control his weight. His efforts bore fruit as RunNB awarded him the Personal Achievement Award given to an individual who completes a personal achievement that is impressive and not easily achieved without discipline and determination. The extraordinary feat that Sylvio achieved consisted of running more than50 races on the RunNB calendar, several others outside the province including in the Maritimes, in the United States and in Europe, participating in the 22 Super Series races of RunNB, finishing 7 marathons and setting a personal record for each distance. Other impressive achievements in his running career include completing more than 60 marathons and 80 Demi marathon de l'Acadie. His self-transcendence and his energy were evident in 2009 but also in subsequent years.
However, Sylvio did not seek the honours and the acknowledgement; his abnegation drove him to value the success of other runners, to encourage them to improve themselves while supporting all the races across the province by showing up at the start line. It is his friendliness and his cordiality that allowed Sylvio to be known by most runners in New Brunswick. His cannon start, his shorts and green singlet that he wore even in cold weather were Sylvio's unique characteristics. When he showed up at a race, he always tried to promote running and help grow the possibilities. He loved to meet active and happy people who invest a lot of efforts to lead a healthy lifestyle. For him, this active lifestyle was contagious and indicative of a promising future. His friendliness was his trade mark.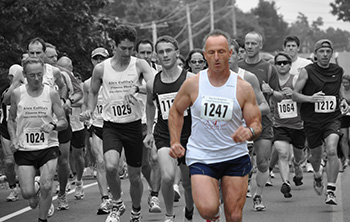 In 2012, he joined the RunNB executive committee and he did not hesitate to put in place his vision of running. He is credited for spearheading du RunNB Annual Banquet, the Student Bursary Program and the Elite Series. His vision of holding the RunNB Annual banquet in all regions of the province proved to be a success. His numerous contacts were instrumental in this success; he knew how to convince them to take on such a challenge.
Sylvio put his heart into every project that he undertook, never sparing his time and efforts to reach his goal. As a teacher in Grande-Digue, he encouraged students to practice running; he even organized a running program with sponsors and a point system for kindergarten to grade 8 students, recruiting almost the total school population in the program.
Whenever his vision was compromised or rejected, he would accept the decision taken. Sylvio wanted to build bridges rather than destroy them. He was always ready to compromise and accept defeats. His passion for running, his commitment and his selflessness have touched the running community in all corners of the province.
Sylvio passed away accidentally in August 2021.
In recognition for Sylvio's contribution to running, RunNB wishes to announce that the RunNB Inspiration Person of the Year Award will now be named the Sylvio Bourque Memorial Award for the Most Inspiration Runner.
Sylvio & Family
Sylvio & Friends
Sylvio on the Run