RunNB Announces SuperSeries and Championship Races for 2023

March 2nd, 2023
By Donald Wade, RunNB Chairman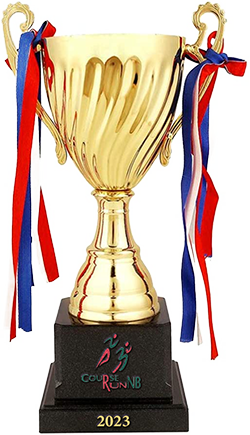 Among the attractive races on the RunNB calendar, a few are designated SuperSeries and Championship. The RunNB Board is happy to announce the SuperSeries and Championship race calendar for 2023 on its website at www.runnb.ca/programs/superseries/ and at www.runnb.ca/programs/prov-champs/.
The SuperSeries program aims at encouraging runners to register for the SuperSeries races in order to accumulate points for a provincial ranking. As the results are received at RunNB, the points thus cumulated are compiled and posted on the statistics web page of RunNB. Runners are awarded points only for the Super Series designated distance.
This year, RunNB has reduced the number of age categories of the SuperSeries to 6, combining into one age category the 20-29 and 30-39 as well as the 70-79 and 80+. Medals will be awarded to the 1st three positions, male and female, in each SuperSeries race. At the end of the running season, the number of races completed by a runner will be multiplied by the number of points he or she cumulated in order to determine the final ranking for prizes awarded at the RunNB Annual Banquet. In order to qualify for such prizes, runners must participate in at least 3 SuperSeries races during the present year.
RunNB established the Championship program to encourage runners to participate in varied races and crown a champion in each of the 5 distances: marathon, half marathon, 10km, 5 miles and 5 km. The first male and female to cross the finish line in each race will be declared the winners of the provincial championship. The names of the winners will be inscribed on the Virtual Trophies on the RunNB website.
Residence is no longer a factor to consider for the championship winners; all registered runners are eligible to be crowned champion of this program, no matter where he or she lives. RunNB will award cash prizes and medals to the first three positions in each of the provincial championship races, male and female. For 2023, cash prizes are set at $125 for 1st place, $100 for 2nd and $75 for 3rd. All Championship races are also designated SuperSeries and runners participating will be awarded double SuperSeries points.
RunNB encourages all runners to register for races on the 2023 calendar and support the efforts and hard work that race organizers put in their event. RunNB appreciates greatly the contribution of runners, race organizers and volunteers that make our running community united and our province a healthier place to live.
We wish you all a great running year!