Event of the Year
Demi-Marathon de l'Acadie - Tracadie-Sheila, NB
Since 1987, a half-marathon has taken place in Tracadie-Sheila on the first Sunday of every month. Like the postman the race goes on in the sun, rain, snow or freezing ice. The Demi-Marathon celebrated its 300th race in October with a turnout of 114 runners, with Rejean Chiasson setting a new record of 1:07:55
The Demi-Marathon over the past 25 years has grown from just a handful of runners to its peak in October with its largest field of 114 runners.
Run NB is very happy and encouraged to see such a remarkable improvement from race one to race 300 and is proud to recognize the Demi-Marathon as Event of the Year.
Website: www.demi-marathon.anb.ca
Male Runner of the Year
Lee Roy - Beresford, NB
Lee Roy in 2011 was identified as the up and coming runner of the year at the Fredericton Banquet. How things have changed! The 30-year-old native of Beresford has vaulted himself to the top of racing in NB.
Lee started his running career only two years ago. Still a boxer by heart, he has proven himself in and out of the ring and certainly on the road racing circuit. Lee ran away with Run for the Cycle with an amazing accumulated time of 5:13:19.
That's 20 minutes ahead of Alex Coffin who placed second.
His times in the 5km (15:50), 8km (27:25), half (1:13:03) and full marathon (2:43:53) were the best overall for those who completed the Cycle.
He set a provincial age-group record in the 10-mile race with a time of 58:31.
In 2012 Run NB Is proud to present Lee Roy from Beresford with Male Runner of the Year
Female Runner of the Year
Paula Keating - Miramichi, NB
What more can be said about the Queen of Road Racing? For the fourth year in a row Paula Keating has been selected as Female Runner of the Year. Her accomplishments over the years have been well documented.
Over the past 12 months Paula competed in over 20 races here in NB and around North America, during which she set three NB Records.
Women's 40-49 / 15km (56:33) / Provincial overall record
Women's 40-49 / ½ marathon (1:19:16) / Provincial age-group
Women's 40-49 / 8km (29:19) / Provincial age-group
Her 5km times this year went from 18:58 in January to 17:36 in May as she competed in nine races at this distance.
Her 10km distance is quite impressive as well with a season high of 36:21 in Woodstock and a 36:34 in Beresford.
Her time of 29:19 was the second fastest this year by a woman and only one second behind the winner, a 20-year-old from Upper Canada.
Perhaps her most noted accomplishment was in the Boston Marathon in 2012 where she was the first person from New Brunswick to finish the marathon beating all 71 entries including the great Alex Coffin. Her time in the blistering heat was just over a minute off her NB record of 2:47:26.
Her 1:19:16 at the Fredericton Half Marathon in May was also tops in NB.
She captured the Run for the Cycle with a cumulative time of 5:31:36; over one hour and 12 minutes better than the next female runner. She was third overall behind only Lee Roy and Alex Coffin.
Ladies and gentlemen our Female Runner of the Year Paula Keating.
Up and Coming Female Runner of the Year
Anouk Pelletier - Petit Rocher, NB
Anouk Pelletier is an 18-year-old native of Petit-Rocher West who is attending her first year at the Université de Moncton.
During the 2012 season Anouk placed first in the Super Series of races for women 19 and under with 340 points; 160 points better than her nearest rival.
She has been running since 2006 at the age of 12, and has competed in numerous races from the 5km to the half marathon. She also competes with the Cross Country team at the Université de Moncton.
Run NB will be keeping a close eye on Anouk over the next few years.
In addition to the above awards Run NB awarded Anouk an education award valued at $250.
Up and Coming Male Runner of the Year
Brandon LeBlanc - Riverview, NB
With his Dad's encouragement two years ago Brandon decided to jump off the couch and take up running for fun and perhaps to lose some weight and change his eating habits.
It wasn't long before he fell in love with running and over the past year ran a 19:15 over 5km, 31:26 over the 8km route and in the 10km a time of 38:06, all of which are impressive. His 1:28:16 time over the half marathon dropped by three seconds from May to October.
Run NB recognizes Brandon as the Up & Coming Male Runner
Personal Achievement Award
Mary Brosnan Saint John
After much persuasion from her husband Mary started running only two years ago. In her own words it was more like walking. She found the whole process a real struggle but eventually did start to incorporate more running and less walking into her routine.
She ran her first 5km in 2011 with a time of 33:27 without stopping. She then doubled her distance in the 10km in May with a time of 1hour and 2 minutes. She met two friends Sue Curwin and Cindy Losier, and that was a turning point in her training.
This year she has knocked 10 minutes off her 5km time and 15 minutes off her 10km time which is now 47:33.
More importantly she has met so many lovely people while competing in the Run NB races, many of whom are now good friends.
Wow! Mary we at Run NB recognize your fantastic personal achievement with this award
Inspirational Person of the Year
Gail Teed
In a quote from Daryl Steeves in the Telegraph Journal, Gail Teed of Saint John ran the fastest 5K on record for women in the 70+ age group. This humble runner came to the sport later in life, but has more than made up for lost time. Gail is a true inspiration to the running community and can be seen winning her division at races all over the province.
Her age group is the 70 and over and she captured the Super Series title in the 10 races she competed in with 650 points. She ran in the World Masters Championship. Gail set a Provincial age-group record in the 15km with a time of 2:12:59.
Gail is an inspiration to many in the running community and Run NB recognizes her outstanding commitment and dedication with this award.
Walker of the Year
David Quigley
At 73 years of age David Quigley is one of the oldest walkers in the Run NB Series of Road races. He competed in seven races this year with distances from the 5 mile to the 15 km. David enjoys snowshoeing in the winter and race walking most of the year.
In 2009 David had heart surgery (4 bypass) and from then he felt it was time to get moving and started exercising again to get in shape and be physically fit. In his younger days David was a long distance canoe expert racer. He is a farmer in East Gallaway and enjoys the competitive spirit of walking at a fast pace.
2012 RunNB Hall Fame Inductees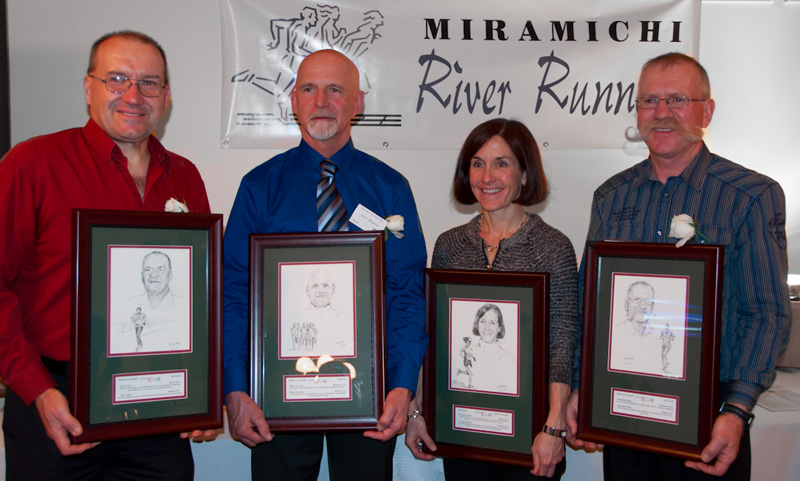 Alain Caron from Charlo was inducted to the Hall as an Athlete. He began his running career in 1982. At the time he weighed 240 pounds.

Over the following years Alain has accomplished 193 marathons with the Legs 4 Literacy marathon in Moncton in early October of this year as his last one to date. He has completed 17 Boston marathons and has run 14 marathons in one year.

His personal best marathon was in Orleans Quebec in 1992 when he ran a 3:02:43.

---

Mario Boudreau from Beresford was inducted as a builder to the Hall. Mario has been running for 29 years and is an accomplished marathoner running 31 in total. He won the first edition of the Saint John by the Sea marathon with a time of 2:46.

Although a great runner, Mario is best known for his organizational abilities in building the Chaleur Running Club in Beresford. As president of the club for numerous years, Mario introduced many programs for kids and adults alike.

---

Paula Keating from Miramichi will be inducted as an Athlete. She has been running for only seven years and during that time she has become the top Marathon runner NB has ever seen. She is the only female runner to ever break the three-hour barrier and she has accomplished that in all her seven races.

She holds the NB record in the Marathon of 2:47:26 that she accomplished in the Boston Marathon in April 2011. She won the Detroit Marathon in October 2011 and is the only NB runner to ever be invited to the Boston and New York City Marathons as an elite runner.

Jean-Marie Breau from Tracadie-Sheila was inducted into the Hall as a Builder. He has been the driving force behind the Demi-marathon de l'Acadie since 1987.
The club just celebrated its 300th consecutive ½ marathon in October.

The local race has hosted runners from not only the northern region of NB but also the complete province. Because of Jean-Marie's ability and personality the event has the reputation of being a well-organized, friendly, yet competitive race.