Running Room SuperSeries Winners / New Records
Another great year of Road Racing in NB
Our 2013 Hall of Fame & Awards night has made the full circle from its beginning in 2009 at McGinnis Landing in Dieppe.
Since the first event which drew 101, to Saint John in 2010 with 109, to Fredericton in 2011 with 119, and Miramichi last year with 121 and back to Dieppe with 109 in attendance, we are consistent to say the least. Thanks to Sylvio Bourque, one of our two Vice-Presidents, for being emcee for the night and preparing all the awards for the runners.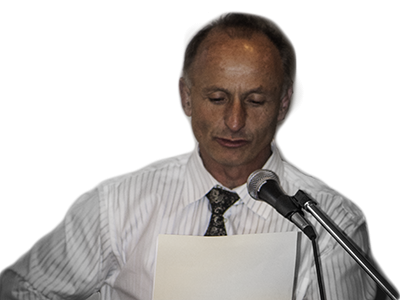 Next year our 2014 banquet has been awarded to Bathurst, again in November. (Tentative date November 15)
At each of the award nights we recognized deserving people who have contributed to Road Racing in our province as a builder or as an athlete. This year the Hall has expanded to 12 with the addition of Joel Bourgeois and his father Paul-Pierre. Congratulations to both.
As you can see from the great work Gilles Gautreau is doing recognizing the award winner in the Running Room Super Series, we have a great bunch of runners in all age groups. The photo recognition in each category is just fantastic. Gilles also is our web-master and statistician. Without Gilles' expertise, these pages would not exist.
Our newest board member Mary Brosnan did a super job in the write-ups for the eight awards and of course Donald Wade, our newest Vice-President, did all the translation work.
WOW! We had a total of 20 provincial age-group records set this year.
NB Records set in 2013

Female
Male
Luisa Schwarz - W19 - 10k - 37:45 - Nackawic NB
Amanda Parker - W19 - Marathon - 3:20:04 - Charlottetown PE

Eunice Phillips - W60 -10k - 45:46 - Chipman NB

Sondra Craig - W70 5k - 28:22 - Miramichi NB
Maryse Jacob - W70 - 5 mile - 48:58 - Hampton NB
Maryse Jacob - W70 - 10k - 59:43 Woodstock NB
Maryse Jacob - W70 - 15k - 1:42:13 - Grande-Digue NB
Maryse Jacob - W70 - Marathon – 4:55:48 - Moncton NB
Gertrude Mooney - W70 - Half Marathon - 2:06:24 - Saint John NB



Adam Kellar - M20 - 5 mile - 25:26 - Hampton NB
Rejean Chiasson M30 5-mile - 24:36 - Toronto ON

Dean Strowbridge - M40 Mile - 4:43 - Miramichi NB

Bruce Rosvall - M50 - Marathon - 2:48:13 - Boston MA

Phil Booker - M70 - Mile - 7:00 - Miramichi NB
Phil Booker - M70 - 10k - 47:08 - Miramichi NB
Phil Booker - M70 - Half Marathon - 1:46:22 Grand Manan NB
Joe Burke - M70 - 5k - 21:54 - Grand Bay-Westfield, NB
Joe Burke - M70 - 5 mile – 36:07 - Hampton NB
Joe Burke - M70 10 mile - 1:16:24 - Grand Bay-Westfield, NB
Frank Kelly - M70 - Marathon - 4:01:02 - Fredericton NB
Another super job by Rob Jackson in compiling all the stats for the Timex and Running Room series along with keeper of the records. It appears the 70+ group are taking over….keep it going folks.
Congratulations to all who set new records, and a special thanks to all the Executive members for your dedication over the year. We would not be where we are without your support.
Thanks
Brian
President
2013 Running Room SuperSeries Winner - Click link to view photos of the Top 3 winners of each category
Event of the Year
Fredericton Marathon - Fredericton, NB

The Fredericton Marathon began 35 years ago in 1978 as a school project for a couple of UNB students. During those early years, the FM was associated with the NB Heart and Stroke Foundation. This association continued for a number of years before the Foundation pulled away as participation dropped, resulting in a decrease in fund raising. At that time the original committee was comprised of mostly Capital City Roadrunners so the CCRR decided to keep the event going as the Fredericton Marathon.

Five years ago Scotiabank became the title sponsor. The event has grown from a few hundred runners to over 1500 this year. It offers race options from 5k to the full marathon over the flat and fast trails along the Saint John and Nashwaak Rivers. The full marathon is a certified Boston Marathon qualifier.

Whilst the event is not a fundraiser per se, it does provide funding to four community groups who support it with traffic marshals, water stops, logistics and first aid.

The organizing committee looks forward to the 2014 event being bigger and better than ever as the Marathon is now working with the City as part of their new Sports Tourism program.

Stay tuned for some exciting announcements coming soon.

Website: www.frederictonmarathon.ca

Photo above: Gilles Gautreau, RunNB Past President (L) presents award
to Paul Lavoie, Race Director of the Fredericton Marathon.
Male Runner of the Year
Lee Roy - Beresford, NB

For the second year in a row, Lee has been named Male Runner of the Year.

Lee is from Beresford N.B. He works as a welder, steel fabricator and has been involved in sports, including hockey, baseball and boxing, all his life. He fell in love with running while training for boxing and has been running seriously for three years.

This year Lee completed 13 Super Series races finishing first in his age group with 740 points. He also finished first in the Run for the Cycle with a total time of 5 hours 16 minutes 11 seconds. Of those who completed the Cycle, Lee had the best time at every distance, 5km, 8km, 10km, half marathon and full marathon - an amazing achievement!

Lee is an avid snowboarder and also loves cycling. This year he won two duathlons and is planning on competing in a few triathlons in 2014.

In his spare time, which he doesn't have much of because he spends so much time training, he enjoys spending time with his girlfriend Nancy and his friends.

RunNB is proud to present Lee Roy with the Male Runner of the Year Award.


Paul Lavoie (L), RunNB Treasurer presenting Lee Roy the 2013 Male Runner of the Year award

Lee Roy racing in the Hampton 5 Miler
Female Runner of the Year
Paula Keating - Miramichi, NB

For the 5th year in a row Paula Keating has been selected as Female Runner of the Year.

Paula has done remarkably well this year after her big injury last fall. She was unable to run at all for three months and then logged just 6 miles in the first week of January. However, after starting a few Miramichi races in March and April she did well in Grande-Digue and never looked back.

Her number one highlight of the year was crossing the finish line at the Chicago marathon in October, placing 29th overall female and top masters female.

Other highlights included winning the Irish Fest 5km, first overall, for the second year in a row. She also captured the Run for the Cycle with a total time of 5 hours 36 minutes 46 seconds. This put her 35 minutes and 45 seconds ahead of her nearest female rival and third overall behind Lee Roy and Dean Strowbridge.

RunNB is proud to name Paula Keating the Female Runner of the Year.
| | | |
| --- | --- | --- |
| | | |
| Paul Lavoie, RunNB Treasurer presenting Paula Keating the 2013 Female Runner of the Year award. | Paula Keating receiving first place medal at the August 10K in Miramichi | Paula Keating racing in the 2013 Hampton 5 Miler |
Up and Coming Female Runner of the Year
Laura Dickinson - Miramichi

Laura started her running career in elementary and middle school cross country and track and field meets. She is currently in Grade 9 at Miramichi Valley High and recently represented the school at the Provincial High School Cross Country Championships, winning the Gold Medal in the JV Category.

Laura has made remarkable progress as she only started competing in earnest this past year. Last spring she won the Grande-Digue 3km road race. In June she won the 1200m at the NB Middle School Championships, setting a new Provincial Record. She won the 1600m at both the Provincial and Atlantic Hershey meets and was chosen to attend the Hershey North American Championships where she placed seventh in the 1600m.

Laura set a new Provincial record the first time she ran the 1500m steeplechase and was chosen to represent NB at the Legion National track meet in Langley BC where she bettered her record and placed fourth overall in her category.

She has participated locally in many Miramichi River Runners events including 5km, cross country and 1 mile and in the Atlantic XC 3km Championship just last month.

In September, Laura ran her first 10km road race in Bathurst, where she was the fastest woman in a time of 40:40.

RunNB is very pleased to recognize Laura as the Up and Coming Female Runner of the Year.


| | | |
| --- | --- | --- |
| | | |
| Laura Dickinson receiving Up and Coming Female award from Donald Wade, RunNB Vice President | Laura Dickinson running Miramichi cross country event on October 20, 2013 | Left to right: Laura Dickinson, Paula Keating and Taylor Dunn. Top 3 female runners in the 5K in Miramichi on November 24, 2013 |
Up and Coming Male Runner of the Year
Bryan Thomas - Bathurst, NB

Bryan started running in 9th grade at E.S.N. (Ecole Secondraire Nepisiguit). He ran track and cross-country for which he was named mvp in 2012-2013. Bryan was also active in other sports like basketball, soccer and mountain biking.

This season Bryan completed nine Super Series races, gaining 495 points and coming first in the 19 and under age group. At the Joe McGuire road race in Woodstock he finished 3rd overall in a very impressive 35:41.

Bryan has proved himself to be a really talented runner and a hard working, smart young man. He is currently studying engineering at Université de Moncton where he is a member of the cross-country team and where he will also be running track.

RunNB wishes Bryan every success in his future endeavours and is pleased to recognize him as the 2013 Up and Coming Male Runner of the Year.


| | | |
| --- | --- | --- |
| | | |
| Bryan Thomas receiving Up and Coming Male award from Emma Belcher, Running Room representative. | Bryan Thomas at the start of the 10 Km Caisse Populaire Acadie in Caraquet | Bryan Thomas receiving a medal for first place 19& under at the 10 Km Caisse Populaire Acadie in Caraquet |
Personal Achievement Award
Brenda Guitard - Saint John, NB

Brenda has had an amazing running year in 2013. This year she completed 22 races - 3 x 5km, 4 x 5 miler, 3 x 10km, 1 x 10 miler, 9 x half marathons and two full marathons. In every race she ran a course PB. She also achieved five course records and one age group record.
She set a new PB in the marathon at Boston finishing in 3 hours 11 minutes 42 seconds and a new half marathon PB of 1 hour 28 minutes and 1 second at the KV Challenge in October.

Brenda's love of running actually started in elementary school when she took part in track and cross country. In high school she started playing field hockey and continued this into university. In 1985 she was chosen to represent New Brunswick at field hockey in the Canada Summer Games. During the opening ceremony she ran-in the flame with Steve Fonyo (who completed a run across Canada for Cancer research).

Brenda also gives a lot of what little spare time she has, to coach others, to help them improve and most importantly enjoy their sport. She coaches field hockey after school two nights a week and has a 'Boot Camp' for runners every Monday evening. According to some of its members its motto is 'What doesn't kill you makes you stronger'. Brenda has certainly helped many runners get stronger and faster.

RunNB is pleased to recognize Brenda's personal achievements with this award.
| | | |
| --- | --- | --- |
| | | |
| Brenda Guitard receiving Personal Achievement award from Mary Brosnan, RunNB Board Member | Brenda Guitard racing in the 2013 Hampton 5 Miler | Brenda Guitard running the 2013 Kennebacasis Valley Challenge half marathon |
Inspirational Person of the Year
Maryse Jacob - Shediac, NB

Maryse inspires with her running. This year, her first in the 70+ age group, has seen her complete 19 Super Series races and finish first in her age group in them all, gaining a total of 1150 points. She also gained three provincial records for good measure! In the Run for the Cycle her time of 9 hours 30 minutes and 40 seconds places her 13th out of all the female runners in the Province!

The inner strength that enabled Maryse to be a cancer survivor is also visible when she runs. For example, on July 6th, one of the hottest days of the year, she competed in two Super Series races. In the morning she did the 10km in Bouctouche and then in the afternoon, the 5 miler on Ministers Island. Perhaps Clovis (her husband) should also receive an award for managing to get her to the second race on time!

Anyone who has the pleasure of seeing Maryse run can't help but be inspired. She took part in many races this year but still competed hard at every single one. There are many examples of this but one in particular occurred on the weekend of the 12th / 13th October. She ran the 10km in Perth Andover on the Saturday and then the KV Half Marathon the following day and still managed to knock seven minutes off her season's best time in the half!

Maryse you are an inspiration to the whole running community and RunNB is happy to recognize your outstanding achievements with this award.


| | | |
| --- | --- | --- |
| | | |
| Maryse Jacob receiving Inspirational Person of the Year award from Mary Brosnan, RunNB Board Member | Maryse Jacob waving during the 2013 Kennebacasis Valley Challenge half marathon. | Maryse Jacob racing in the 2013 Hampton 5 Miler |
Walker of the Year
Carvel Crabbe - Saint John, NB

Carvel started Nordic walking in August 2006 after experiencing a very bad fall that tore his knee. He knew that he would not be able to run again so he picked up the poles, started walking and the rest is history!

To keep himself motivated each year Carvel sets a new goal for himself to achieve and achieve it he most certainly does! For example, in 2009 Carvel walked from the Quebec border to the Nova Scotia border! By August 2014 Carvel will have run and walked a total of 100,000 kilometres.

Carvel walks each day, often for three to four hours. During this time people sometimes come up to him and ask how his retirement is going. His answer is always that he works harder now than when he was in paid employment!

Carvel has travelled around the Province since 2006 competing in Super Series races. His friend and fellow walker Heather travels with him and they can often be seen laughing and joking as they enjoy taking part in the events. This year he competed in 13 races, gaining 405 points and finishing fifth in the 60-69 age group. He enjoys each and every event and looks forward to doing many more in the coming years.

Carvel, RunNB recognizes your dedication and commitment with this Walker of the Year award.


Carvel Crabbe receiving the Walker of the Year award from Donald Wade, RunNB Vice President

Carvel Crabbe Nordic Walking in the 2013 Hampton 5 Miler
2013 RunNB Hall Fame Inductees
Pierre-Paul Bourgeois - Grande-Digue, NB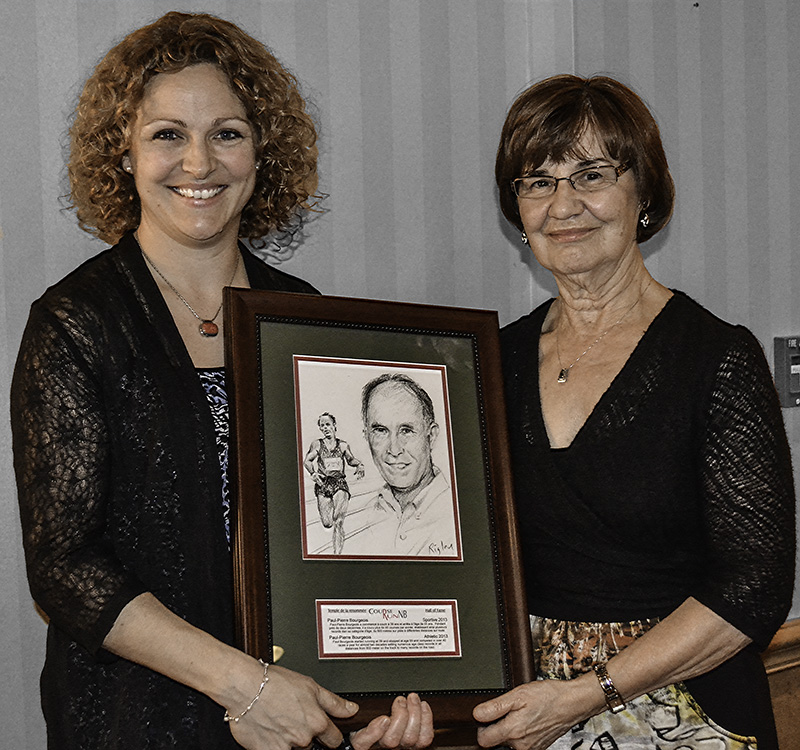 Jeanne Bourgeois (R), wife of the late Pierre-Paul Bourgeois, 2013 RunNB Hall of Fame inductee, receives the award from Julie Dupuis, presenter at the event.
Joël Bourgeois - Grande-Digue, NB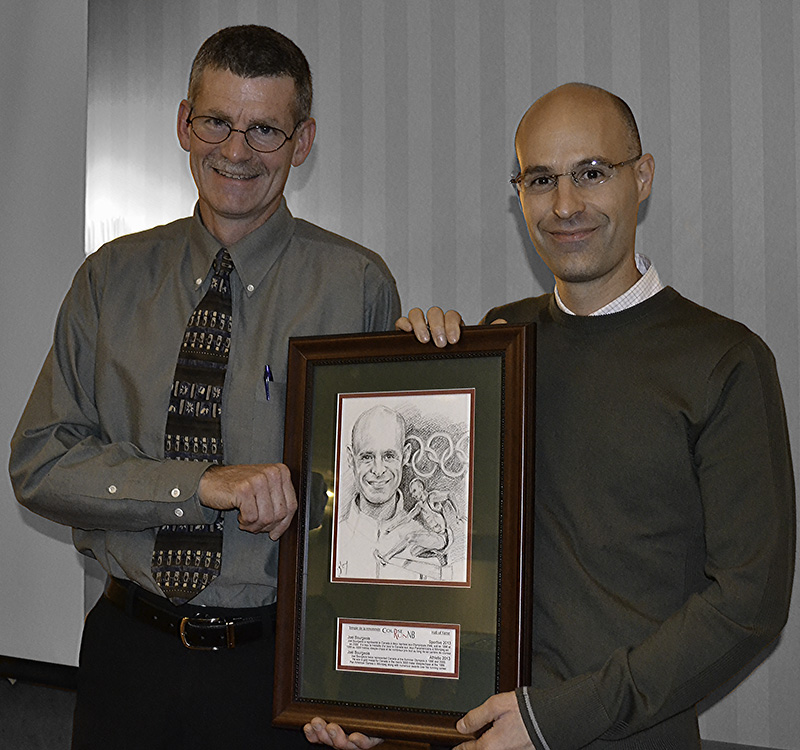 Joël Bourgeois, 2013 inductee to the RunNB Hall of Fame, receives his award from Judson Cassidy, presenter at the event.