Alex Cowan
A Promising Newcomer to Running
Par Donald Wade - April 2021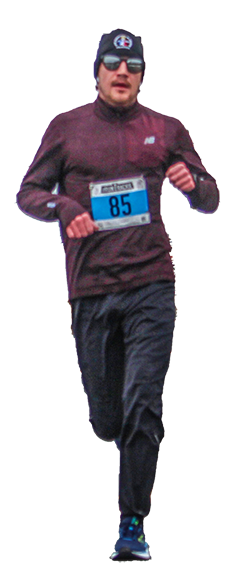 Many will identify with Alex Cowan's story who decided to take advantage of the Pandemic to take up running, the only sport that he considers as easily adaptable to the present restrictions. In May 2020, Cowan decided to register for his first Demi-marathon de l'Acadie (DMA) virtual, a distance that motivates him and the only half on the RunNB calendar. He finished 5th with a time of 1:31:57, to the great pleasure of his family and friends who had gathered at the finish line of the DMA's official course to greet him.
Up to now, Alex has 12 DMA to his credit, a perfect attendance record and a best time of 1:19:59 in April. At 26, he admits that he is in better shape than he thought he was. He trains 5-6 times a week after work or in the afternoon on weekends.

In fact, his performances at the DMA have given him confidence in his abilities as a runner; he is seriously considering the marathon and qualifying for Boston. "Running allows me to burn my excess energy and helps me concentrate on the good things in life", adds Alex. The latter is part of an increasing number of young runners from all corners of the province who are burning up the pavement and ensuring a promising future for our sport.
Alex has always been active in sports; his favourite: cycling, for leg strength without the impact, and swimming that requires great stamina. He admits that his dad has inspired him. "My dad ran several half marathons and a marathon and that has always been a source of motivation for me", he added. He enjoys the social aspects of running; "Running with friends and also motivating them to run definitely increase the pleasure I get out of running", he said. He had the opportunity of running with several good runners on the certified DMA course that spurred him to surpass himself.
At first, this new recruit to running had no precise goal; he just ran to stay in shape and to get rid of the Pandemics downs. "To start running, for whatever the reason, that's what is the most difficult. But the more you practice, the easier it gets; the easier it gets, the more pleasure you get out of it", said Cowan. "I'm new to the sport but I realize already that I have improved a lot compared to the time and efforts invested".
His advice to newcomers to running: "Anyone can run; at first, speed and techniques are not necessarily important. Running is an easy sport to practice, no matter your physical shape. The body is capable of reaching all the goals that the brain will allow it to do. Just lace up!".
Alex Cowan lives in Tracadie, N.B. with his spouse Alexa-Maude Mallais.
| | |
| --- | --- |
| | |
| Alex winning the 393 edition of the Demi-marathon de l'Acadie in July 2020 | Alex enjoying a Summer bike ride |