Lucie Boucher
A 600-Day's Run Streak
By Donald Wade | January 2021
Lucie Boucher's reaction to a Facebook post from a lady originally from Ireland, but now living in Jersey, USA, who challenged people to run 1 mile per day was: "It's tempting. "Temptation turned to action and on May 9th, 2019, she ran her first 2km, instead of a mile, for streak #1. After week one, it was tempting to continue to week two, and so forth, increasing the distances as she progressed.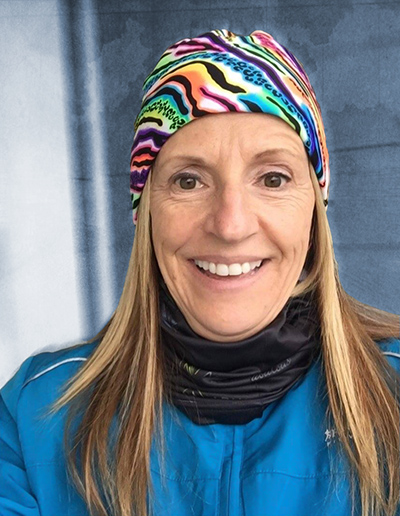 With the encouragement from her new virtual friends, Briege, who posted the challenge, Evelyn and April, she kept her steak going and even ran in person the Ragnar Relay in Miami last February with them. Her friends kept her accountable by following her progress on MapMyRun and Runkeeper. As of December 31, 2020, Lucie completed her 603-day run streak, logging 1772 km.
Prior to this, the longest challenge that Lucie ever participated in lasted a month; this one is her first year-long streak. But a year-long run streak is not without its ups and downs. She said: "The most difficult hurdles would have to be weather, traveling, and life in general. But when you think about it, you can find 10-15minutes in your day for your health". According to her, the weather is never so bad that you can't get out for a run; you just need to dress accordingly. Once while waiting for a delayed flight, she found a gym at the airport and hopped on the treadmill to keep her streak going.
The most difficult hurdle came from her own mind. "The mind will give up before the legs…so I just needed to make sure my mind knew it had to run every day, and then the body would get ready. The mind can come up with lots of excuses…just don't let it win", she declared.
During the Covid quarantine, she had to rely on her treadmill at home but she prefers to run outside in the fresh, crisp air. Last July, Lucie ran her first half marathon which got her thinking about running a marathon in the future.
There were days that she felt like giving up but she had to convince herself to get out for a run. She felt lucky to have her virtual friends keeping her on her toes; they created a running bond and kept each other accountable.
Lucie confides that she prefers smaller goals, tackling one day, one run at a time. She prefers working 5-10 days' increments instead of months. When she got to the half-year mark, she never envisioned the one-year mark; she told herself, " I'll run another 10 days". There were days that her legs felt like lead but then the next day, she felt great and could run forever.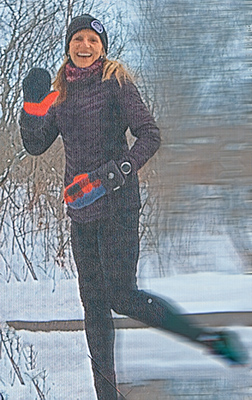 Having been a fan of Crossfit for the past 6 years, she feels that the cross training has helped her maintain her streak. Registering for virtual races has also kept her motivated and she even encouraged some of her friends to register and run virtually with her. Since she bought a Garmin smart watch, it makes easier for her kept track of her time and distance and submit her results to race directors.
Throughout this streak, Lucie considers herself lucky not to have suffered any major injuries. She had to consult health professionals (physiotherapist, massage therapist or chiropractor) at times for soreness.
Lucie is very happy with her accomplishment. "I never thought I would get this far on my streak. I plan on continuing. Looking back, I think all the challenges made it fun too. Sometimes its surreal that I've streaked for over 600 days (#603 as of 31DEC20) ".
Her motto: "Motion is Lotion" and "Health is Wealth". According to her, running is safe, inexpensive and healthy, both physically and mentally. If you break your streak, don't quit, reset and restart the next day.
Lucie Boucher lives in Grand Barachois.