Frank Kelly
Never too Old to Start Running
By Donald Wade - February 2021

Frank Kelly was 67 years old when he laced up for the first time in 2006, a 5-mile fund raising event in memory of his grandson who died from a heart attack caused by giant cell myocarditis at the age of 12. He undoubtedly needed to keep his mind and body occupied, burdened by the loss of his grandson in 2004 and his wife of 42 years who succumbed to cancer in 2003. He ran and walked that race and afterward, he came to realize that with some training, he could participate in future runs.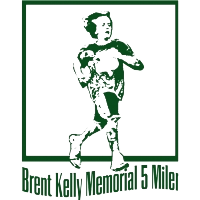 The Brent Kelly Memorial 5 Miler event is held in April at the Irving Nature Park in Saint John. Frank's daughter, Marta, organized this enduring annual race that has been held nonstop until Covid-19 wreaked havoc on the race calendar. It's a Kelly's family event with Frank's children and grandchildren joining forces at the start line. Frank admits that he was inspired by his family members who encouraged him to take up running.
During the first few weeks of running, Frank experienced some chest pain when going up the Saint John hills. But with time and frequent training sessions, his stamina improved and his confidence in his ability to run increased. Frank was in fairly good physical shape for his age and he didn't have any medical issues. Over the years, he suffered from an upper hamstring and shoulder injury but he isn't sure if it was running related. Frank is an avid old Ford tractor enthusiast, having restored a significant number of those over the years. He also likes to work in the woods with his friend and his tractor and may at times engage in strenuous activities that could be the source of his injuries aforementioned.
The main motivating factor for Frank's success at running is summarized in this statement: "I think a few things motivated me but just being part of the running community was right up there and being able to use the runs and training to help me stay in shape and feel good", he said. Frank enjoys meeting old runner friends and meeting new ones wherever he goes. Some younger runners often join him for a training run at his slower pace just so they can enjoy his company and vice versa since Frank has such a convivial personality. He keeps a log of his training and races with dates, distances and time and his medal display is one to catch your eye.
Frank likes to refer to his age, now 81 and soon to be 82 in March, when he looks at his performances. "I was able to run pretty much the same times in races of equal distances for several years until about two years ago when I have slowed considerably…. Old age, I think!" he joked. But don't let that fool you when you line up with him at the start of a race. His competitive spirit is still quite high; some younger runners have sometimes a hard time to keep up with his pace.
As far as his race record is concerned, he has 9 marathons to his credit, 6 Boston Marathons, not to mention the numerous RunNB calendar races that he has run. His first marathon was the Fredericton Marathon with a time 4:05 at age 69. He made the news when he ran the Marathon by The Sea in Saint John with his daughter and granddaughter in 2019. at the ripe age of 80. In 2016, he completed 40 RunNB calendar races, an experience that has kept him healthy and motivated in continuing to run. He also ran more than 60 half marathons over the years, admitting that he finds them more doable than those never ending marathons. Since the start of the Pandemic, he has registered for several virtual races and he runs/walks three times a week, averaging from130 to 150 km per month. He added: "I just want to continue at a slower pace and still be able to maintain good health and good physical condition".
When asked what was his best feel good moments about running, he answered:"I always feel so good about all the help and encouragement that I receive from friends, relatives and fellow runners along the way. These people were such an inspiration to me. I would love to be able to do it all over again. I think it has done me all good and no harm".
His advice to anyone who might consider taking up the sport of running: "You don't have to be scared…You don't have to be a star. No matter if you are slow or fast nobody will put you down. They will do nothing but encourage you and help you along the way. Just don't listen to them when they tell you …You are almost there…lol".
Frank Kelly lives in Saint John. He has four children, Gregory, Coleen, Grant and Marta and 4 grandchildren.
2015 RunNB Personal Achievement Award
| | |
| --- | --- |
| | |
| Frank with daughter Marta in 2015 | A few of Frank's running medals |