Louise Thibodeau
A Dauntless Running Career
By Donald Wade - March 2023

In 2009, Louise Thibodeau's life changed forever. Out of shape, a regular smoker and approaching retirement, she decided to include running in her gym training routine. Needless to say, it did not take long for her to realize that smoking and running did not go together. "The ultimate decision to quit smoking made a 100% difference in my life, a 360 degree change for my physical and mental health! Even though I made that forever great decision, it wasn't easy still, " she said.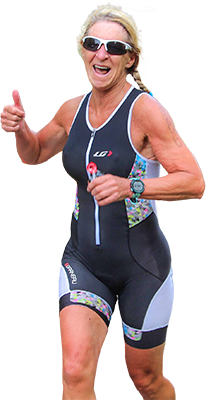 From then on, Louise invested her time and energy in creating her book of life, chapter by chapter. Here is an extract.
Chapter 1 - The Run
First, she had to become familiar with the running jargon and finding runner friends to help her through this learning process. She started like most of us, with short running/jogging distances and after each outing she had the feeling of "I want to do this again," she admitted. Her first race was the 10 km Chaleur where she finished with a time of 1:04. Feeling insecure, she was not sure if it was a good time but at least, there were runners behind her. She joined a group of runners in Beresford where she met new friends who gave her a sense of belonging and where she found the inspiration to keep running and learn about the sport.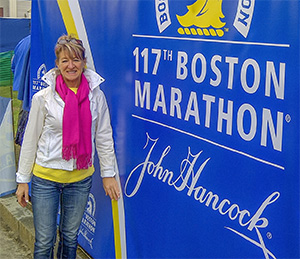 Chapter 2 - The Marathon
Her training brought her to contemplate a higher level of competition, one feared by a lot, the marathon. In 2011, she ran the Ottawa Marathon which according to her was a disaster; she ended up on the DNF list and took a wrong turn at the 35 km mark. "But yes, I survived the outcome of the gossips around this matter, " she joked. She returned the next year and this time, to her surprise, she qualified for Boston. The 2013 Boston Marathon was marred by the tragic bombing. Louise had just crossed the finish line in 4:01:57 before the bomb went off. Needless to say that this event was quite traumatic for her. Having qualified for the Boston Marathon for a second time at the 2021 Fredericton Marathon in 3:49:43, she completed the Boston Marathon the following year in 4:07:59, sporting a foot injury at the time. In April, she will run the 127th Boston Marathon, 10 years after the bomb attack and on her mother's birthday who passed away in 2015.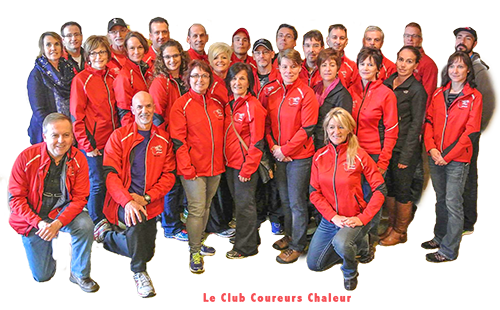 Chapter 3 - The Club
Her social conscience brought her to play a leading role in the Chaleur Runners Club. In 2015, she accepted to act as Vice-President of the club. She wanted her club to be like a running family with regular training sessions, team jackets, tuques and jerseys. She even got her club to give back to the community with donations for meals for students in need at the local school. Club members even help each other in their private lives at times. She improved her knowledge of running, especially how to use her gps watch and the importance of pace. Her involvement in the club gave her a sense of purpose, social commitment and responsibility. The Chaleur Road Runners Club holds weekly fun runs for seasoned runners as well as new comers to the sport; members help and give advice, should you want some to achieve your goal. "It's team work! "she added.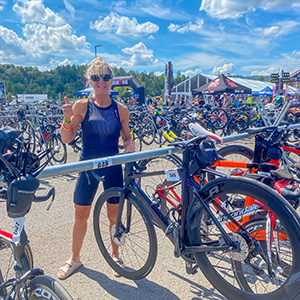 Chapter 4 - The Triathlon
There was yet another mountain to climb in her quest. Louise wanted to become a triathlete. She had to learn to swim, road bike and keep improving her running. Being in her late fifties then, this was not an easy task; the learning curve was steep. But retirement has its advantages; she had time on her hand and a lot of motivation. In order to improve her biking skills, she joined a team for the Tour of Hope, a fund raising activity that she participated in for 5 years until Covid-19 put an end to her involvement in it.
In 2015, she started taking swimming lessons but her greatest anxiety was being unable to touch the bottom of the pool and her greatest challenge was to master the swimming movements and breathing techniques. Two years later, she registered for a sprint triathlon and subsequently completed 8 of them. In 2022, she completed the Mont-Tremblant Ironman competition, crossing the finish line in 15:09:18. She also participates regularly with notable performances in local competitions such as the monthly Demi-marathon de l'Acadie and the Zero Excuses Winter Triathlon.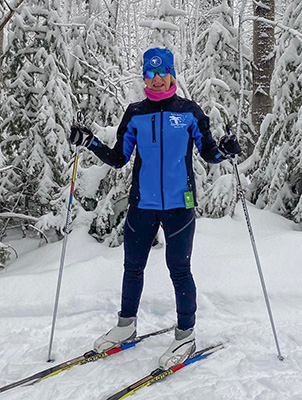 Chapter 5 - The Quality of Life
This last chapter in her sporting career deals with the benefits running and other sports have on her quality of life. "My endless list of accomplishments in sports over the last decade, was unplanned, and I sincerely and heart fully believe, it would not have happened, had it not been of the precious and unconditioned love and support of the runners /cycling and sports athletes in my life, along with special friends and family of course! " she confided. Being active not only bring her physical health but most importantly, mental health. Whatever the sport you practice, you will find positivism, encouragement, support, inspiration, humbleness and added pleasure. Louise has no plans to quit running. As she often says jokingly: " I will do what I do, when I drop, please call 911! " Surprisingly, she keeps improving her times as she ages. She takes pride in knowing that her contribution to the sport in her community helps the CRRC continue its long lasting mission of over 30 years. Whenever a new runner joins the club, Louise sees them as an inspiration to others for the future but she admits that the toughest part is to make the move and join a running club. She concludes by saying: "You don't need to know before you know! "
Louise Thibodeau lives in Beresford. Her son, Erik, 31, lives in Ottawa.