Ghislain Comeau
Running for a Year and 70 Pounds Lighter
By Donald Wade - May 2021

In the summer of 2019, Ghislain Comeau of St-Isidore weighed 230 pounds and was rather a couch potato. At 5 feet 9, this dad in his early 40's was worried about the persistent pain in his knee and back as well as the constant fatigue. Having been active in sports in his youth and lately in water-polo, he realized that he could no longer keep up the cardio pace required for that sport and he had trouble catching up to his teammates in the pool.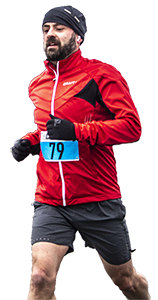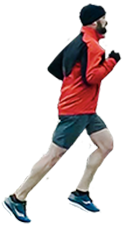 In the fall of 2019, after having bought a smart watch, he decided to walk to the polling station and after his walk, he realized that the watch wanted to record his walk session. He had not tested the sports features of his watch until then. So the following day, I started walking longer distances. » he said. Subsequently, he started running more regularly and progressively but at the same time, modifying his eating habits.
A year after having started running, and 70 pounds lighter, he registered for a bike tour in Lamèque. "The morning of the tour, I discovered that my bike tires were flat. So I decided to run a half marathon instead from Lamèque to Miscou and I realized at that point that I loved running!" he said.
In November 2020, he registered for his first virtual Demi-Marathon de l'Acadie which became another sign that he could run. "I have completed my 6th Demi-Marathon de L'Acadie and I just completed my first marathon in May." he added proudly. Indeed, his first marathon last Saturday at the Marathon Zero Excuses Sports in Tracadie netted him a time of 3:41:45. His best time at the half is a remarkable 1:33:54. None of this would have happened without the support of his runner friends and his undaunted determination.
His journey to a better physical shape was achieved without any major injuries; he made sure to alternate between running, walking, biking and swimming to minimize the risks. He admits that he is surprised by his progress that was faster than his expectations. The most difficult for him was to find a balance between running, his family and his job. However, running still remains a source of motivation for him that helps him pursue his goal. "The feeling of satisfaction that a long run provides is no match for the best television series." he added.
His advice to those who want to take charge of their health: "Start slowly, at your speed and ASK questions to your runner friends. They will be your best support." he concluded.
Ghislain Comeau lives in Saint-Isidore, NB with his wife, Joline and his two daughters, Noémie and Emma.