Mary Bartlett
Running Against the Odds
By Donald Wade - April 2023


Mary Bartlett has had a long running career, more than 35 years, and she can't imagine her life without it. Although she had dabbled in cross country a bit during middle and high school, it wasn't until her second year of university that she truly began her love affair with running. As a single mother attending UNB with a two-year-old daughter, she lived off campus with two roommates, one of whom was a cross country runner for UNB who always looked fit and energetic. "I couldn't help but notice her post-run high. Determined to experience the same endorphins and vitality, I decided to start running, " she admitted.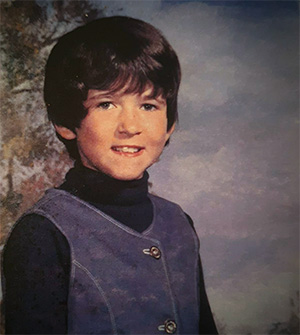 However, Mary did not have an easy childhood. Until the age of three, she was placed in foster homes; at that point in her life, she was adopted by the Bartlett family and she lived happily with them for ten years until they separated. Her teen years were spent living with various families until her senior year in high school when her guidance counselor, Carol, accepted Mary in her family. " Ever since then, I have considered her my mother and her children as my siblings, " she said.
In spite of her tumultuous childhood, Mary was fortunate to be athletic and intelligent. She loved sports and school and her physical education teachers had a significant impact on her. At 17, she became pregnant but she was determined to provide a better life for the child that she was going to bring into this world. With Carol's wholehearted and unwavering support, she decided to enroll in the Education Program at the University of New Brunswick.
While studying for her Education degree, she trained four days a week to keep pace with her roommate whom she was trying to emulate. She also met new runner friends who became lifelong friends and her support group. In August 1993, her friends encouraged her to register for the Chipman 5Km race. The day of the race was sweltering, with heat waves shimmering up from the pavement. "At the halfway point, I was ready to quit, but an older man passing by urged me to keep going. When I crossed the finish line, I felt like I had won an Olympic gold medal. Seeing my time of 21:44, I knew I was hooked – I was a runner, " she recalled. Everyone at the post-race gathering gave her a feeling of belonging to a new community consisting of those "crazy" runners; she had the endorphin rush and a sense of accomplishment and that was all she needed to pursue the journey.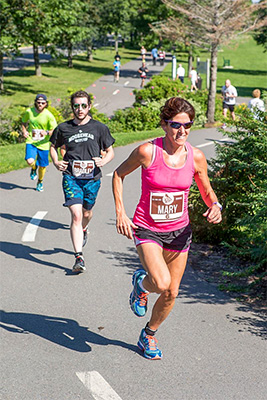 What motivates her the most in runners are the ones at the back of the pack, the ones who are out there the longest. " These runners often have stories of overcoming incredible obstacles such as self-doubt or health challenges to cross the finish line. It's not just the top finishers that motivate me; it's the sheer grit and determination of those who refuse to give up, despite the odds stacked against them, " she said. This may be an admission about her own life since she had to overcome considerable obstacles herself.
In 1994, she ran her first 10 km and half marathon. The following year, as she was watching the female winner of the Boston Marathon, Uta Pippig, win the event a second year in a row, she decided to try to qualify for the 100th running of the Boston Marathon. In the same year, she joined an interval training program in Oromocto with a renown running coach. In May, she participated in her first Cabot Trail event, running the challenging leg #4 (Cape Smokey). That summer, she was able to run a 5K race in Fredericton, finishing with an impressive 19:40 time. Later that September, as part of the NB team, she took part in the 10K Timex National Series in British Columbia. The next month, she completed her first marathon in Cap Cod, Massachusetts, with a time of 3:32:26, thus qualifying for the Boston Marathon.
In her late twenties, Mary was diagnosed with an anxiety disorder. Running became her saving grace, her medicine and her therapy; it served as an outlet when she wasn't at her best, making her stronger and more in tune with her body. She learned how to develop mental fortitude, pushing through the anxiety to achieve her goals. " Running has helped me manage anxiety, allowing me to be successful in all areas of my life, including work and, most significantly, my relationships. " she said. According to her, cross training is essential for fitness to be, not only functional, but also enjoyable. Relying on just one type of exercise, like running, can quickly become monotonous and lead to burnout. That's why Mary mixes up her exercise routine and tries new things. She has discovered a whole new world of exciting activities, thanks to the encouragement of her daughter. Cycling, interval training, weightlifting, Pilates, yoga, and even cross-country skiing in the winter are part of her cross training program. She added, "5 km used to seem like a long way, but now I need to run 5 km before I am warmed up. It's amazing to think that at 55, I feel more fit than I did at 25. And I hope that I feel the same way when I'm 75."
Mary admits that she has been fortunate to have the support of so many elite runners, coaches, teachers, counselors, family, friends and her life partner and daughter who spurred her on to become the woman she is today. She was able to run a personal best last year, despite only running a maximum of 4-5 times per week because she cross-trained. "Evidence shows less is best as we age and less running is possible when you cross train," she said.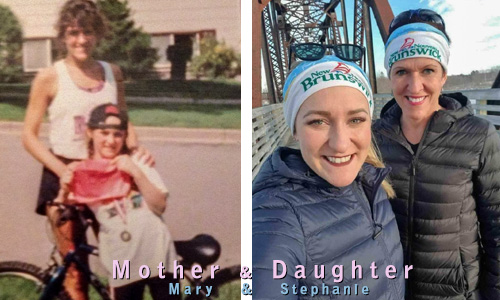 Over the years, she took a break from racing, investing her time at taking care of her daughter, coaching, volunteering and career building. But in the last 7-8 years, she has rekindled her love for racing and has started participating in races again. Last fall, she achieved her personal best at the Marathon P'tit Train du Nord, stopping the clock at 3:08:55, keeping an average pace of 4:29 and finishing first in her age group. At the Marathon by the Sea, last year, she finished the 30K race in 2:14:16, with an average pace of 4:29, finishing third overall. In spite of her notable performances, she also recognizes the value of just running for the joy of it, without any specific plan or program in mind. " I believe that this flexibility in my training approach has allowed me to stay passionate about running and avoid burnout or injury, " she said.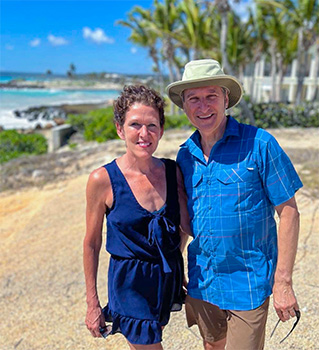 Mary hopes to inspire others to take up running or any form of exercise, and to show that it's never too late to start. She believes that as long as you have the motivation and discipline, you can achieve anything you set your mind to. Running has been her constant companion for over three decades, and she hopes that it continues to be for many more years to come. Her motto: "Always be kind to everyone, regardless, as you never know their story or what has happened in their day," she concluded.
Mary lives in Fredericton with her life partner Conrad Boissonnault. Her daughter, Stephanie lives in Halifax.