Bryan Bourque
Fredericton runner's 4000Km Streak
By Donald Wade | January 2021
After the birth of his son in August 2019, Bryan Bourque's training volume decreased considerably with the lack of sleep and added responsibilities a new born brings to parents. At the start of the New Year, he decided to run everyday for the month of January to jump start his training. Runner Marc Gallant from Saint John first noticed his January streak and invited him to the year long running challenge. A few others joined them and attempted to run everyday during 2020 but most dropped out after a while. Bourque had never tried streaking before so this adventure would be unique and formative as he succeeded in logging 4000.1 km in the year, recording each distance on Strava.

As he progressed in his challenge, Bryan realized that time management was of the obsolescence. There were days that he had to run very late at night or earlier in the morning. Generally, he prefers to run in the early evenings, especially during the winter when the snow-covered trails are lit up by the night sky.
He added: "I find running to be more fun in adverse conditions, so the weather never really bugs me. Heat/humidity maybe, but there are many ways to make that fun as well! ".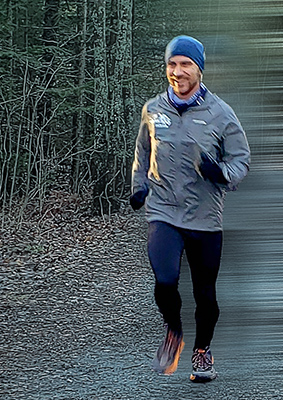 His longest distance was 48 km in the Fundy Circuit Loop and his average daily run was 15 km while an average down day would an 8 km run. In normal times, Bryan enjoys training and racing trail ultramarathons. "They would be a classic definition of Type 2 fun: miserable at the time but, in reflection, you remember it as fun", he said.
Bryan never really had any motivation issues. "The only night that I was tempted to give up was the night that I found out that my planned A race for the year was canceled. I had been building up to this race for 5 years, so it was a bit of a blow to me", he confided. However, the cancellation of his Plan A race, the Capes 100-mile race in Cape Breton, became a blessing in disguise as it helped him re-discovering his running 'why'. "As much as I enjoy race day, I found that running without a goal race changed how I felt going out the door most days. Instead of most runs being focused on how it would impact my training they become more about having fun, spending time in the woods and became a form of meditation that has really helped me through the pandemic so far", he added.
Bourque tried a virtual race in the spring, but it did not have the personal connections that he enjoys about races. Consequently, he did not participate in any virtual races thereafter. "For me, races are primarily social gatherings with some Type 2 fun thrown in! ", he said. As for cross training, he did not do any, concentrating his efforts on his streak.
According to this ultamarathoner, he did not rely on feedback or encouragement from runner friends to continue his journey; he considered this a personal challenge. He had to rely on his own strength and resilience to pursue his goal. In August, he suffered from a bad cold that had him limping for a few days the minimum distance, 2 km, that he needed to run to maintain his streak. Bourque admits that his year-long streak took a lot of dedication from his part but he is very happy to have been able to achieve his goal. His credits his wife's support during this challenge. "I am very fortunate to have a wife who supports me in my crazy running obsession, even if she does not understand it", he said. But he admits that he also had to be flexible to accommodate his loved ones' needs.
Bryan Bourque lives in Fredericton with his wife, Amy and his son Evan.