Normand Pitre
Chaleur Runner's 400-Day Streak Continues
By Donald Wade | February 2021

The Chaleur Runners Club has a traditional 5km friendly run each January 1st and Normand Pitre joined the group, on New Year Day 2020 and decided to run every day of January 2020. At the end of the month, it was easy for him to decide to continue running for the rest of the year and he has run so far 405 consecutive days, cumulating more that 3800 km. Normand has never run so frequently in his lifetime. He started running when he was 16 years old, often running from Beresford to Bathurst, to the curiosity of people who often asked him why he ran.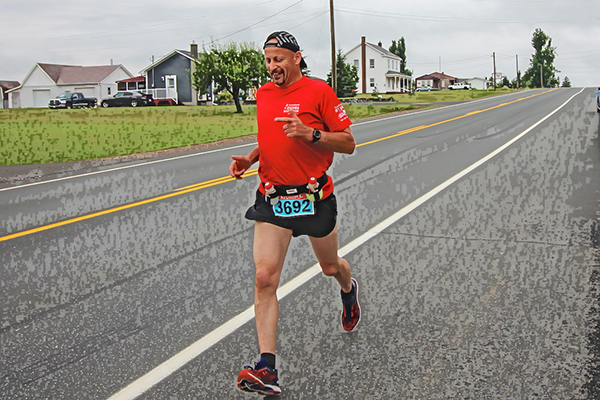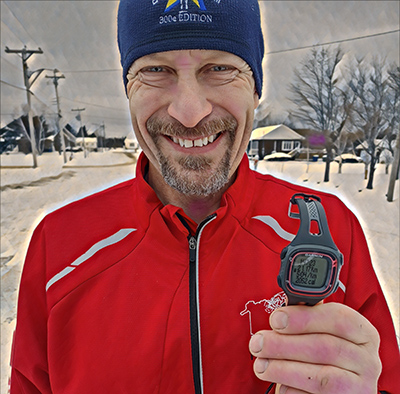 A strong long distance runner, Normand has 48 Demi-marathons de l'Acadie to his credit and numerous 10 kms. His longest distance in this streak is 28 km. The weather, fatigue and minor injuries or aches and pain were sometimes an issue but he stayed motivated, coveting a secret personal goal.
He keeps track of his runs on a calendar. Since the start of his daily runs, Normand has lost 20 pounds and has noticed improved health benefits, especially with his blood pressure.
His running streak has a funny side to it. Once during a snow storm, a good Samaritan offered him a ride, which he politely declined to the surprise of the kind driver. On another occasion, on a dark night, he ran into a skunk who was racing with him; it sprayed his shoes, an encounter that scared both equally.
According to Normand, you have to rely on your determination to succeed. Excuses for not running each day have no room in his book of rules.
Normand lives in Dunlop, NB, with his wife, Jennifer Vienneau.